How to Sell Courses Online in WordPress | LearnDash LMS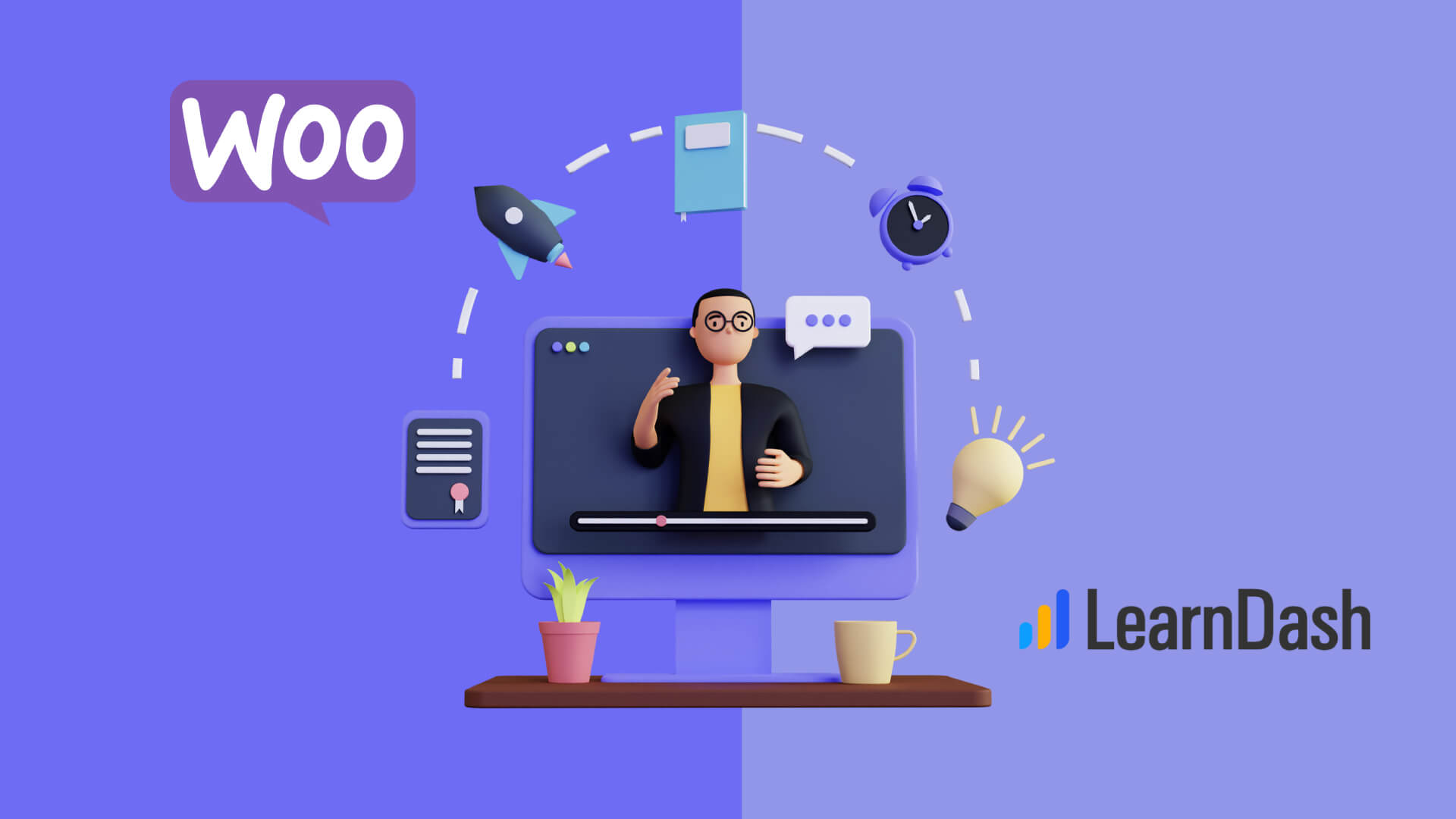 Do you know? WordPress powers over a third of all websites on the internet. It is an extremely versatile platform that can create any type of website. This makes it a popular choice for educators who want to sell WordPress courses online.
In this post, we'll discuss how to set up your WordPress site with a learning management system (LMS) and the LearnDash plugin to create and sell courses online.
We'll also cover some tips for marketing your courses online in WordPress using LearnDash.
Let's get started.
A Step-by-Step Guide to Selling Online Courses With WordPress LMS
---
Creating an online course with WordPress is a great way to share your knowledge with the world.
While there are many different platforms you could use to create your course, WordPress is a great option because it's free and easy to use.
This step-by-step guide will show you how to create an online course with WordPress.
Step 1: Choose a Good Hosting and Install WordPress
There are a lot of hosting providers available in the market. It can be difficult to choose the right one for your website.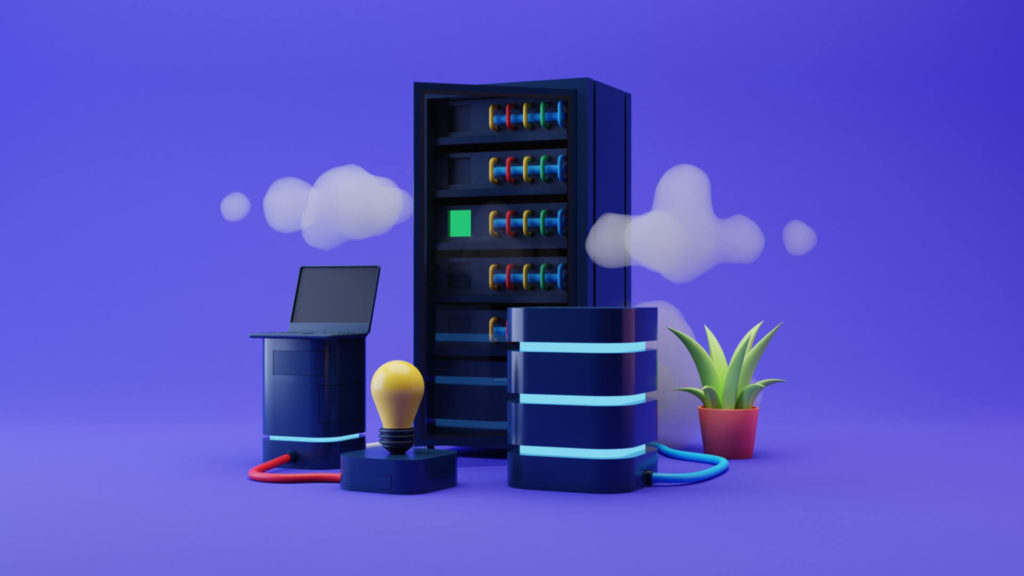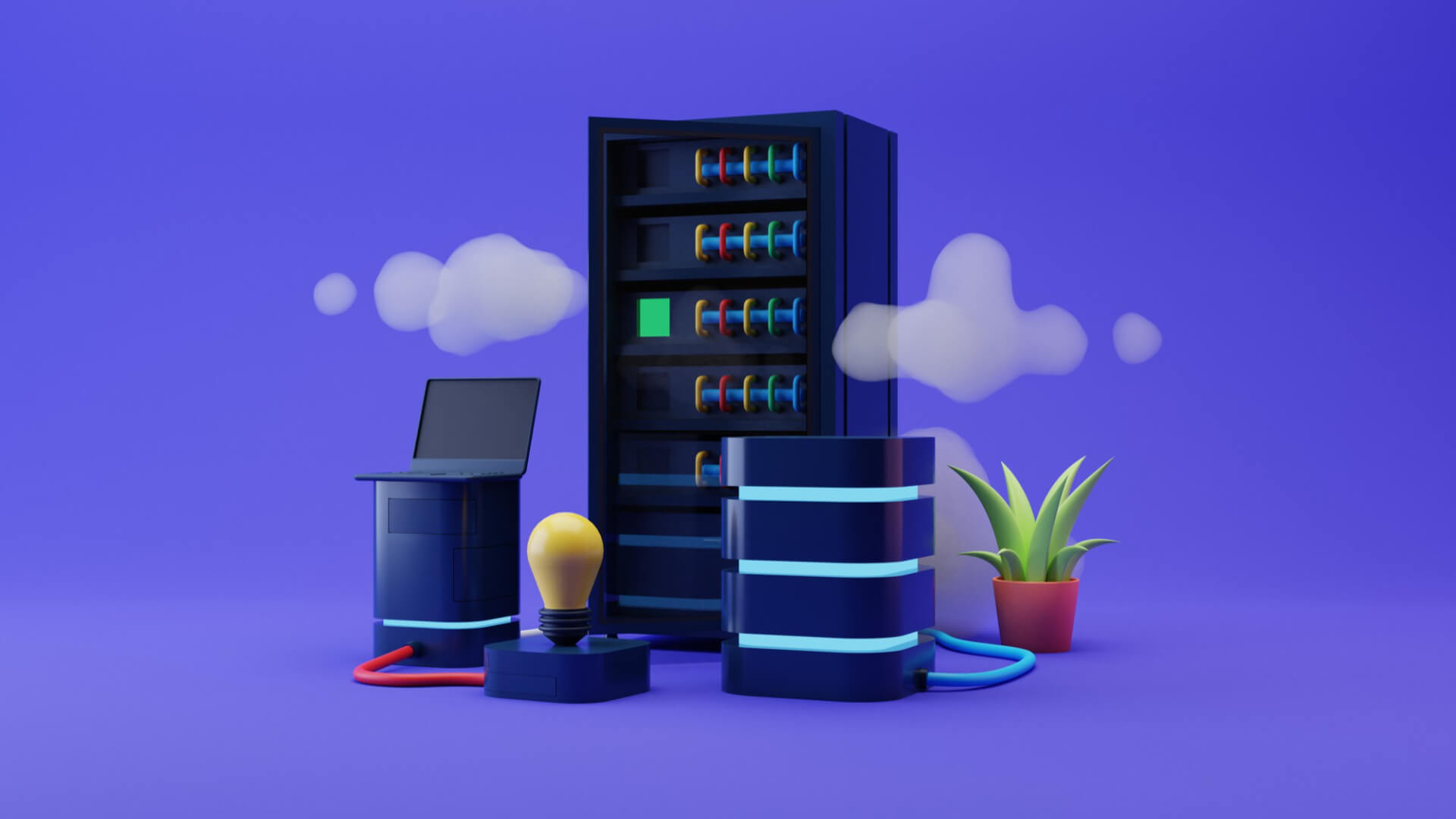 First, you need to decide what type of hosting you need. There are three types of hosting: shared, VPS, and dedicated.
Shared hosting is the most affordable option and is suitable for small websites.
VPS hosting is more expensive but provides more features than shared hosting.
Dedicated hosting is the most expensive option and is suitable for large websites.
Next, you need to decide what features you need from your hosting provider. Some things to consider include bandwidth, storage space, CPU cores, and memory.
Once you have decided on the type of hosting and the features you need, it is time to choose a provider. There are a couple of best-hosting providers to choose from, so do your research and compare prices and features.
Once you have chosen a provider, it is time to install WordPress.
First, create a new account with your hosting provider. Next, download WordPress from wordpress.org and unzip the file.
Then, upload the files to your account using FTP or cPanel. Once the files are uploaded, open your web browser and go to yourdomain.com/wp-admin/install.php. Follow the on-screen instructions to complete the installation.
That's it! You have now installed WordPress on good hosting. Now, let's begin with our LMS platform!
2. Choose the Right LMS Plugin
There are many reasons to consider LearnDash as the best plugin for selling online courses.
New to LearnDash?
LearnDash is a powerful learning management system (LMS) that allows you to create and sell courses online. It's one of the most popular LMS plugins for WordPress, for a good reason!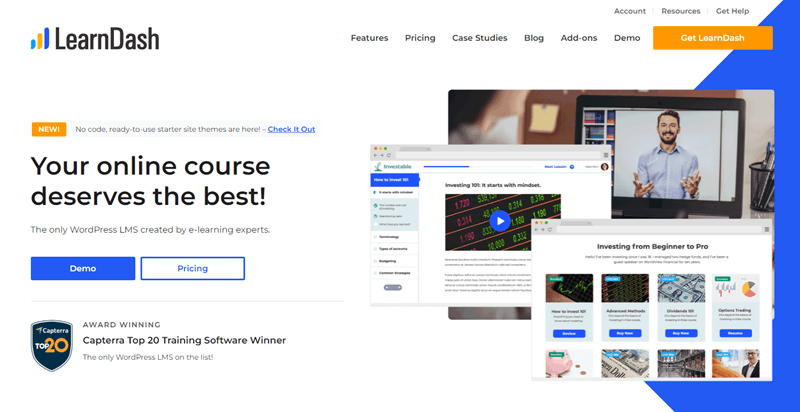 It's easy to use and customizable, making it perfect for all types of learners and teachers to host online courses and create an e-course, thanks to LearnDash tutorials.
Let's take a quick look at the reasons to choose LearnDash to sell WordPress courses:
Ease of Use
LearnDash is extremely easy to use, even for those not technically savvy. This makes it a great option for those who want to create and sell online courses without learning complicated coding or programming.
Variety of Course Types
With LearnDash, you can create various course types, including quizzes, surveys, discussions, and more.
This allows you to create a truly unique course tailored to your specific needs.
It also integrates with other popular plugins such as WooCommerce and Gravity Forms, making it easy to set up payment processing and registration forms.
Finally, it's well-supported by the developers, with regular updates and a helpful community forum. So if you run into any problems, you can likely find help online.
How to Build an Online Course in WordPress Using the LearnDash Plugin
---
This step-by-step guide will show you how to build an online course in WordPress with the LearnDash LMS plugin.
Step 1: Open WordPress Dashboard
Open your WordPress Dashboard and go to the plugin section.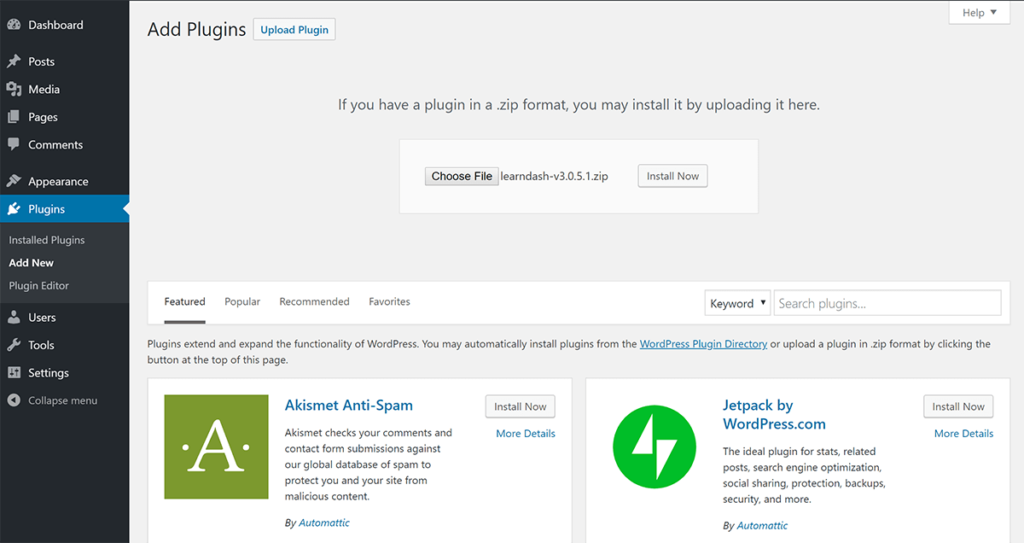 Step 2: Install the Plugin
Upload the zipped copy of the LearnDash plugin, and activate it.
Tip: You can purchase LearnDash here if you haven't already. From the My Account page on the LearnDash website, you can then download the file:
Step 3: You'll Notice a LearnDash LMS Menu Created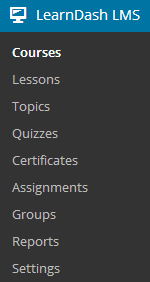 Using the options under this menu, you'll be able to create your courses, lessons, topics, and quizzes.
Step 4: Creating a New Course in LearnDash
Now, we'll be learning step-by-step how we can add new courses in LearnDash.
Let's get started:
Navigate to LearnDash LMS → Courses → and click Add your first course.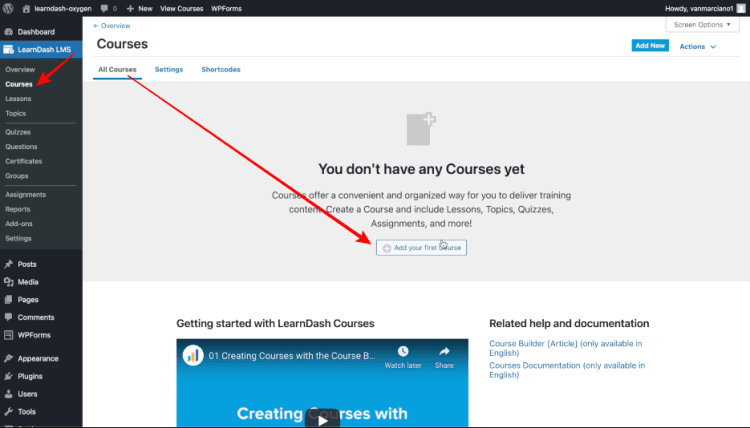 Click the Add New tab, add the name, a simple description, with feature image, etc.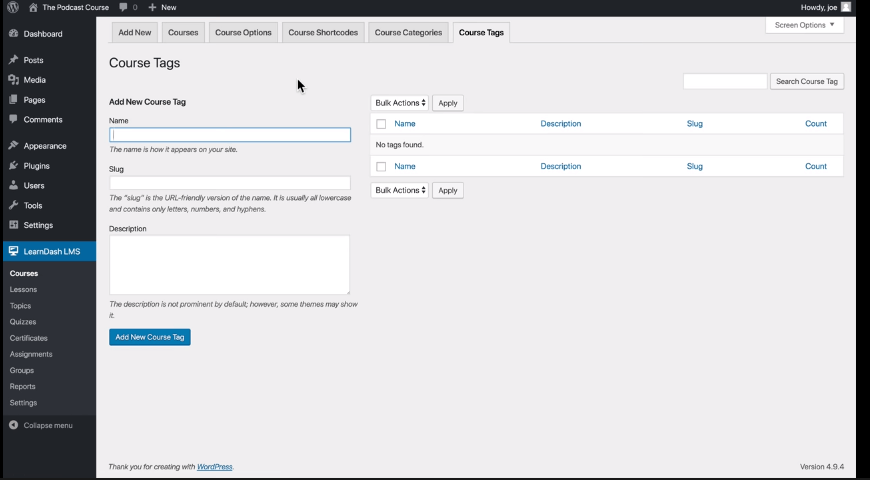 When you have filled in these details, scroll down and add additional details, such as course price type, access-list (for new and existing users), and points.
Note: If you want the users to follow the course in the order you've laid out, uncheck the disable lesson progression option.
The next step is to add lessons, topics, and quizzes to the course once you have completed entering the course details.
Step 5: Adding Lessons, Topics, and Quizzes in LearnDash
To begin, select the Builder tab from the navigation bar.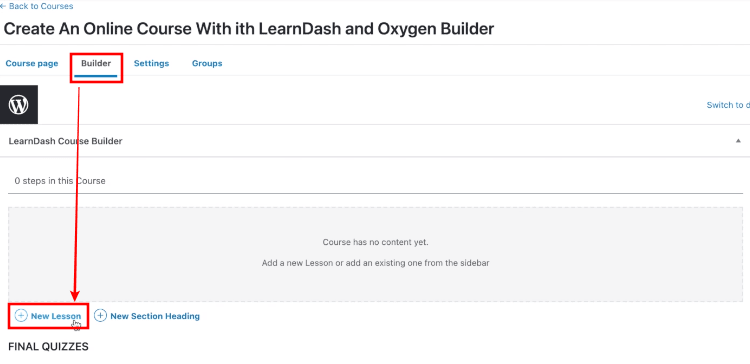 The outline of your course content will appear when you click on the builder tab. Begin by adding section headings to the course builder.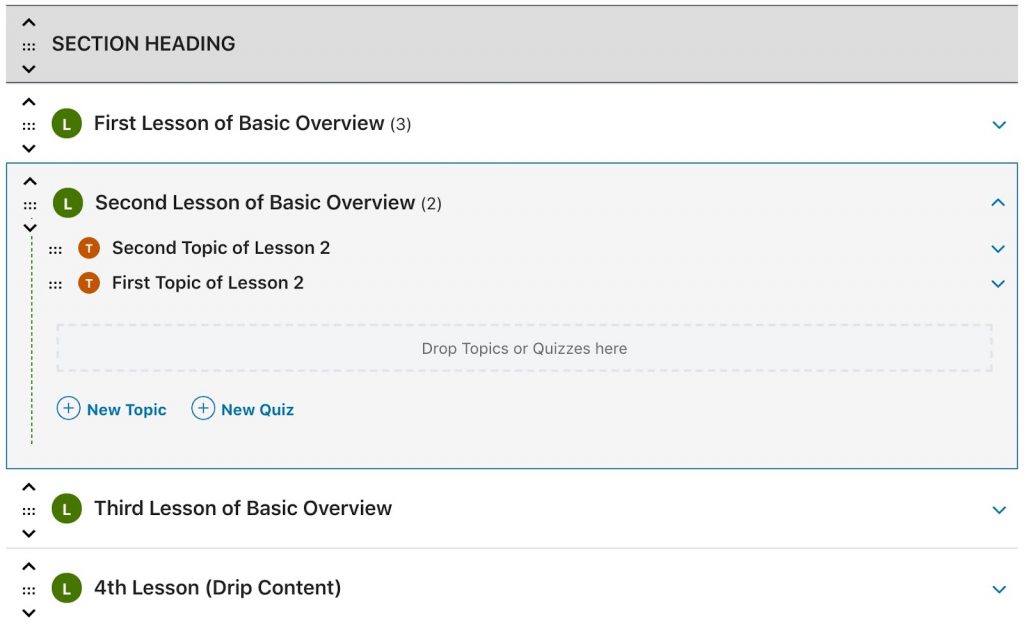 After adding the headings, you can add lessons, topics, and quizzes.
You can create a new lesson by clicking the New Lesson link, typing the lesson's name, clicking ENTER, or clicking Add Lesson.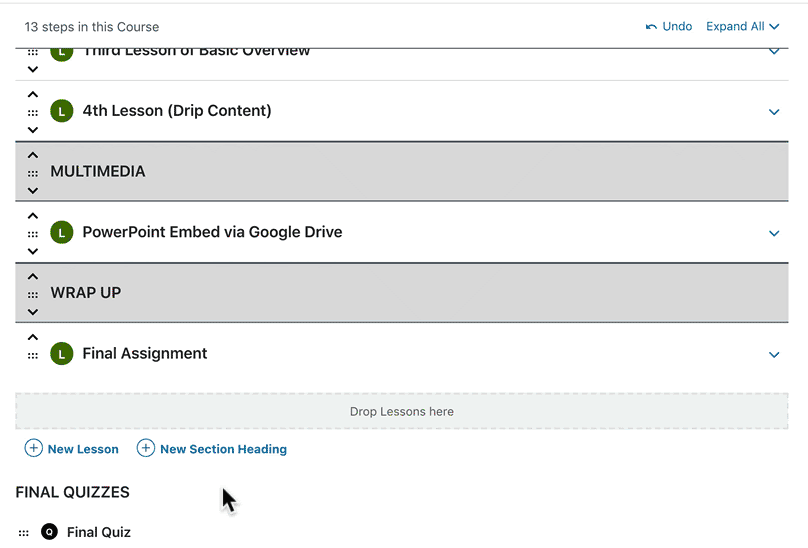 Click on Edit when you hover over a lesson title to add content.

Once the lesson introduction, topics to cover, multimedia, and other elements have been added, you are ready to add content to the lesson.
The steps can be repeated for topics, assignments, and quizzes.
An Essential Guide To Promoting Your Online Course With WordPress
---
Use a Landing Page to Capture Leads
A landing page is a great way to collect leads from potential students who are interested in learning more about your online WordPress course. A landing page should be simple and easy to navigate, with clear information about the course and how to sign up.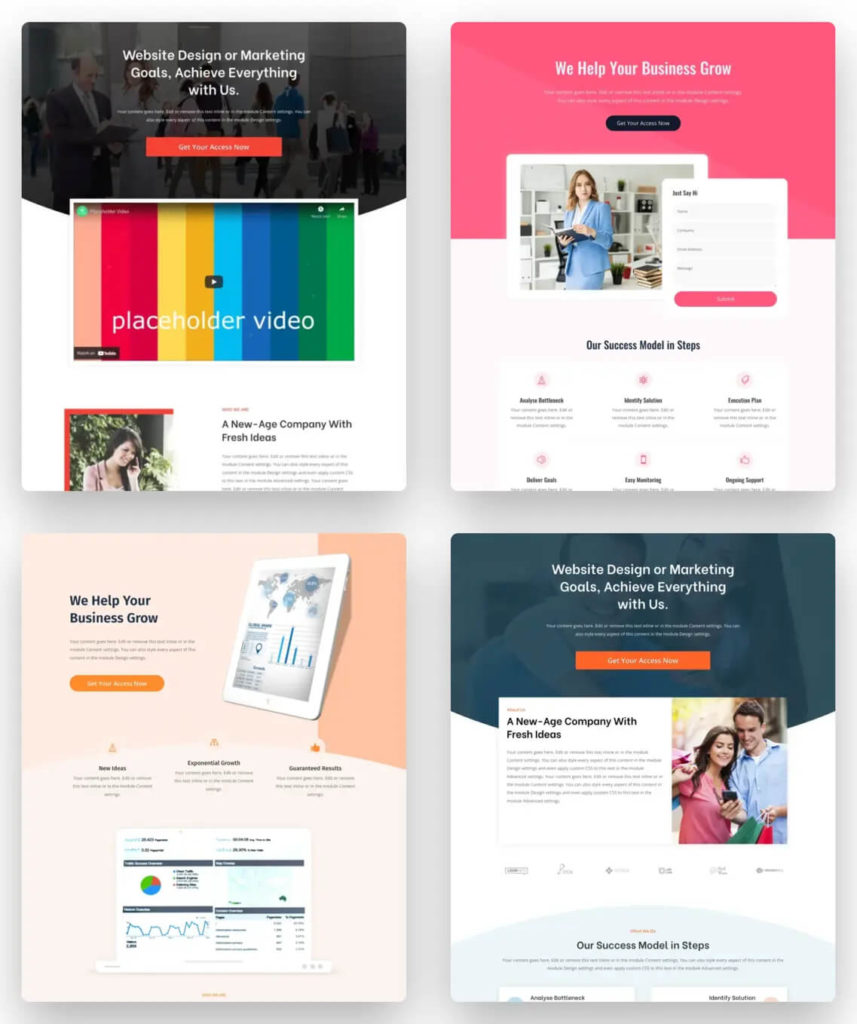 You can also include videos and images to help capture the viewer's attention and increase the chances of them signing up.
Use Social Media to Market Your Online Course
One of the most efficient ways to promote your online course is social media.
Platforms like Facebook, Twitter, and LinkedIn offer a variety of opportunities to share information about your course with potential students.
You can create ads, post updates about free previews or discounts being offered, or even write blog posts about the benefits of taking an online course.
Offer a Free Preview
Many people are hesitant to sign up for an online course without first getting a taste of what it's like. Offering a free preview is a great way to overcome this objection.
You can create a course module or even just a few lessons that potential students can access without committing to anything.
This helps give them a better idea of the course and whether it's a good fit for them.
Use Email Marketing to Reach Out to Potential Students
Email marketing is another great way to reach out to potential students and promote your online course.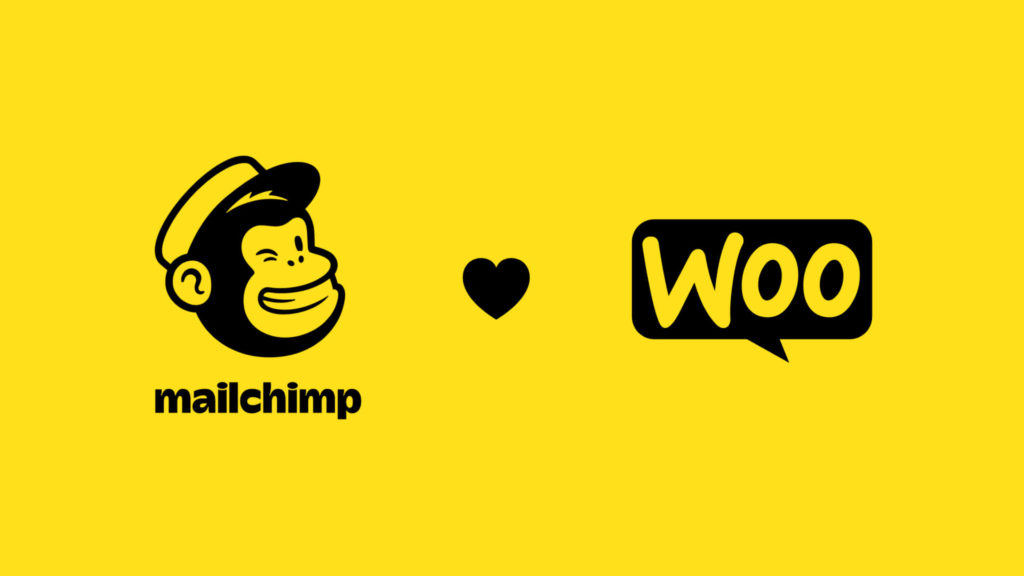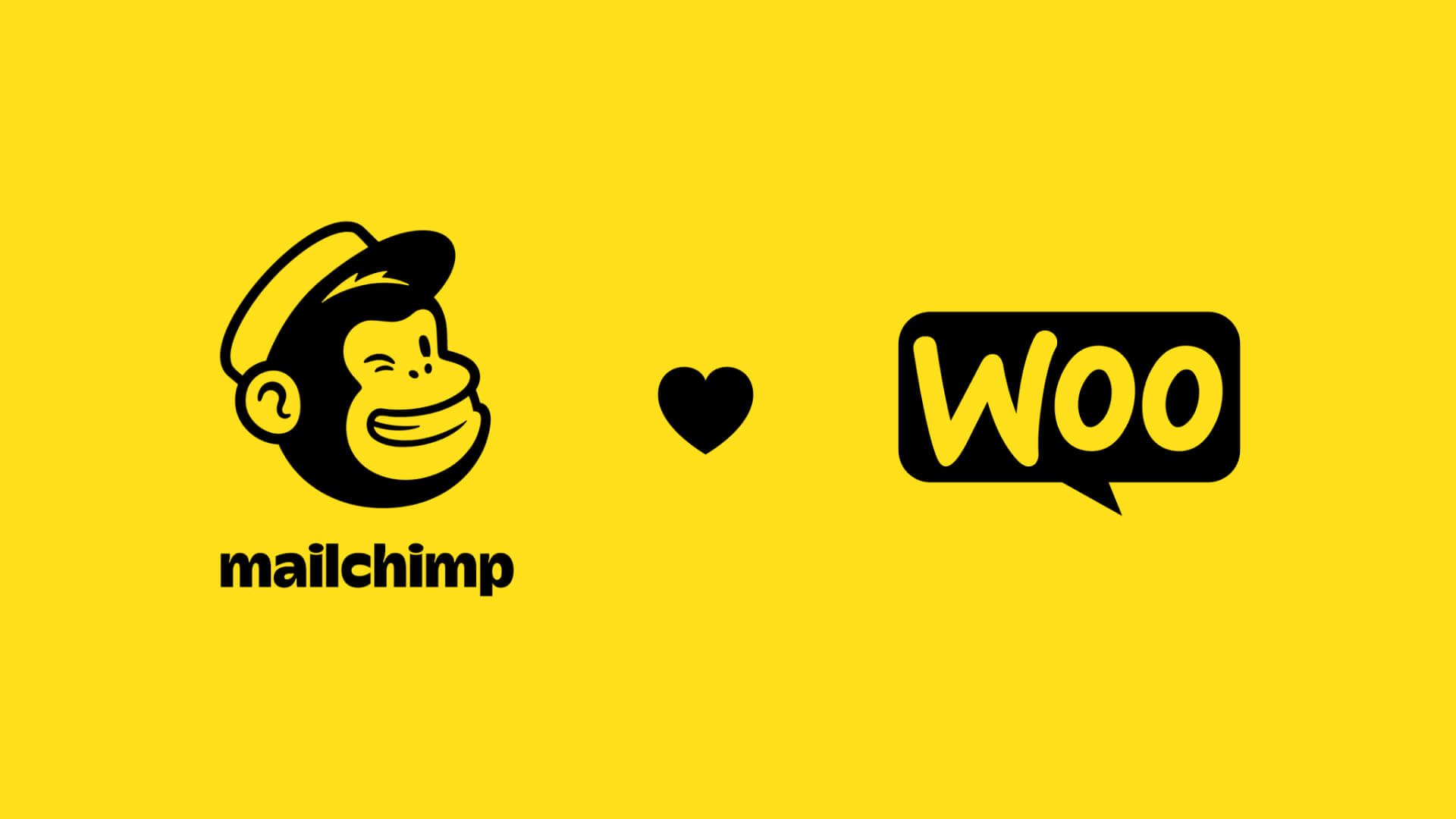 You can create a series of emails that introduce the course, outline the benefits, and provide information on how to sign up. You can also include testimonials from past students to help persuade others to enroll.
Make It Easy for Potential Students to Sign Up
One of the most important things you can do when marketing your online course is make it easy for potential students to sign up. This means providing clear information about how to enroll and what payment methods are accepted.
You should also have a landing page, as we discussed in tip 1, that's specifically designed for your online course so potential students can easily find out more information and sign up.
These are just a few tips on how to market your online course. Using these strategies, you can reach a larger audience and increase the chances of people enrolling in your course.
Your Turn to Sell Online Courses
---
If you're looking for an LMS that is easy to use and customizable, then LearnDash is a great option. It's one of the most popular LMS plugins for WordPress, and it's perfect for all types of learners.
Have you tried using LearnDash to create and sell courses online? What tips do you have for promoting your courses on WordPress?