What Is WooCommerce? Its Benefits, & How to Get It in 2023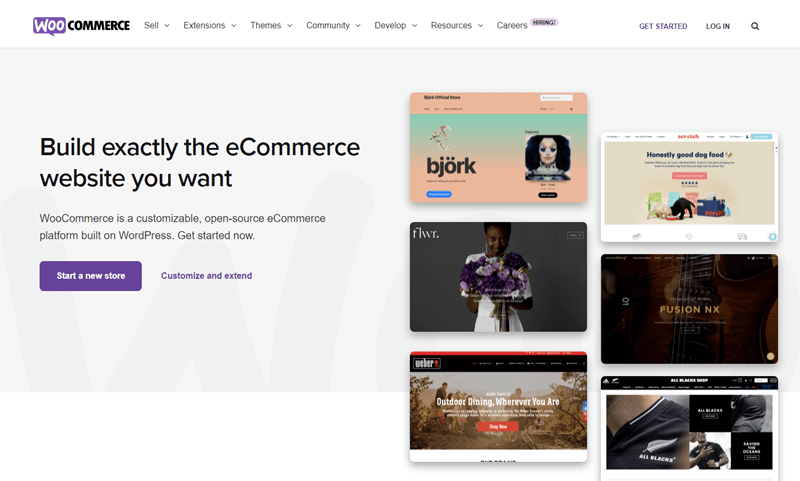 Would you like to get a website as an online store?
Because you can use it for print-on-demand products, drop-shipping, or selling digital products. An online store is a great way to promote your products to a wider audience rather than walk-in customers.
An engaging design for your online store's website will drive potential leads and, with that, more conversion. People easily get pleased with what they see. If your website is easy to navigate, your customers will find their target products easily.
That's why you need to create your online store with a multifunctional platform like WooCommerce.
It is visibly appealing, multifunctional, easy to use, and secure. It has one of the best store management capabilities to keep you satisfied even if you aren't a professional WordPress developer.
In this article, you will learn more about what is WooCommerce, its benefits, example websites, how to sell on the platform, and why you should use it. By the end of the post, you'll have all the knowledge to build an online store that will stand out in the presence of your competitors.
So, without further ado, let's get started!
What Is WooCommerce?
---
Simply, WooCommerce is a free plugin used to convert WordPress websites into a customizable online store. It was first released in 2011 and has grown over time. It preserves most of the functions that are core to WordPress.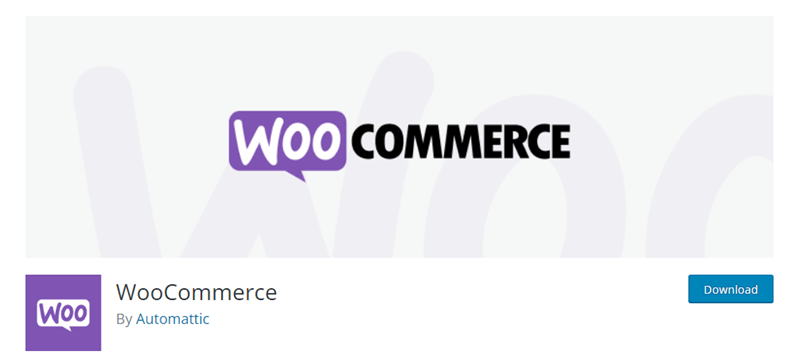 However, it adds unique eCommerce capabilities and customizations. Its tight integration with WordPress makes it stand out from the rest. You can have a blog, website pages, and store. Content plays a big role in driving traffic, hence, your platform will attract the right audience.
Once you start using this powerful WordPress plugin, you will even think it is standalone.
The icing on the cake is that it allows multiple payment extensions like Stripe, PayPal, Klarna, Square, Cash on Delivery, Direct Bank Transfers, and much more. It's also easy to track the payments and even download certain customer statements from the platform's dashboard.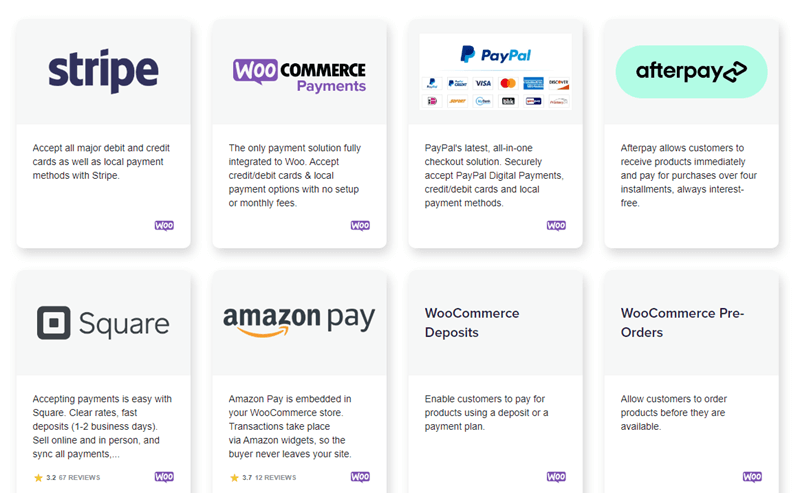 WooCommerce is a highly scalable digital platform that makes it easy to make sales, track sales, and add SEO value.
Is WooCommerce Free to Use?
Yes, WooCommerce is free to use. When looking for a retailer platform, your budget is a significant factor. However, if you need more extensions to make your online store more functional, you might need to dig into your pockets a bit.
But, you can still use it with its free functions, and it will work like a charm.
According to Manaferra, approximately 43.3% of websites on the internet are being powered by WordPress. That should give you confidence in WordPress's excellent reputation and, consequently, WooCommerce online stores.
9 Benefits of WooCommerce
---
The following are some of the WooCommerce benefits from the many benefits it offers to its users. So, don't take these as a whole.
1. Great Collection of Themes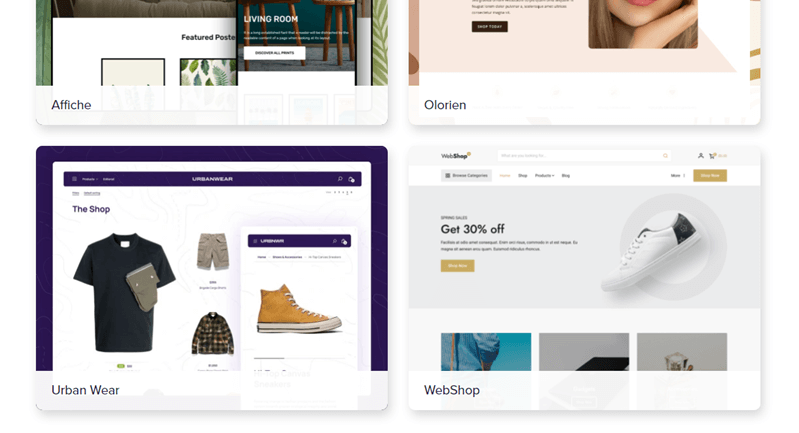 WordPress features a wide collection of themes. Hence, be assured that you will find an amazing theme for your eCommerce store. However, ensure the theme closely aligns with your brand theme for more uniformity.
Some themes are even customized for WooCommerce due to certain widgets and other functions. You can either opt for the free or paid themes. The choice is yours.
2. Wide Variety of Features
WooCommerce comes with a wide variety of online store features to accommodate orders, billing, and fulfillment. You can either decide to sell physical products or digital products, the choice is yours.
However, there are the essential features you find by default and some that you can add as time goes on.
If you are just getting into it, try just to have minimal features to prevent being overwhelmed with the different capabilities. You can customize the site as you wish, have a blog, have unlimited product categories, use tags, have product ratings, product filtering, and other features.
3. WooCommerce Is Yours Solely
When you create an online store, you are assured that it is solely yours. You won't have to consult different third-party companies or personnel. There is no restriction on what you can do with your store; however, it should be legally ethical.
This is different when you open as a seller in a diverse marketplace like Amazon, eBay, and much more. But with WooCommerce, you make the rules and decide what to do with your store.
4. Highly Secure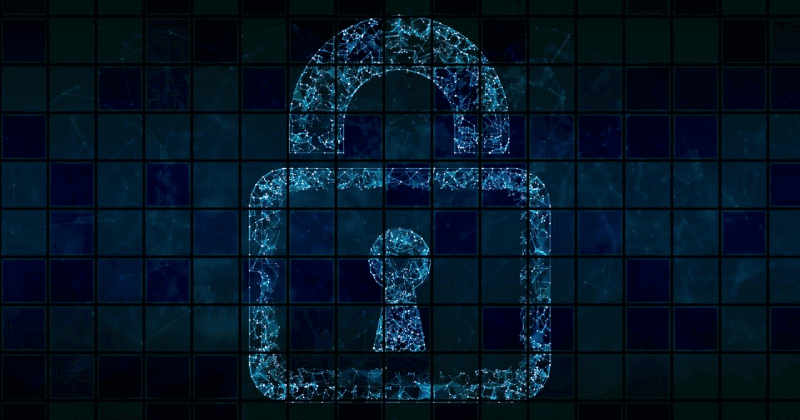 It has some great security features that can help prevent your site from getting into the wrong hands. However, you will need to have a reliable SSL certificate for your website and have the right security extensions.
Therefore, you can consult professionals to help keep your online store safe. At times, you may get issues if your WordPress site needs to be updated or has a different PHP update. However, that should cause a scare; it's solvable.
5. Official & 3rd Party Extensions
Extensions help to add more functionalities to the online store. The beauty about this is that you can get the best WooCommerce extensions straight from WordPress's official website.
You are assured of only the best. There are over 400 WooCommerce extensions for different functions like analytics, SEO, payments, shipping, accounting, and much more. Just choose the best. There are both paid and free extensions. However, they are cost-friendly.
And even if you're not satisfied with the official extensions, you could check out the extensions built by 3rd party developers.
6. It Allows Search Engine Optimization
For your website to rank better, it needs to be optimized for the search engines. WooCommerce makes optimization of your products easy, and you won't have to spend a considerable amount of time to make it viable.
In addition, you can have a side blog that talks more about the products that you offer. This will drive more people to your site.
You can also use SEO plugins on the platform that will help you know where to improve. It provides an intuitive interface that will allow the customers to easily search and order products.
7. It Provides An Analytics Overview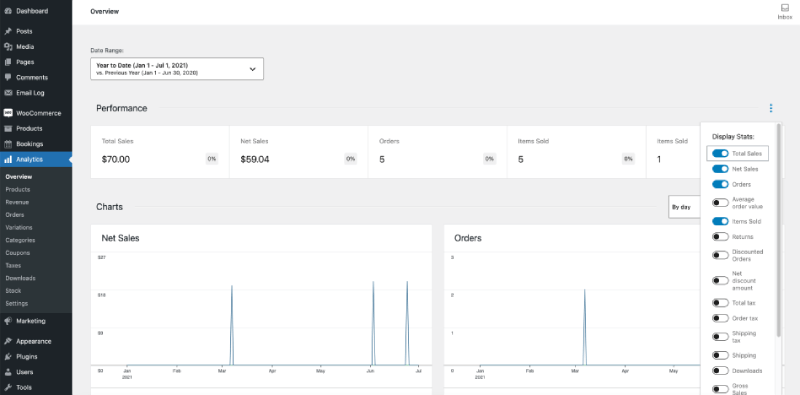 Apart from all its amazing features, it also provides an analytics overview. It is hard to just determine how your online store is doing with your estimation. But with WooCommerce Analytics, you can easily analyze how you are proceeding in terms of visitors, sales, transactions, and much more.
You can even evaluate the products most viewed, customer information, and sales daily.
8. Affordable, Simple and Flexible
Opening a WooCommerce store is affordable, simple, and flexible.
You won't have to struggle to find resources to use to build your store. There are many YouTube videos and tutorials that you can get about opening an online store.
Additionally, there is a large community of users, whom you can collaborate with to troubleshoot some common problems. You just need to find the right domain name, hosting, and create your WordPress powered WooCommerce site.
9. It Grows With Your Business
When choosing a platform, you need one that can accommodate you and your business as you grow. On some platforms, you may feel limited if you reach a certain level.
However, for WooCommerce, you can use it to accommodate small, medium, and large enterprises. Nevertheless, the larger the enterprise, the more functions you will need.
And with WooCommerce, you'll never find yourself out of functions or capabilities.
How to Get WooCommerce for Your Online Store in 2023?
---
It's easy to build your online store using WordPress with WooCommerce, simply follow the below easy steps.
Step 1: Purchase a Domain Name and Web Hosting

If you already have a business name, you can use it as your domain name. For example, "xyzfashionstore.com". The hosting is where your website will need space to store data, so people would be able to access it. Just use your same name so that customers can realize that it is the same physical seller.
If that name is not available, you can look for a closely related name, but not too far. Some of the best domain and hosting providers are GoDaddy, Bluehost, and Namecheap.
You can check their features and know which one to choose.
Step 2: Install WordPress With WooCommerce on the cPanel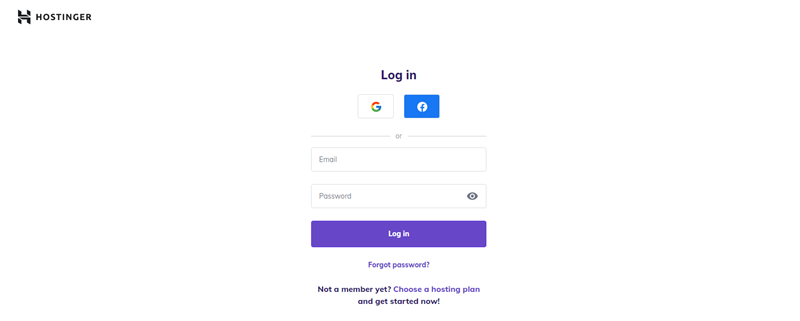 The different hosting has different dashboards, but in most, you can access the cPanel and install WordPress from there. Select the right domain name and hosting plan, then you can move forward to create your WordPress powered WooCommerce store.

Depending on your cPanel dashboard, navigate to app Installer and choose WordPress with WooCommerce. Once, the installation gets completed, you'll be redirected to your store website.
Alternatively, you can follow this tutorial for getting started with WooCommerce.
Step 3 – Make the WordPress Configuration
After WordPress installation, make the necessary changes to the site. So, your customers won't find themselves confused while exploring your store. Some of the basic changes that needs to be done are,
Reset Your Password
Change the Site Title, Tagline, and Time zone
Delete Unused Themes
Install eCommerce Theme
Change the Homepage to Store
Once you're done with the above, move on to the next step to configure WooCommerce settings.
Step 4 – Setting Up WooCommerce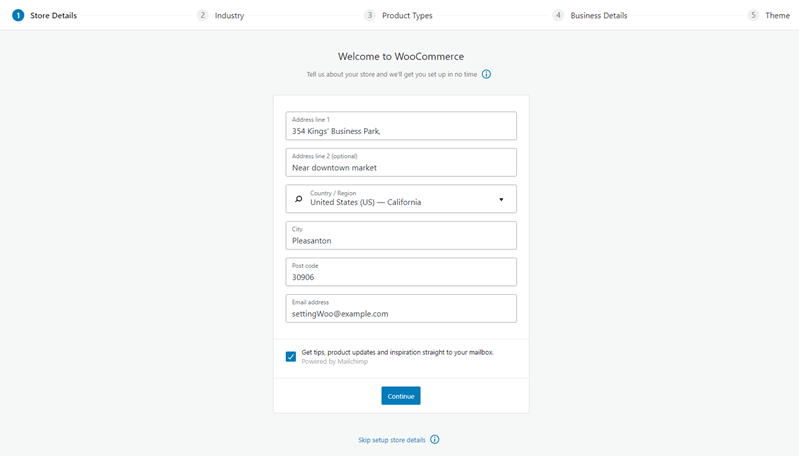 We've already installed our WooCommerce plugin, so there's no need of doing it again. However, basic configuration you need to do are,
Adding store details.
Adding business details.
Product types.
Industry.
Setting up payment gateways.
Setting shipping rates.
Follow this tutorial to configure WooCommerce.
Step 5 – Add Products to Your Store
Once you are done, with the setup, you can start adding products to your store. On the WordPress Dashboard, in the left menu bar, go to Products → Add New.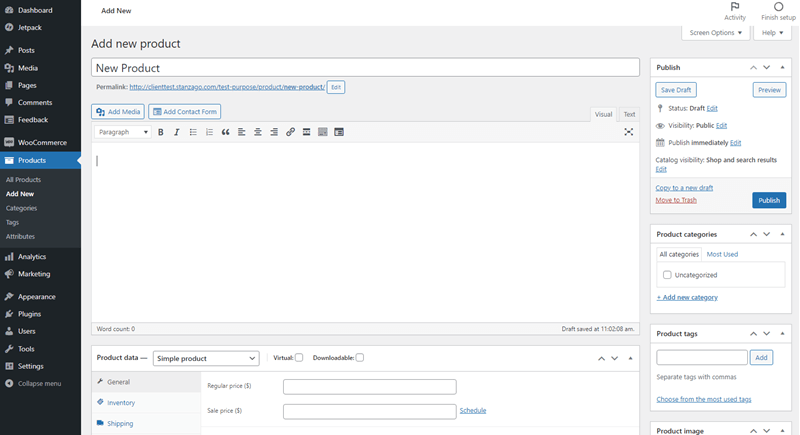 You will need to add a name to the product, then a short description. Also, remember to add product categories – you can do that upfront to prevent confusion.
Remember to add a product at a time. Categories make it easier to navigate through different sections. You should then choose the product type, pricing, shipping, and other information.
In addition, you can add a category description for the products that will be listed there.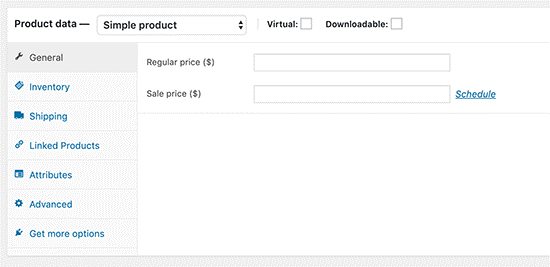 Additionally, remember to upload a product image in the right size. Once everything is great, you can publish your first product. Do that to your multiple products. Click on the publish button and preview the page.
And that's it; your store is live and ready to do business.
What Can You Sell With WooCommerce?
---
You can use your online store to sell different types of products such as physical products, digital products, subscriptions, appointments, tickets, and much more. You can even sell e-books, software, photography, and much more.
Examples of WooCommerce Stores
Some examples of WooCommerce product like stores include: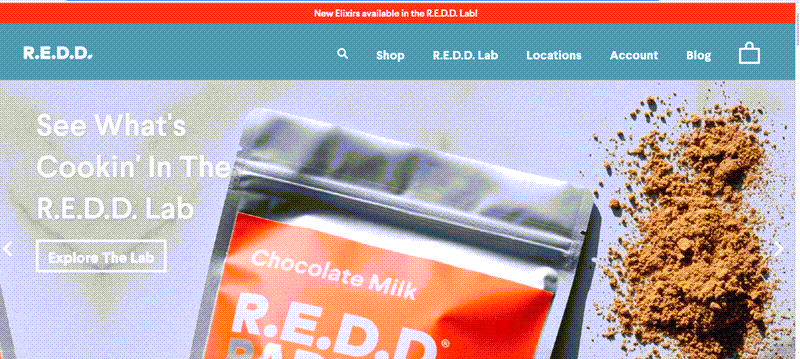 2. Yubico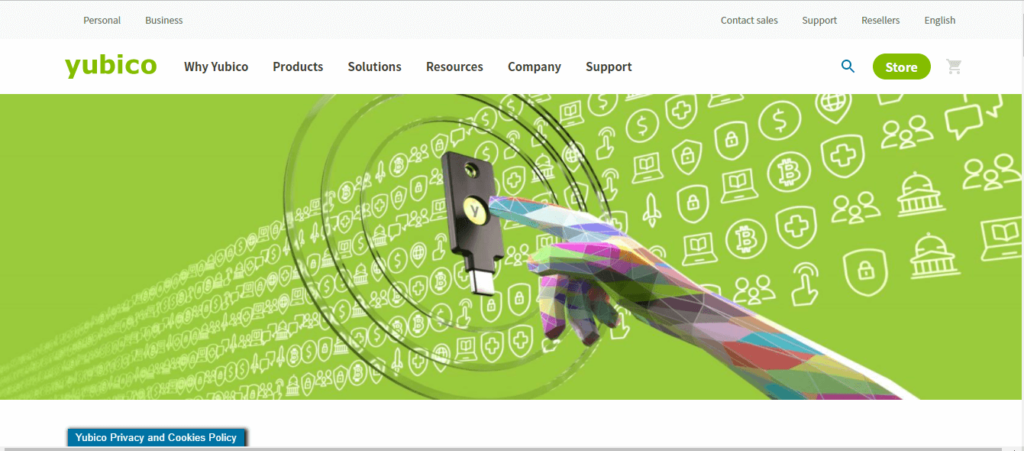 3. Heladitos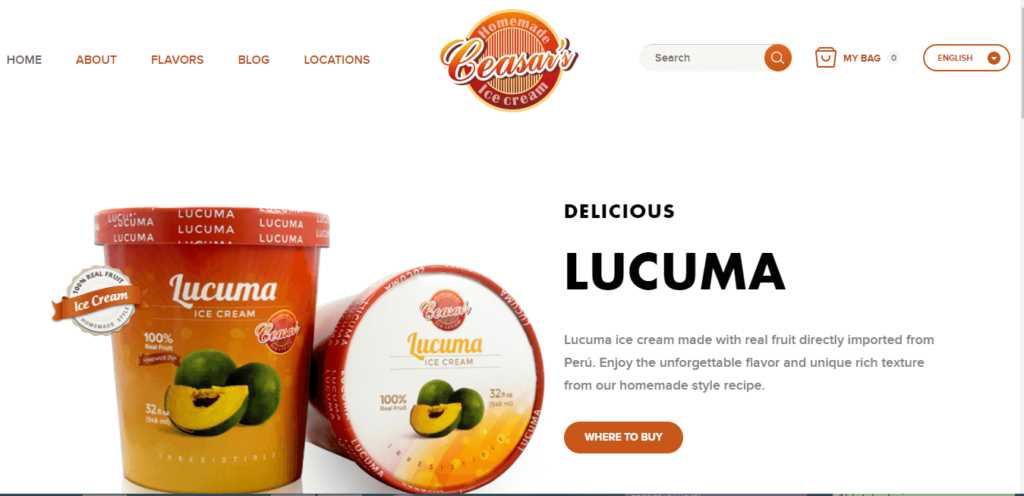 Who Should Use WooCommerce eCommerce Platform?
---
WooCommerce is a reliable, safe, and accessible platform. It can be used in different enterprises and businesses. Furthermore, it is a reliable platform that you can use in different ways to reach a broader audience and customer base. You can never go wrong with it.
It also has great WooCommerce support that will amaze you. There are also some great WooCommerce integrations that you can use to make your website more functional.
Boost Your Online Store
---
The WooCommerce features will please you and make you happy.
You just need to have a website designed for WooCommerce ready online store, for your products. It comes with many benefits that you can use to grow your business.
Many people will be able to access your products and services timely without having to come to your physical shop.
In case you are selling digital products, it becomes easier.
So, that's our take on WooCommerce, its benefits, how you can get it for your store and whether you should use it or not. We hope this blog post helped you make your decision in the best way possible.