11 Best Hosting Providers for Your WooCommerce Store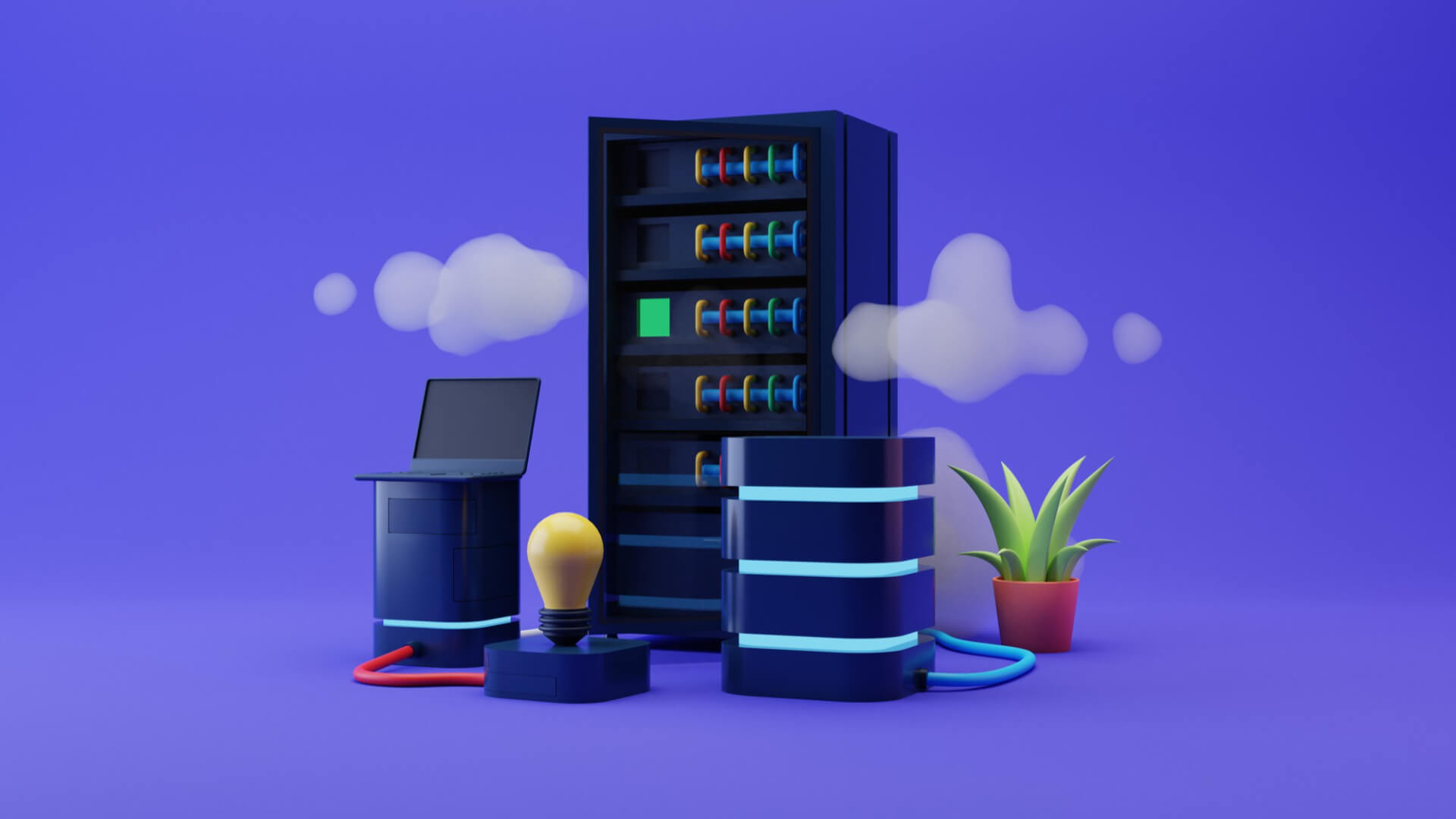 When you have a WooCommerce store, you need to find the right hosting for it to thrive well. WooCommerce is a powerful plugin that supports many online stores globally and has continued to gain popularity over time.
Due to its accessibility, many people prefer using WooCommerce to grow their eCommerce websites. Hosting is also a major factor when it comes to WooCommerce stores. You definitely want a store that will load fast, scalable, powerful, and accessible.
Choosing a dedicated WooCommerce hosting provider will help make that possible.
What Is Web Hosting and the Benefits of WooCommerce Hosting?
---
Web hosting is a service that allows institutions, organizations, and companies to make a website or online store available on the internet. A web hosting provider avails the service for you to host your website. The websites are then hosted on servers.
Benefits of WooCommerce Hosting
1. Handle the WooCommerce Store
One of the most significant benefits is that if you use dedicated eCommerce hosting, it can handle essential website maintenance, setup, and security for you.
Hence, you will just need to grow your store. At times, you can even get your WooCommerce store set up automatically.
2. Daily Backups
Another great advantage of dedicated WooCommerce hosting is the daily backups. Your data will always be safe no matter what. This will ensure that all your user information is kept secure.
However, this depends on how many backups you need regularly.
3. Great Customer Service
In these dedicated WooCommerce hosting providers, there is support staff who are experts in WooCommerce. Therefore, when you encounter an issue, you will be sure to be helped right away.
4. Increase Your Sales
With great WooCommerce hosting, you are assured of less conflict when it comes to your site. Thus, due to the site's flexibility, it will lead to more online sales.
In most cases, if your site is slow, it can easily impact your revenue.
What Should You Look for When Looking for a WooCommerce Hosting Provider?
Automatic installation of WooCommerce.
Good performance and enhanced security.
SSL certificate or security.
WooCommerce expert support.
Regular backups.
Support PHP 7+ and HTTP/2.
Offer a data center near your audience location.
The Best Hosting Provider for Your WooCommerce Store
---
1. DigitalOcean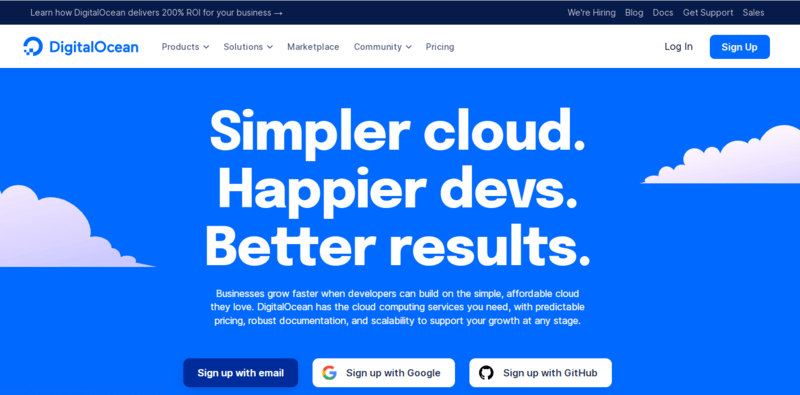 For growing to well-established businesses, DigitalOcean is one of the most recommended hosting providers for WooCommerce. It features one of the simplest and most reliable cloud web hosting services that make it easier for developers and businesses to host their websites effortlessly. 
It features Droplets, which are cloud servers that are standard and CPU optimized to gain you traffic. Not only do they provide you with choices to select hosting plans for WooCommerce, but they also give various options to install different kinds of tools for your web store.
For example, with DigitalOcean, you could use platforms like Plesk, cPanel, Ghost, Docker, Nakama, Memgraph, and more.
Why Do We Recommend DigitalOcean for WooCommerce?
1) ease of use
It's simple to host your website on the platform due to its low pricing, simple user interface, and documentation library. It enables everyone to build from personal websites to high-growth start-ups no matter the size of your business; DigitalOcean has got you covered.
2) Pricing
The platform is upfront and displays all the prices upfront. In addition, it offers some of the lowest bandwidth pricing in the industry. The complete pricing can be found here based on what you want to add.
The hosting cost starts from $5 per month.
3) Range
DigitalOcean has 14 globally distributed data centers, making it ideal for any website. This shows that your website will reach a wide range of audiences as you wish. There are also flexible hosting options that you can choose from to build and host your website.
4) Hosting
It features different types of hosting plans like shared, virtual private server, WordPress Hosting, and Solid State Drive storage.
2. Cloudways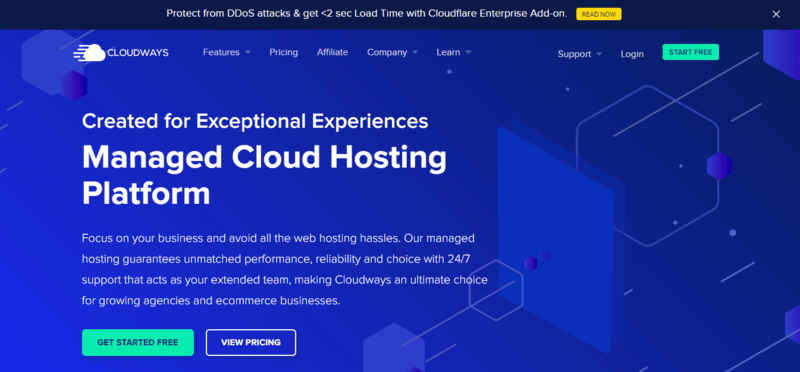 Cloudways is one of the best WooCommerce hostings of all time. It offers 10X more speed and security than you would ever wish for. By going with Cloudways, you get managed WooCommerce hosting ideal for online stores that need a fast, secure, and scalable platform. 
Your customers will get one of the best experiences of all time. Cloudways is a great platform that understands the WooCommerce hosting requirements well and provides some of the best solutions to make it fast, reliable and extendable.
Why Do We Recommend Cloudways for WooCommerce
1) Ease of Use
It is an intuitive platform so that it can serve all your requirements with a click. It also has some of the latest tools to ensure your site is up and running within no time.
2) Pricing
It features pay-as-you-go plans that allow you to choose the best that suits your needs. Pricing starts at $12 to $160 based on your requirements.
3) Range
It has a wide variety of cloud providers and server locations to ensure your WooCommerce store reaches many people.
4) Hosting
Not only does it provide hosting, but it also features an eCommerce starter bundle that has all the essentials needed to start your online store. You get all the preinstalled plugins you need to make your eCommerce store thrive well.
5) Space
The SSD helps to improve your website performance. This is mainly based on how your online store will be getting a large audience. It also has a built-in cache, optimized stack, and PHP 7.3 ready server that is faster, secure, and versatile.
The Cloudways CDN also helps reduce the server load and guarantees the high availability of your store for users around the world. There is also a specialized plugin that is free, lightweight, and feature-rich for your store.
3. Kinsta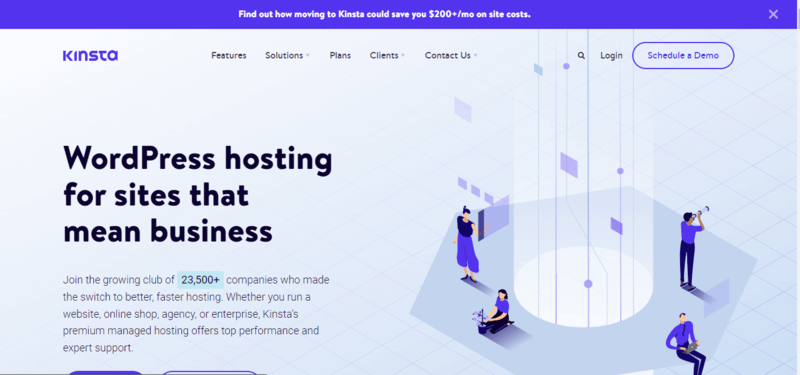 This is one of the best WooCommerce hosting platforms that you can use to boost your store. The hosting is fast; thus, you can run your website easily without any issues. Kinsta lets you optimize your admin tasks, resources, and budget with high-end tools.
You get premium features with any plan that you choose. You get the highest-end CPUs and global availability. And because of these, clients are seeing the performance increase from 30% to 200%.
Why Do We Recommend Kinsta for WooCommerce?
1) Ease Of Use
It has built-in application performance monitoring, making it easier to monitor your website and its scalability. In addition, it has a global content delivery network(CDN.)
2) Pricing
It allows you to collaborate with unlimited users, features edge caching with the price starting at $30. It also has some more expensive packages based on your needs.
3) Range
It has over 29 data centers; therefore, it reaches a broader audience. It also offers HTTP/3 support with simplified SSL management.
4) Hosting
It is powered by Google Cloud Platform to ensure that your website content is kept safe. Hence, it even makes it easy to back up the data. In addition, it can be used for local development.
It makes the website faster and secure at no extra cost.
4. Flywheel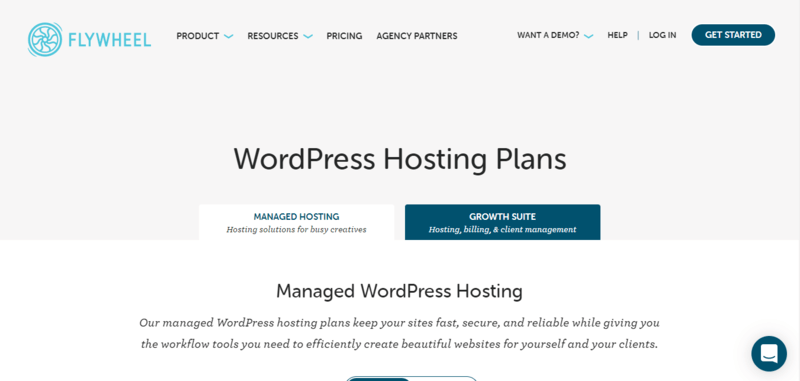 Flywheel is a new (not in the years' sense rather market awareness) and in-budget hosting platform where you can host your WordPress website. It even features managed hosting for eCommerce. So, you won't have to worry when you don't have enough time to manage your site.
It's part of WP Engine; thus, you'll get more of the WP Engine services. However, this has been simplified to meet customer needs derived from the small businesses industry.
Why Do We Recommend Flywheel for WooCommerce?
1) Ease of Use
There are some add-ons that you can use to make your site more functional. In addition, you get a monthly performance summary and actionable insights. Giving you more capability to make your site more functional.
2) Pricing
It has fair pricing that starts from $13 per month – to $240. However, the introductory price is for a simple website. For a more specialized website, the price goes up. The plans are based on sites, visits, storage, and bandwidth.
3) Range
It features different specialized server locations. Based on the plan that you choose, you can target different audiences. Hence, check the server locations to know which favors you most.
4) Hosting
It has different hosting packages based on the space you need, bandwidth, number of hosted websites, and much more. Hence, you can choose the one most specialized for your WooCommerce websites.
5. Hostinger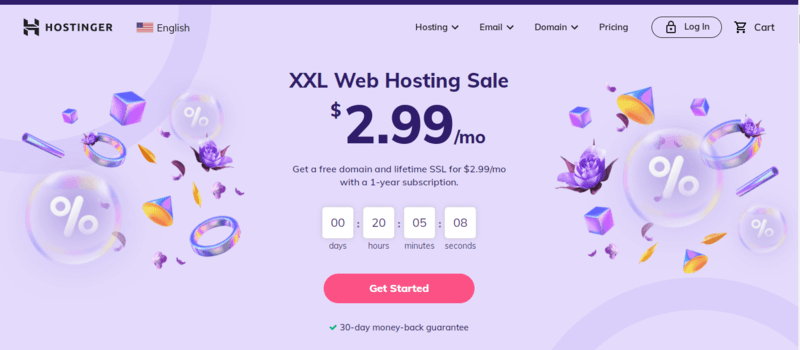 Are you looking for an ideal hosting provider to help you with your WooCommerce installation? Hostinger is an ideal provider that you can consult! It has different hosting plans based on what you need.
You can start with the basic plan, then escalate as your website continues to grow. A unique feature about them is that they provide unique suggestions based on what your website might need.
It also features a 99.9 % Uptime Guarantee. You can get the right website speed that you require using Hostinger. The cPanel is also intuitive, fast, and better.
Why Do We Recommend Hostinger for WooCommerce?
1) Ease of Use
You can do everything from installing WordPress, WooCommerce, and managing themes and plugins without even logging into the website. That's what kind of cPanel Hostinger provides. Further, it lets you create multiple email accounts in a few clicks, manage the website's storage, DNS, and more without confusing yourself under complex tools, unlike other hosting providers.
You become in charge of your website and can do anything you wish with it. It provides the best eCommerce management features of all time. Once you start using Hostinger, you'll love what they offer.
2) Pricing
WordPress web hosting starts at $2.9. However, you can choose other plans that have more features. If you were using different hosting and want to shift to this one, you are offered free migration.
3) Range
Hostinger provides multiple server locations, which you can only access once your account has been created. You need to let the support team know where you want to move, and they'll do it for you in no time.
Moreover, certain hosting plans come with daily and frequent backups ensuring your website's safety. This is essential if you want to migrate your site or in case of an attack based on other vulnerabilities.
4) Hosting
Hostinger offers multiple hosting plans under various categories to fulfill your hosting needs. For instance, the main categories are Shared, Cloud and VPS. So, based on your needs, you can easily select the one that suits you the most.
With each hosting plan, you get a LiteSpeed WordPress Module specialized for that content management site. Hence, you are assured that most of the plugins and extensions will fit right in, and it won't conflict with the hosting plan you have chosen.
It also offers a one-Click WordPress Installation, making it easier to install your site. There is also great customer care to ensure they cater to your needs when you need some help.
5) Security
Once you get a hosting package, you are assured of a free SSL to ensure that your site remains secure and is free from any kind of vulnerabilities. It offers Cloudflare CDN & DDoS Protection. Hence, you can be assured of fewer attacks on your WooCommerce website. It also has PHP Speed Boost to ensure that your website loads fast enough when being used. Your customers won't leave the site because of it being slow.
While on WooCommerce, you are assured of LiteSpeed caching, threat detection, and the latest infrastructure. Your website updates will be faster and more stable. Reduced error messages!
6. Bluehost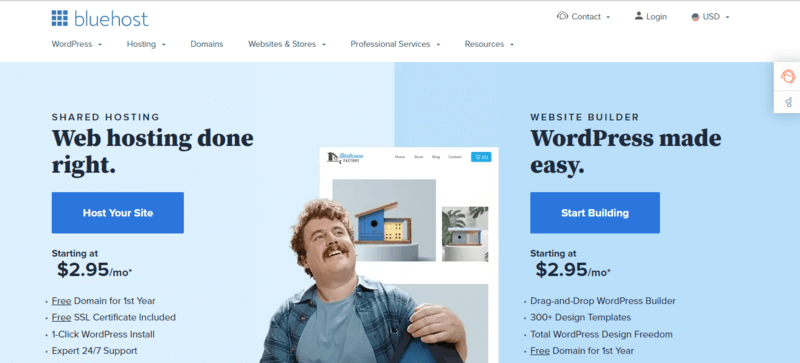 Bluehost has its bit of shares on the internet as one of the best hosting providers. Before starting your website, you need to have found a reliable hosting provider. Bluehost is here to make that possible! A reliable website hosting will ensure that your website reaches the right audience.
Whether you're just starting or have been in the industry for a while, Bluehost will suit you best. It has reliable features specialized for your needs. Over the years, it has grown to be trusted by many people.
However, even though it holds an excellent reputation, you might not like the cPanel it offers to manage websites and their data.
Why Do We Recommend Bluehost for WooCommerce?
1) Ease Of Use
Some users have reported using BlueHost's panel reliable. So, some found it behind its time. However, once you start using it, then over time, it will become easier to understand its features and manage your website effortlessly.
2) Pricing
The hosting starts from $4.95 per month. However, they have higher plans that you can subscribe to for more features. Actually, there is a specialized hosting plan meant for online stores.
3) Range
It features fast, reliable performance to ensure that your needs are met. You can be assured that people will be able to access your website at a fast speed. Your WooCommerce website will thrive well.
4) Hosting
It features various hosting plans that won't let you down. Be sure of that. There is hard hosting, VPS, and dedication. They all have different features based on the specification of your WooCommerce site.
5) Security
It is highly secure, and if you decide to trust Bluehost with your site, you won't regret it. It also gives you the freedom to add other additional plugins, add-ons, and extensions.
7. SiteGround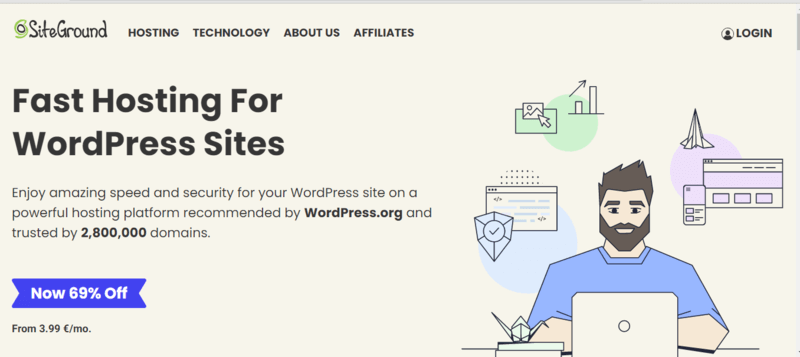 If you want your WooCommerce store to thrive, then why not try SiteGround? You will be amazed by what you get from it. You will enjoy amazing speed and security from this reliable hosting provider.
It has been trusted by over 2,800,000 domains worldwide. Your WooCommerce online store will be fast, secure, and accessible easily. Further, enjoy free Cloudflare CDN, smart caching, and high speed. It also includes a pre-installed SSL, managed updates, daily backups, AI anti-bot system, and a safe staging tool.
Why Do We Recommend SiteGround for WooCommerce?
1) Ease of Use
With a simplified panel, you also get an amazing site builder that lets you make your eCommerce store alive in no time.
You can just buy a domain name and some hosting space and be assured that you will get a functional website. If you are already hosting your store somewhere else, you could easily bring it to SiteGround using its easy-to-use migrate suite.
2) Price
It starts at $3.99 per month, which is affordable for anyone. However, if you want more premium features, you can look for other higher plans.
3) Range
It is a well-known hosting; thus, you are assured that your website will reach a wide range. It is specially designed for online shops. Your site will run 500% faster than you would expect.
4) Hosting
The WooCommerce SiteGround hosting is built on a premium Google cloud infrastructure to ensure reliability, security, and speed. You are assured of a fast network and SSD persistent storage to ensure your site loads fast. It also has an ultrafast server setup to boost website performance.
5) WooCommerce Pre Installed
You won't have the hassle of installing WordPress then WooCommerce; you will find it preinstalled with the popular storefront theme. Thus, you're set to sell your products and services at ease.
8. DreamHost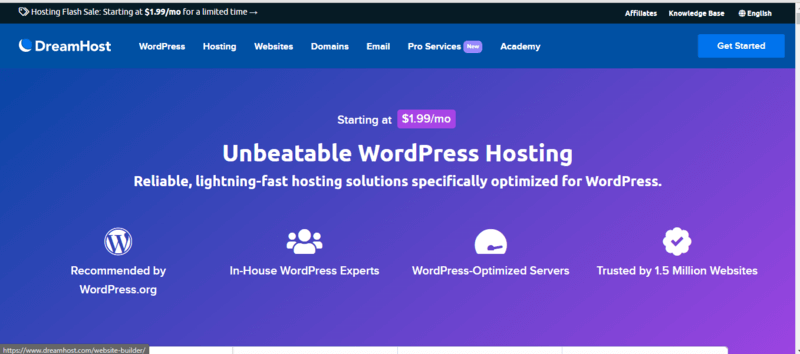 DreamHost is an ideal platform that you can use to host your website. You can use it to sell anything, anywhere and anytime through your online store. While using the hosting, you are assured of extreme speed and great uptime.
You also get powerful caching, one-click staging, and on-demand backups. It's an essential aspect for you not to lose your site when there is an issue.
Why Do We Recommend DreamHost for WooCommerce?
1) Ease Of Use
When you choose DreamHost, you get the most stable hosting to ensure your WooCommerce store remains up to date. So, you won't lose customers out of outdated functions.
In addition, there is also great customer service to answer your queries on time.
2) Pricing
The perfect plan that you can use to host your WooCommerce site is Dreampress which starts at $16.80 – $24 – $70. This offers you unlimited email, 30 GB SSD storage, unmetered bandwidth, pre-installed WooCommerce, preinstalled storefront theme, SSL certificate, and great automated WordPress migrations.
3) Hosting
The hosting ensures a fast loading time to ensure your visitors don't stay too much before the website loads. It is also made of nextGen cloud tech with server-level caching to ensure your online store is fast. You also get free SSL security and server-level caching.
4) Range
You can add as many plugins as you wish to make your WooCommerce more functional without destroying it. Due to its strength, be assured that you will reach a larger audience with your WooCommerce site.
5) Security
It comes with a Free SSL to enhance the security of your site, especially during direct payments. You also get 100% uptime guaranteed.
9. Liquid Web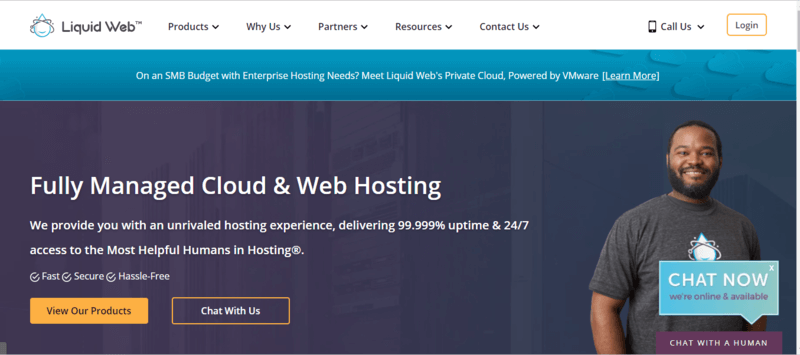 Liquid Web is one of the best hostings that will provide you with managed cloud and web hosting. You will get one of the best hosting experiences with 99.99% uptime and 24/7 access to the best hosting.
This hosting helps you have full server access and upgrade it whenever you are ready. In addition, you can choose to have automatic daily backups, a staging site, and a wide range of data centers to reach a wider audience.
Why Do We Recommend Liquid Web for WooCommerce?
1) Ease of Use
It has WooCommerce automated testing that tests to check whether everything is working as it should. When you buy a plan, you get WooCommerce already pre-installed. You will also enjoy the benefits of a fast website.
In addition, it also gives you the freedom to migrate your site for free. You are assured of no traffic limits. Hence, you can get as many customers as you want in a day.
2) Pricing
The plans start from $13.99 per month to up to $104.30. You are assured of getting incredible features to ensure your site runs as it should.
3) Range
It has dedicated servers and infrastructure to meet all your needs. There are also multi-server configurations for fast speed, performance, and uptime.
4) Hosting
It features VPS, dedicated hosting, cloud hosting, and digital commerce cloud. This will make sure your site remains safe. You can consult customer service when you face an issue.
5) Security
It is powered well with an SSL certificate to ensure that your site remains secure.
10. WP Engine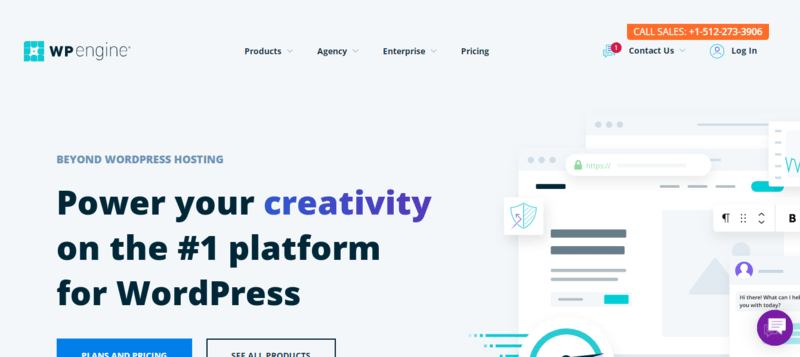 When it comes to WordPress hosting, there's always one name that comes to mind – WP Engine. Why? Because it's one of the best hosting platforms, powering over 1.2 million websites. And it can do the same for your WooCommerce website.
With WP Engine, your online store will have improved performance, website protection, and accelerated development. Moreover, if you find yourself confused with something, you can always reach out to the amazing support to ensure all your queries are answered on time.
Why Do We Recommend WP Engine for WooCommerce?
1) Ease of Use
If you are looking for a fast website, you better opt for WP Engine. This will be great for your visitors, SEO, and your budget. You can also enjoy automated updates, managed upgrades, daily backups, etc. Drive your website performance with highly scalable and redundant solutions!
2) Pricing
You can choose among the various plans with managed WordPress at $20, eCommerce solutions at $50, and other advanced solutions.
3) Range
Due to the power of this hosting platform, you can migrate your site in one click and even create a new site at your comfort.
4) Hosting
It has a wide variety of hosting plans for WordPress.
You can choose WordPress Hosting, Enterprise hosting, WordPress eCommerce, agency-client management, headless WooCommerce, etc. No matter what you choose, you're always assured that the hosting plans will suit your preferences.
5) Security
You are assured of getting enterprise-grade security backed by SOC-2 Type II examination, DDoS protection, web app firewall, and much more. Your WooCommerce store will be on another level.
11. GreenGeeks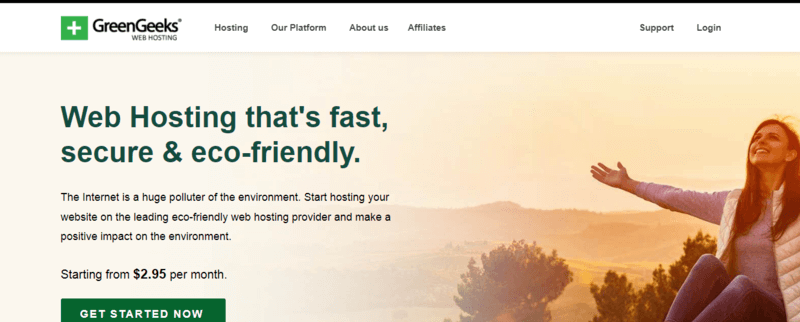 If you're looking for a secure and eco-friendly hosting provider for the WooCommerce store? Then, you better opt for GreenGeeks. Your website will be blazing fast and secure. Hence, your customers will always feel safe when accessing your site to make some purchases.
Plus, while using its resources, you'll not cause any harm to the environment as the company practices eco-friendly ways to offer server spaces. If you're someone who is very conscious about their carbon footprint, then GreenGeeks is for you.
Why Do We Recommend GreenGeeks for WooCommerce?
1) Ease of Use
It is easy to host your Website on Greengeeks to boost your online selling. It also has a WooCommerce installer to make it easy to start your online store.
2) Pricing
The pricing starts at $2.95, with other plans going higher based on the features ($5.95, $10.95). With this basic plan, you can only host one website, standard performance, 50 GB webspace, 50 email accounts, SSL files, domain name, free backup, free CDN, and much more.
3) Range
It is a leading hosting company in the United States, Europe, and Canada. It also promotes eco-friendly methods to ensure that your website meets all the requirements. Hence, you are assured that it will reach a large audience when you host your WooCommerce site.
4) Hosting
It is a reliable hosting that features automatic updates to ensure your site remains secure at all times. You can also choose to have daily backups each time. Thus, making it worthy of being the best hosting for your WooCommerce website.
5) Security
This hosting platform allows you to have advanced security. The platform is routinely checked for vulnerabilities to ensure nothing goes wrong. There is also a wildcard SSL included in it.
You also get a dedicated IP for more security.
Conclusion
---
You can compare these various web hosting to know which one will suit you best. These are some of the most remarkable eCommerce web hostings of all time.
If you want your website to thrive skillfully, you will need hosting that leads to high traffic. These are the best WordPress WooCommerce hosting that you can use.
Enhance your best WooCommerce service of all time!
---
This post may contain affiliate links, which means we may receive a commission if you click a link and purchase something.