How to Connect Your WooCommerce Store to Facebook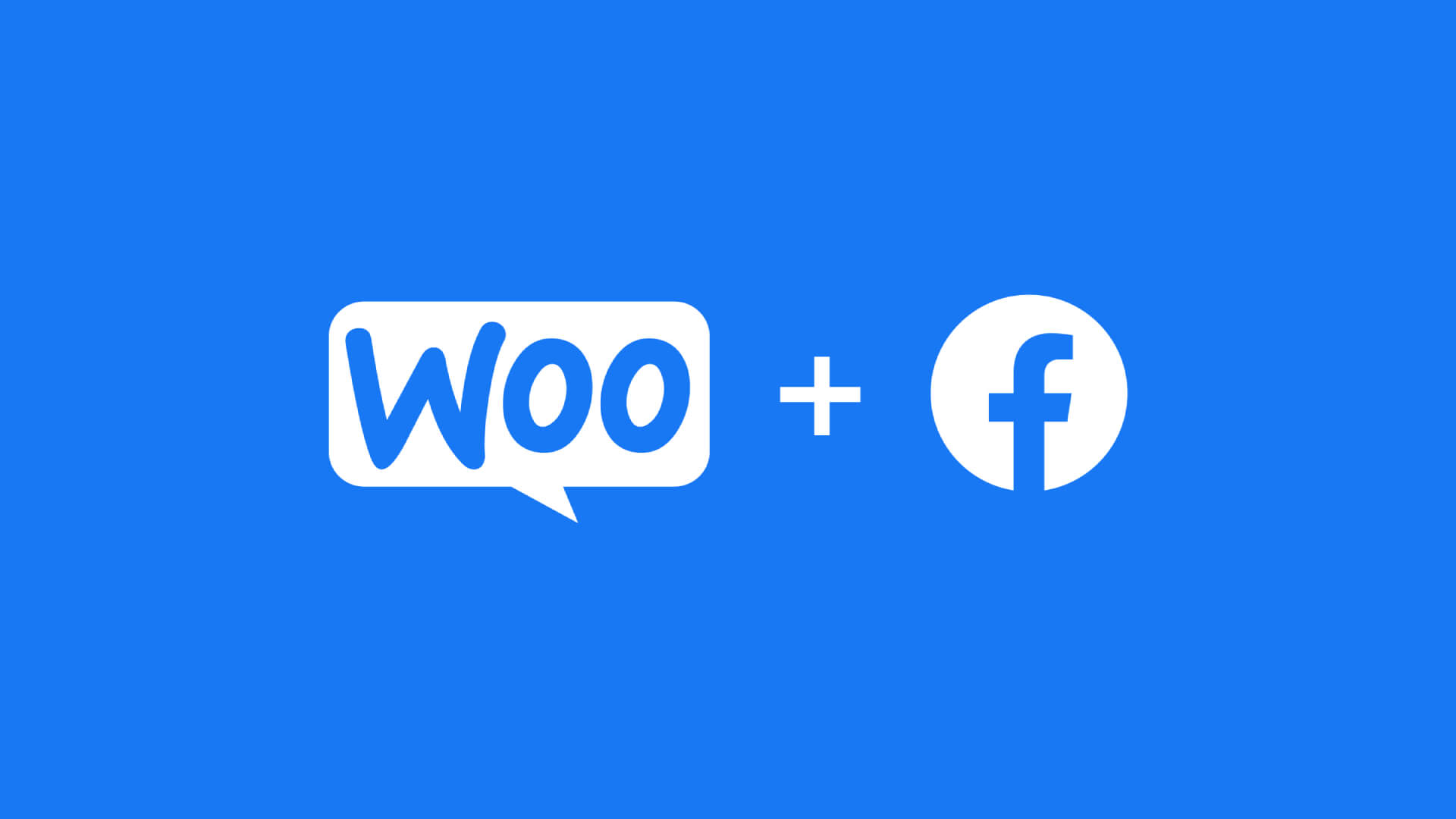 WooCommerce is an amazing WordPress plugin that you can use to start your online store. When you have a WooCommerce store, you need to diversify in marketing. You need to determine your target location, target audience, and market through those channels.
There are many social media networks that you can use to market your products. You can use Twitter, Facebook, or Instagram to reach thousands of customers in your region in no time. And for that, you don't even have to go out in public. That's the magic of the internet and social media networks.
Moreover, it is also essential to have a solid brand to ensure that people can easily associate with your products.
It takes effort, and over time you can see your small brand turning into a big one. WooCommerce gives you the ways to accomplish this particular vision through various channels. And connecting Facebook to your store is one of them. It's easy for anyone and seamless.
Through this tutorial, we'll see how we can connect the store to Facebook and reach a wider audience.
Why Use Facebook for WooCommerce?
---
You may be wondering whether it is possible to integrate WooCommerce with Facebook. Yes, it is, and here are some reasons why you should use Facebook for your WooCommerce store and its marketing.
1. Amazing Reach
Facebook has been in existence for a long time and has gained a large audience over time. It has over 1.93 billion active users every single day. Hence, a great platform to market your goods! You can have sponsored adverts, use Messenger chatbots, boost your posts, start a Facebook shop, and build a Facebook page.
Many people tend to go to Facebook to check the latest news, which makes it a great platform for marketing. Your eCommerce business will thrive well on the platform.
2. Facebook Pages Effectiveness
Facebook pages are one of the most effective social media marketing elements. You can create a business Facebook page for your business and request your customers to follow your page for regular updates.
You can then be posting new products on the page. Also, it will be easier to answer their queries through messenger chat. They will get all the information they need from the timeline.
The Facebook page gives businesses a personality and boosts brand growth. You can share videos, images, links, and much more about your products.
People easily relate to visuals, and they will even refer their friends to the page.
3. Invest in Facebook Ads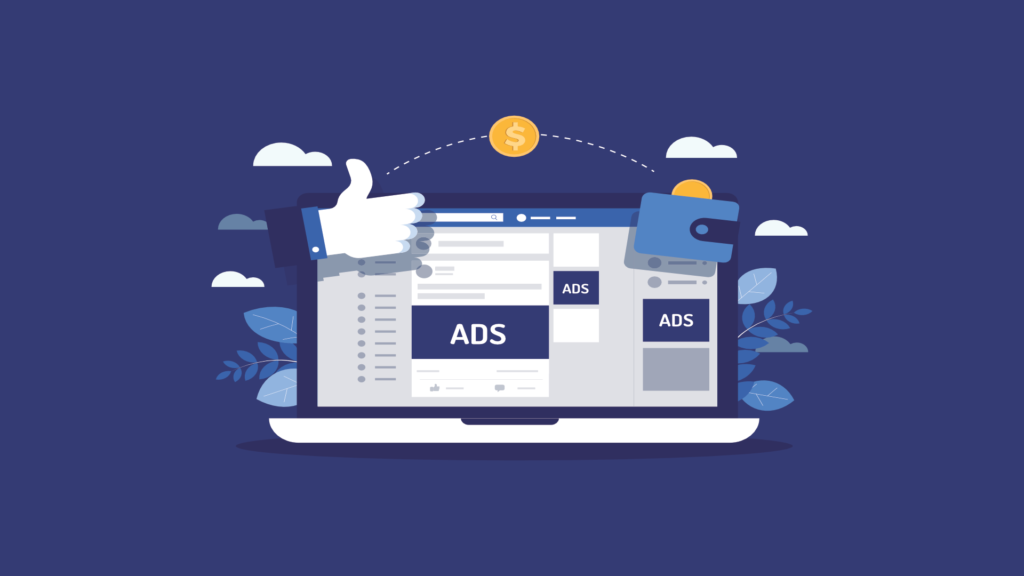 One of the strongest Facebook strengths is the Facebook ads. They tend to appear on the side columns or News Feed of the Facebook site. They are also referred to as marketplace ads.
The ads normally feature a headline, an image, and a click-through link to your Facebook page or your website. However, you need to be objective of the audience range, have ad budgets, and use the ad performance measurement tools.
4. Promote Facebook Posts
While doing a business, you need to invest in great marketing strategies. Hence, another great way is to invest in having promoted Facebook posts. You get to pay a flat rate to have the individual Facebook posts reach several users. They are also easy to set up. You can also have sponsored stories to ensure that users can get to see your products easily.
5. Facebook Exchange
This is also a great marketing strategy. In this, as an advertiser, you take advantage of ad retargeting on Facebook through bidding. You can target an audience based on their web history data.
When a user visits a page on the website but doesn't make a purchase, the retailer can display an ad related to the same product using FBX. They are not only shown on columns but also news feeds.
This will make it easier to sell products, expose your followers to your eCommerce store, strengthen your customer relationship, and grow your revenue.
How to Connect Your WooCommerce Account to Facebook
---
These reasons should be valid enough for you to connect your WooCommerce account to Facebook. The following steps will connect your WooCommerce store to Facebook, to increase your traffic to your online store.
Step 1: Install Facebook For WooCommerce
Once you have a fully functional WooCommerce store, you can then start installing favorable plugins to your site. And to achieve our goal to connect the store to Facebook, we're also going to use a plugin.
For this tutorial, I've chosen the Facebook for WooCommerce plugin.

It's the official plugin developed by Facebook that lets you easily connect your WooCommerce store. Using this particular plugin, you can install the Facebook pixel, upload and manage your online store catalog, and enable the Shop button on your Facebook page. Thus, giving you the complete tools to optimize Facebook to the fullest for your WooCommerce store.
Further, it enables you to easily run dynamic ads. So, you can reach a wider audience without any extra effort. It's an essential plugin to boost your sales through Facebook. Now, to installing it on your website,
First, open your WordPress dashboard, navigate to Plugins → Add New and search for Facebook for WooCommerce.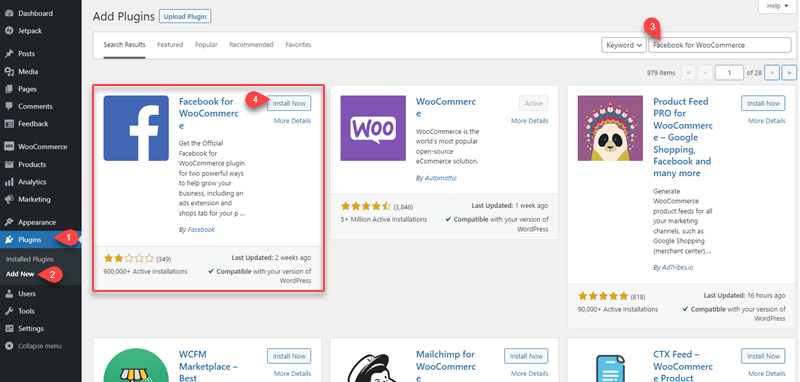 Then, click Install Now for the above and after installation, activate it.
Step 2: Enable the Facebook Integration
A new menu item will appear on your WooCommerce's Marketing menu → Facebook.
While on that, click on Get Started.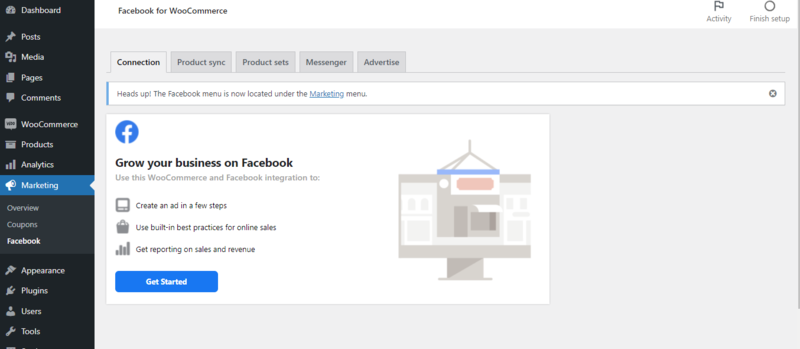 This will redirect you to a page to connect your Facebook page to the WooCommerce store.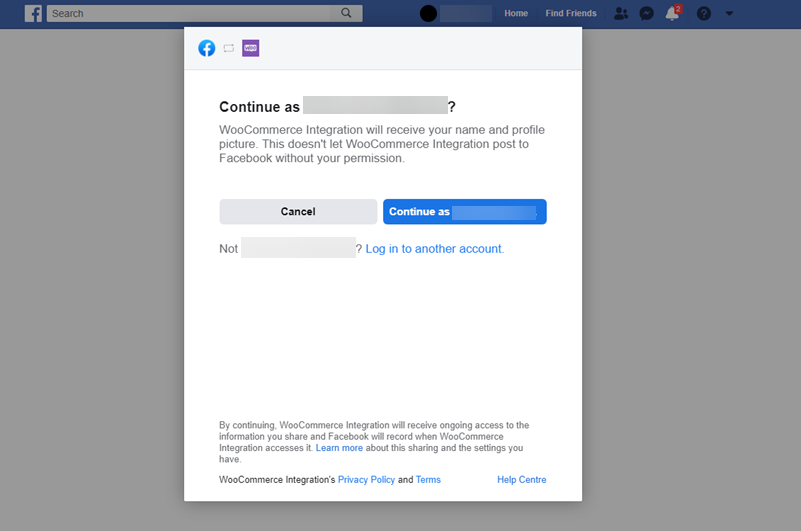 When you click Get Started, you will be redirected to Facebook. Remember to choose the account you want to link your WooCommerce store to.
Step 3: Link to Your Facebook Page
If you already don't have any Meta business account, it'll ask you to create one.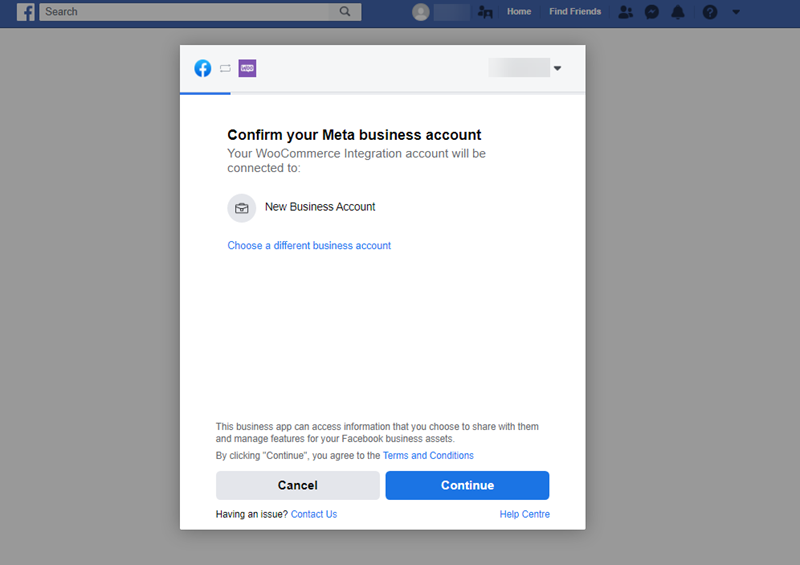 Click on New Business Account and follow the process.
If you've already got a business account, then it will ask you where you want to connect your WooCommerce store.
Choose to link with your Facebook business page and not your account. You will be redirected to another page, uncheck all of them, and just retain Facebook Shop.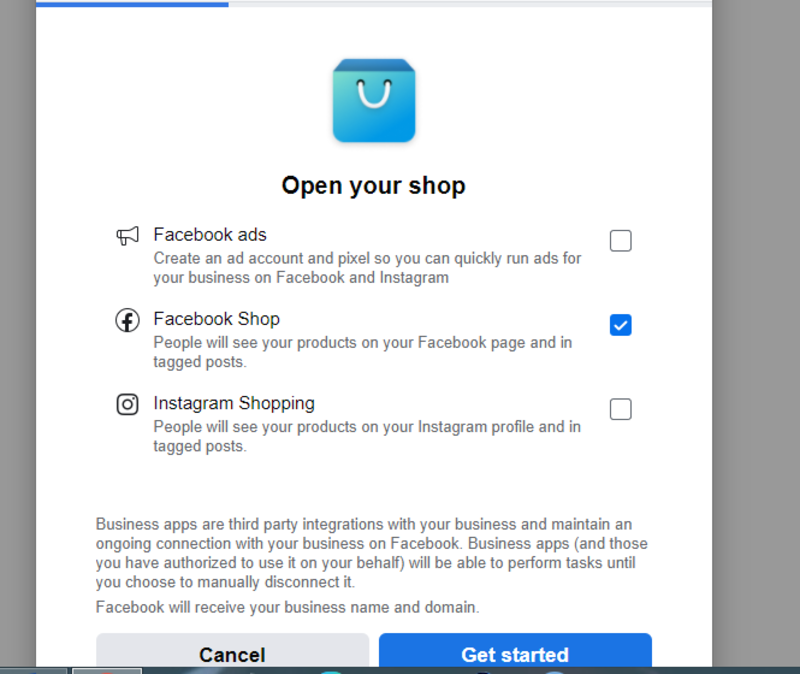 A Facebook shop is typically a platform that you can use to set up your online store and sell products on Facebook and Instagram effortlessly.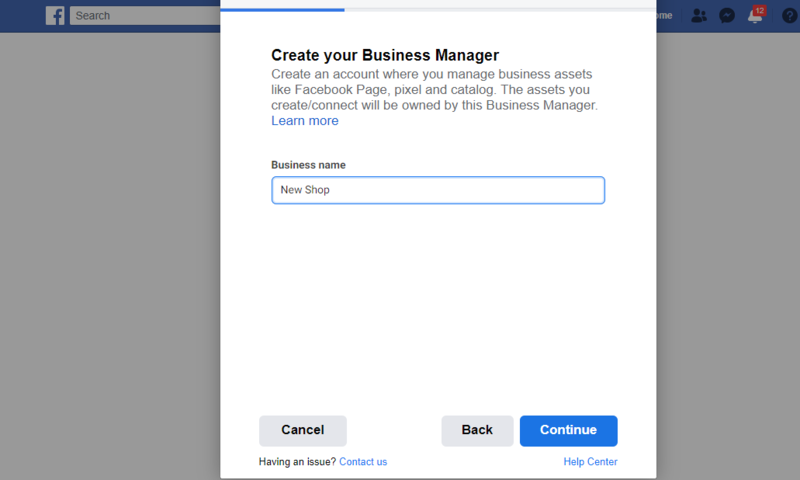 Choose a business name and the account you want to link, then continue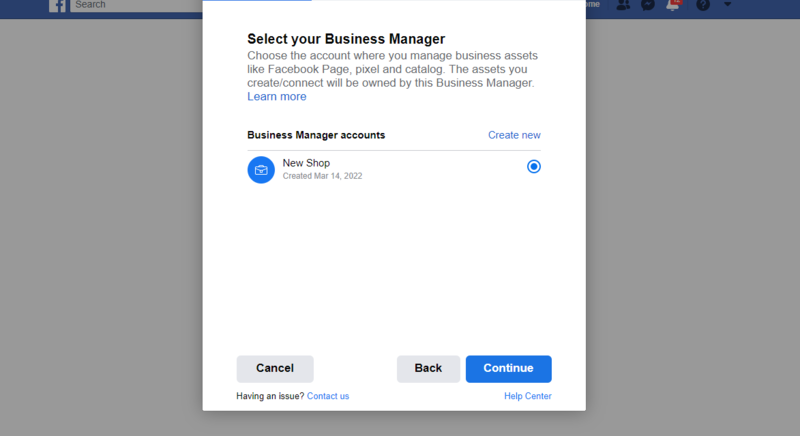 You can decide to choose a Facebook page or create a new page.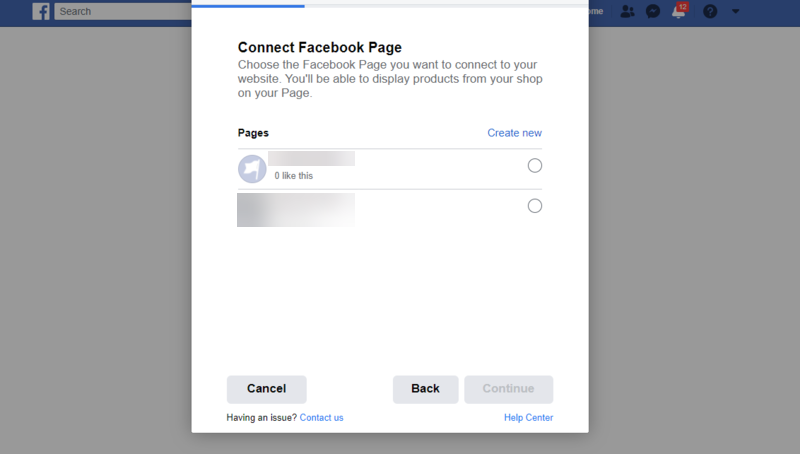 Choose the Facebook page you want to link to your store. It will then further ask you to connect your Instagram to it as well.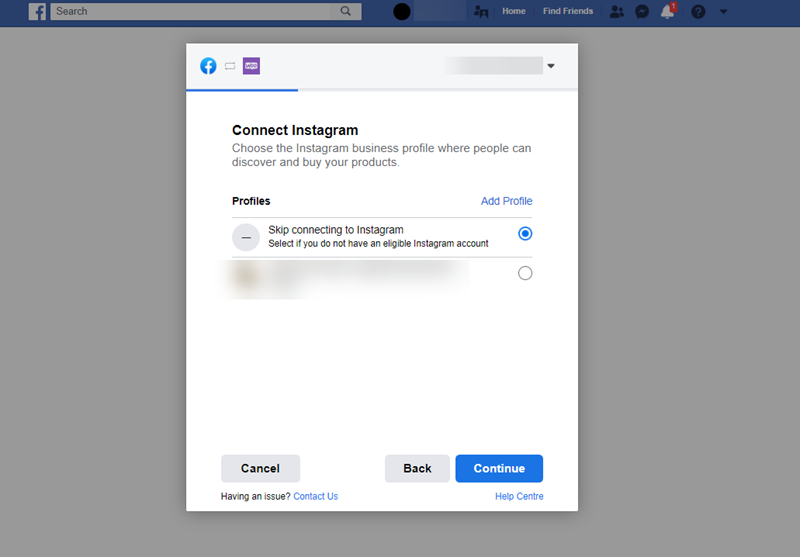 If you want to do that, you can select the Instagram account, otherwise keep the option Skip connecting to Instagram. Once you continue, the process further asks you to choose your product catalogue options.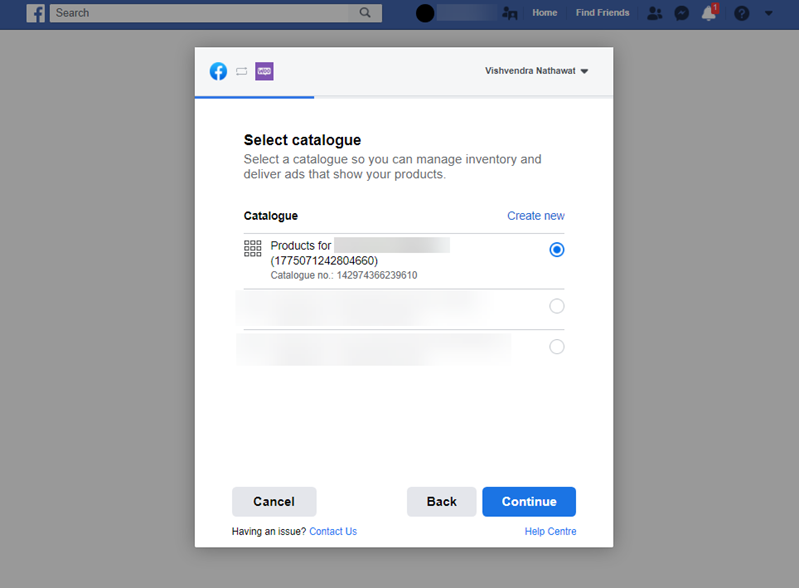 As per your account selection, select the product catalogue you need.
Step 4: Choose a Facebook Pixel
The next step is to select a Facebook Pixel for WooCommerce that you can use to track your inventory between Facebook and WooCommerce. The WooCommerce Facebook Pixel integration is important for easy monitoring.
If you don't have one, you can click the Create New button to generate a Facebook Pixel, give it a name and click continue.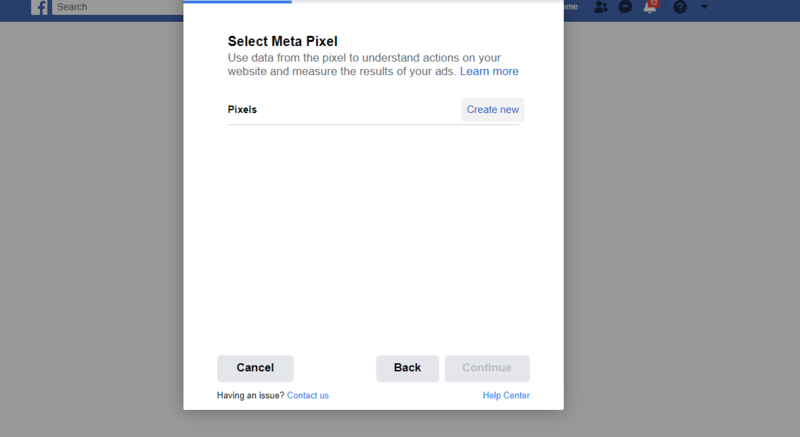 Once done, you will need to confirm your Commerce account.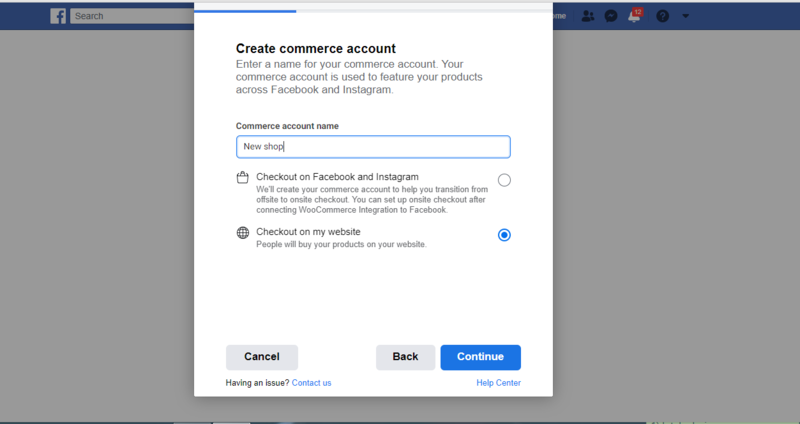 You can choose to either check out Facebook and Instagram or your website. After this, you'll get the Confirm Settings popup, where you view the configurations of the integration.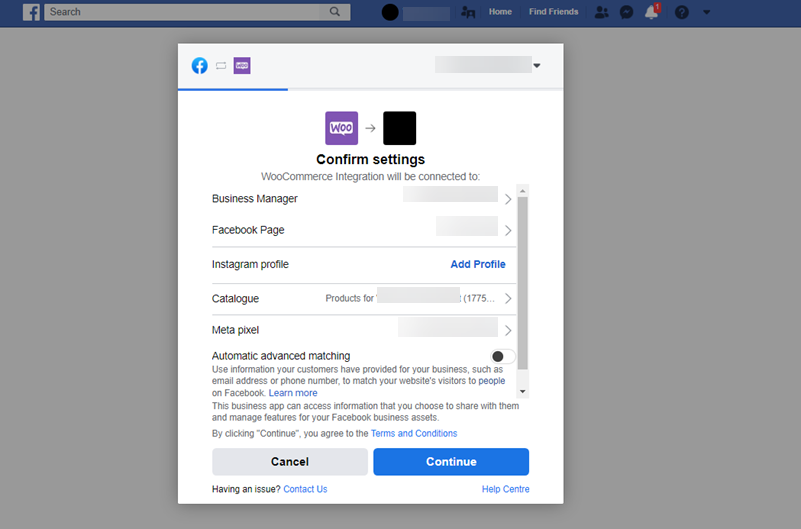 As soon as you click the Continue button, the integration process again popup a window, where you can manage settings for your WooCommerce integration.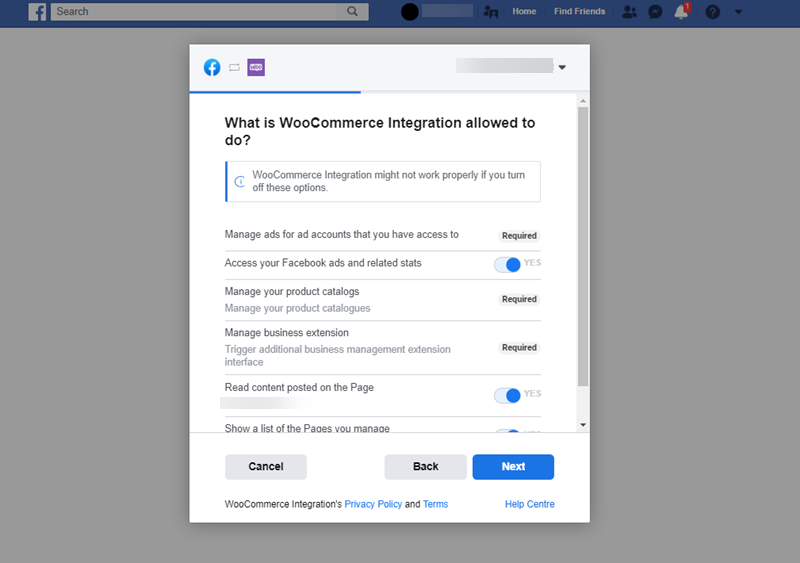 As per your requirements, apply the changes and then click Next. On the next page, you need to click on the Business Apps icon and then click WooCommerce Integration. This will help to integrate both.
Remember to enter your WooCommerce store's URL to connect, and not your websites' URL. Follow the procedure till you are done, confirming all the details.
Step 5: Manage Your Product Catalogue
Once done, your store will be linked to Facebook. On the store's backend, you can still view and manage your catalog.
That's it. You've successfully integrated Facebook with your WooCommerce store.
Other WooCommerce Facebook Integration Plugins
---
1. Facebook Pixel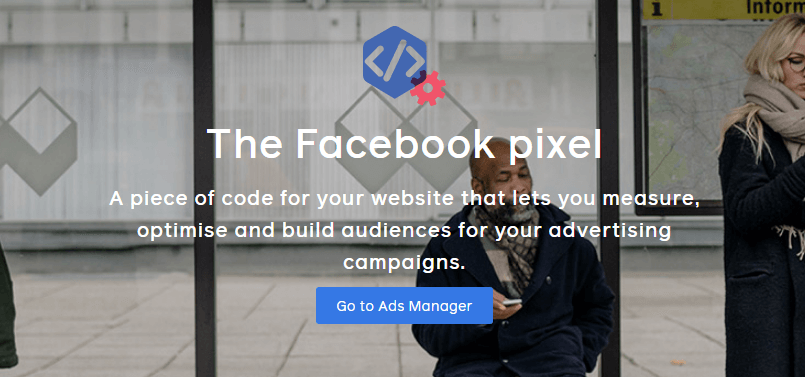 It allows you to optimize your advertisement strategy. This is because you will get a better overview of the various user's behavior. Through automatic bids, you can also perform actions that interest your brand.
You can see when visitors see your content, search on your page, add an item to the cart, start paying, add payment information, and make a purchase or register.
2. Facebook Messenger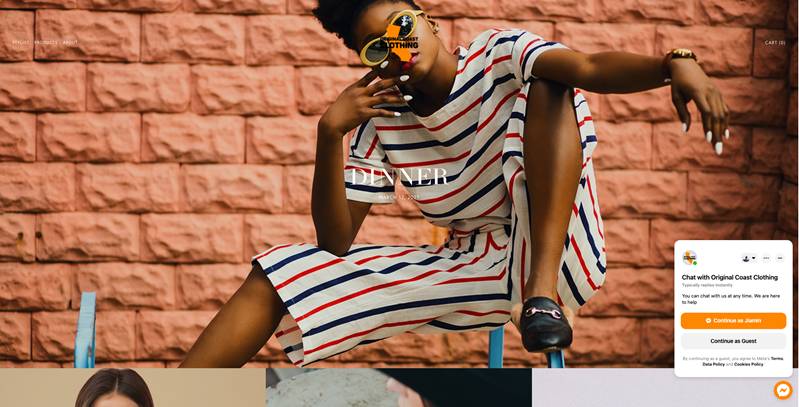 You can connect your store with the Facebook Messenger Chat. This will increase the interaction between you and your customers. You can chat on the website, then carry on to Facebook to fulfill orders. Even without Facebook for WooCommerce, you can still have Facebook Messenger.
3. StoreYa's Social Shop for WooCommerce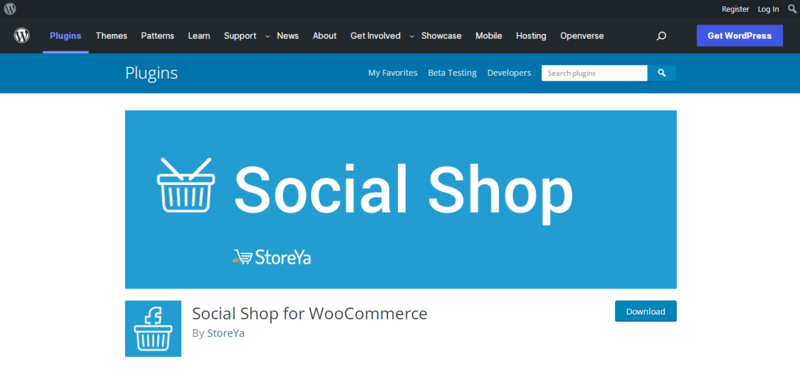 This plugin makes it easy to sell on the Facebook store. It is the best plugin you can use to import the products you want to Facebook's social media network.
In addition, you can set up several Facebook stores using the plugin for easy management. This is one of the most recommended channels for boosting WooCommerce sales.
4. Web Toffee Product Catalog Sync for Facebook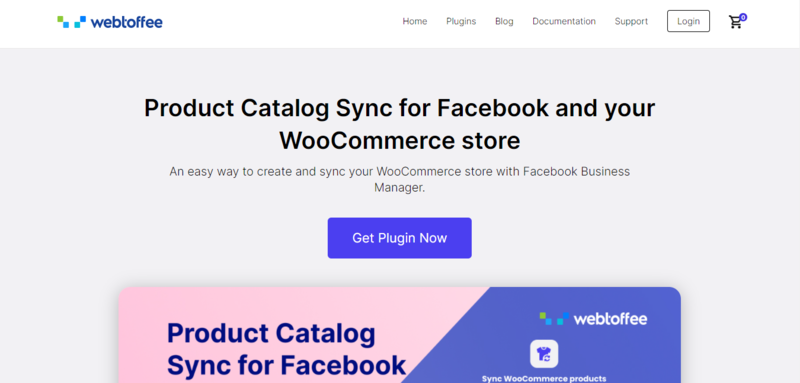 It allows you to arrange your store's products well. You can even exclude some products that you wouldn't want to sync between Facebook and WooCommerce.
Depending on the products, you can have a batch sync. This will make the selling experience better.
5. ELEX WooCommerce Catalog Feed for Facebook & Instagram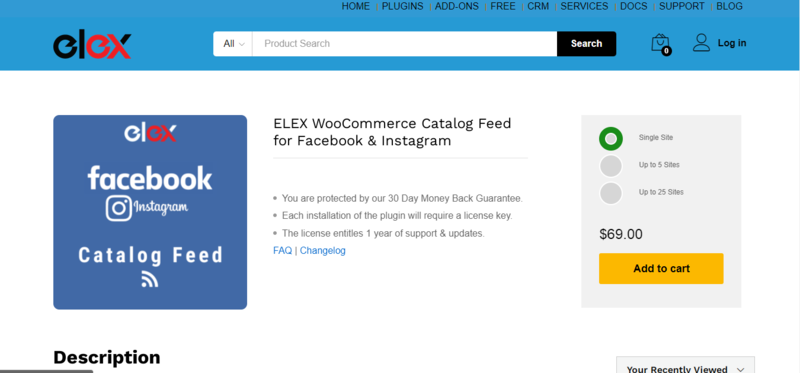 This is an easy-to-use plugin that makes it easy to display products. It gives you the freedom to customize your product's display as you wish.
You can even set a certain target location, product categories, and attributes. You will create the best product feeds.
6. Social Commerce for WooCommerce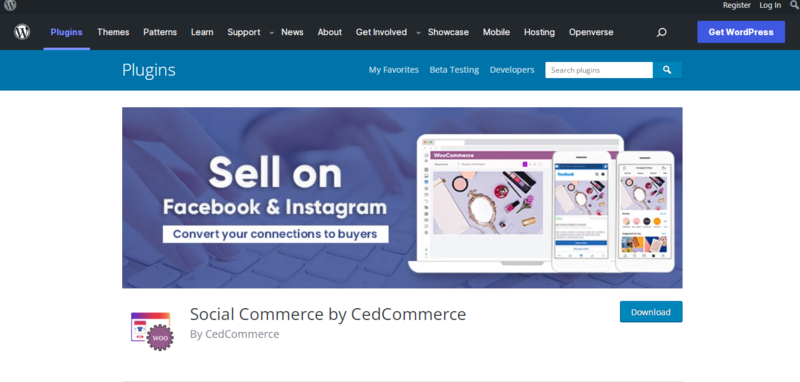 This plugin lets you sync and un-sync products anytime without limitations. You can sync as many products as you want. Product management has never been easier! Your whole marketing experience will accelerate.
Conclusion
---
Connecting your WooCommerce site with Facebook will increase the audience reach and make it easier to get customers.
However, you need to ensure your Facebook shop looks incredible for the sake of attracting customers. You need to use the best WooCommerce sales channels to ensure your sales go up.
All the best as you boost your sales. You can also use the best WooCommerce B2B plugins to sell products wholesale.