13 Useful Tips to Boost Your WooCommerce Store SEO in 2023
If you have a WooCommerce site, you probably often search for ways to optimize it. However, you may not be sure of how to go about it, even after installing certain WooCommerce plugins and extensions, social media integration, using the right hosting and optimizing its speed.
Google and Bing use various algorithms to ensure valuable content ranks higher. That's why it is critical to know how best to use SEO strategies to make your site rank better. SEO will boost your store's ranking, accessibility, and sales.
In this article, you will get to learn more about how to optimize your WooCommerce store SEO.
What Is SEO?
---
SEO means search engine optimization. It's an optimization technique that you can take up to increase your website's visibility in the search engines. This can be through content, images, integrations, plugins, and other media used on your site.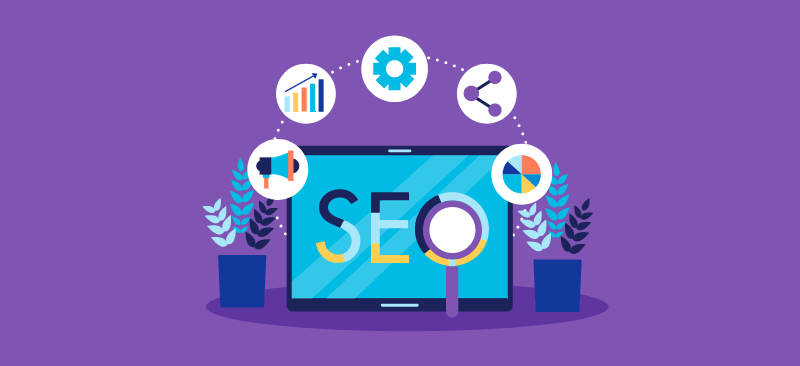 You can apply SEO techniques to literally any kind of website, and it's essential also to compete in the market. And as it is for websites, then it is simply applicable to an online store as well.
However, what's matters is whether your online store support or flexible towards SEO or not.
WooCommerce is an eCommerce plugin built specifically for WordPress. It is the ideal tool for all kinds of small, medium, and large enterprises. It is open-source, therefore giving you the freedom to customize your online store as you wish.
Meaning, You've got pretty amazing options and tools to do SEO in a better way. And the following tips will help you make an excellent effort to invest in your WooCommerce store to ensure that it leads to the right sales.
How to Boost Your WooCommerce Store SEO
---
You can practice the following strategies to boost your WooCommerce SEO per your feasibility.
1. Add WooCommerce SEO Plugin
As we already discussed that WooCommerce is an eCommerce plugin for WordPress. Therefore, what works for WordPress is compatible with WooCommerce as well.
While on WordPress, you need to use Yoast SEO or All in One SEO WooCommerce SEO plugins to boost your website.
The plugins give you a guideline on whether your meta description, heading, paragraphs, internal links, external links, keywords, slug, and much more are well optimized for the search engines or not.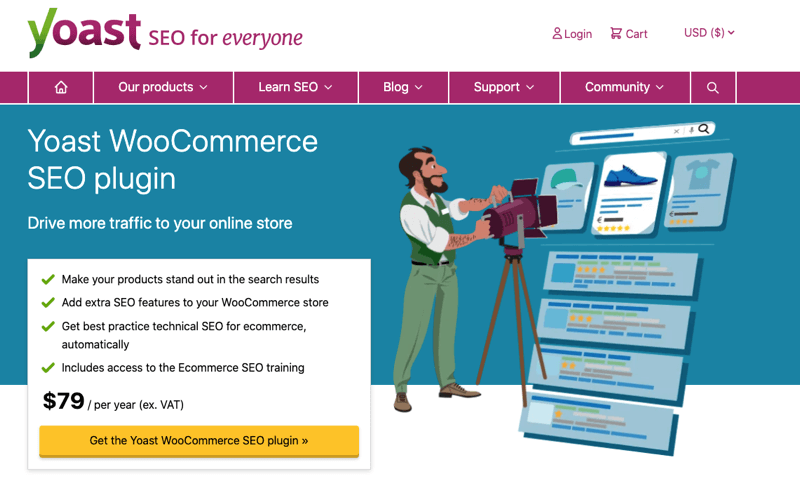 Even in your WooCommerce online store, it is essential to get such insights to make your site rank better to lead to more customers and drive more sales. This is the first vital tip! You can then worry less about SEO and focus more on your products sales.
If you haven't installed it on your site yet, then navigate to Plugins → Add New → search for Yoast SEO/All in One SEO, install and activate. That's it.
2. Optimize the Product SEO Titles
An online store mainly deals with products. Therefore, you need to optimize the site to ensure that the products titles are well written.
The WooCommerce SEO plugins like Yoast and All in One SEO rate SEO score of your content, title, slug, and more to help you optimize them better.
While on the product page, you can see the SEO heading ranking on the right-hand side. When you scroll down, you will see other SEO settings to boost your page.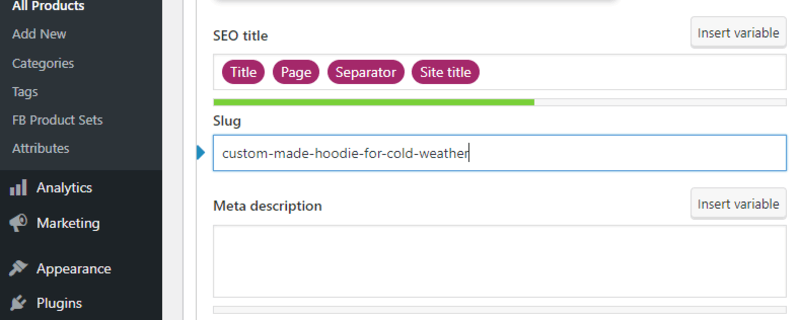 Also, remember to include a customized Meta description. The Meta description is what appears on search engines after your product appears on the search result pages. It should convince potential customers that they need to see what you offer.
The "slug" is an alternative to the permalink. Hence, it takes its name from the product title, but you can still optimize it. Remember to also use the main keyword on the slug.
You need to use SEO-friendly product titles as they appear on search engines when someone searches for a particular term.

Even when one clicks on the specific link, the web link should be optimized to show that specific product.

This makes it one of the most optimized products. Thereby, ensure all your product titles are optimized with the right keywords. We will talk more about keywords and links as we proceed on.
3. Optimize the Product Descriptions
An amazing thing about the WooCommerce SEO plugins is that they guide you on how to do a couple of things. You will get notified if a certain title or product description doesn't meet the requirements.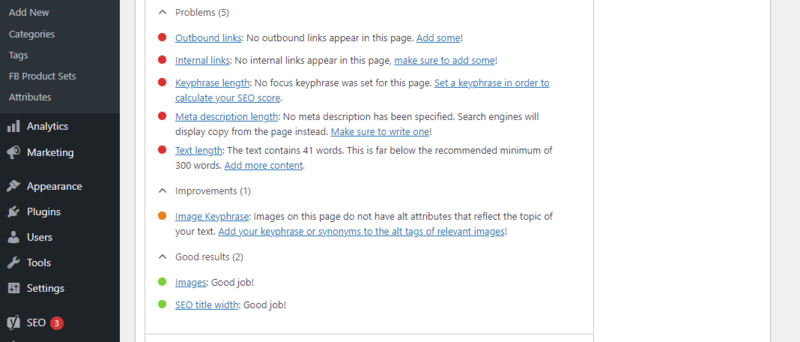 As you can see, the plugin checks your descriptions and highlights what is missing, like outbound links, internal links, key phrase length, Meta description length, text length, image key phrase, images, and SEO title width.
This makes it easier to update your description as needed. The more the green dots, the more optimized your content is. It's a great way to boost your SEO for WooCommerce.
However, when you enhance these, keep in mind that you're doing it for humans and not solely for search engine crawlers.
4. Use the Right Keywords
Use keywords in your product title, product description, Meta description, slug, images, and other details. Keywords play a huge role in ensuring that your content is visible.
For example, in an image, if you are selling a bag, you can write, "The best grocery bag for shopping." If "grocery bag" is the main selling point, ensure it also appears on the alt text, caption, and image description. It also applies to the product title.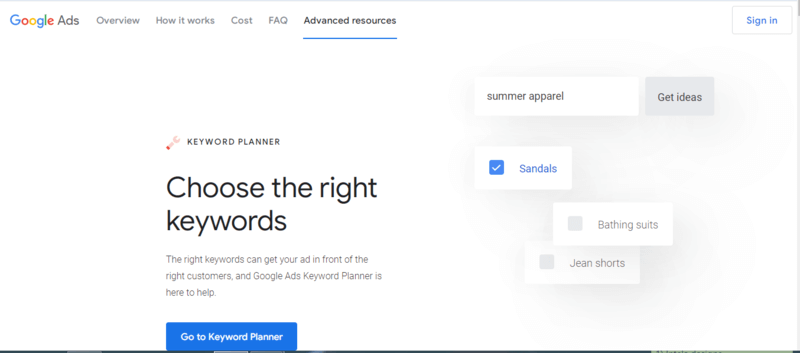 You can use the keyword planner to choose the best keywords that you can use in your online store to make it rank better.
5. Manage Breadcrumbs
Do you know what a breadcrumb is? Well, it is the secondary navigation scheme that lets a website user know where specifically they are on the site.

When you click on any of the links, you can go back to a different page. The links are arranged in a hierarchy from the first. The breadcrumbs define a clean path or trail to your specific page. Not only do they appear on your WooCommerce online store, but also in the search result.

You can also learn how to add breadcrumbs using your Yoast SEO plugin. However, you will need to add some code to your theme files to tell Yoast SEO where to display breadcrumbs.
6. Optimize the Product Categories and Tags
As much as everything else is essential, so are the product categories and tags. They make it easier to find the products through the search filters. Also, the category tends to appear on the breadcrumbs. Hence, it needs to relate to the displayed products.
The categories and tags have their pages and, therefore, can be crawled. Thus, they can help increase your online store's visibility.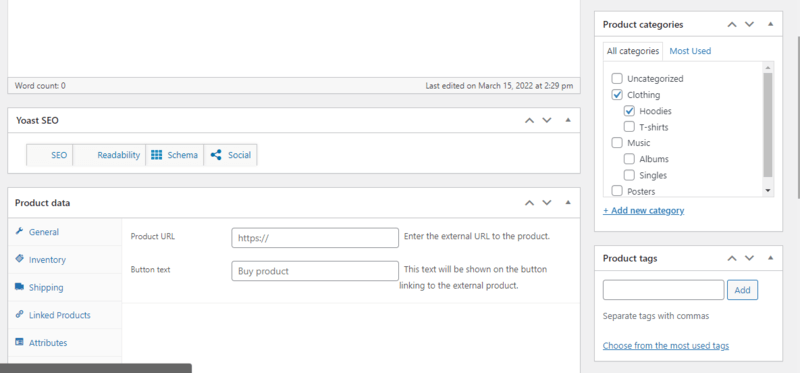 Categories may include; men's clothing, women's clothing, shoes, children's clothing, hoodies, bags, etc.
On the other hand, a tag describes more about the product: casual, summer, winter, and much more.
7. Optimize Product Images
On an online store, images are vital if you want your products to be bought. People love seeing things, and you need to give them a chance to see the after-purchase product.
What do they envision getting?
So, use high-quality products images and invest in good photography to even show the items in use or when worn.
It's an excellent way to make the customers trust your products.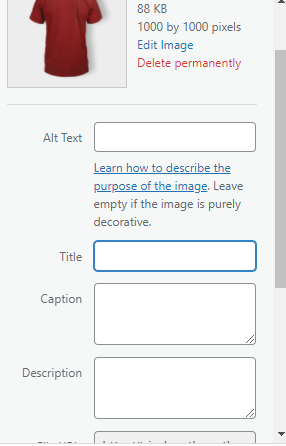 Therefore, try your best to write a good alternative text, title, caption, and description. Doing so will make it easier for the search engines to crawl the different product pages. Google uses artificial intelligence, image recognition, and other algorithms to make users get what they want.
The alternative text is displayed when the image doesn't load; the caption appears just below the image on the website, the title is the image name, and the description part explains more about the product.
Simply open the specific product page, go to the Product image, click on Set product image → Media Library → find your specific image, and modify the details.
8. Optimize Website Speed and Performance
Another great way is to analyze your website speed and performance. If your website loads slowly, you are assured of losing many customers. Therefore you need to test your website to know its speed.
You can use PageSpeed Insights (as Google considers PSI's result to rank a website) to know your website speed and performance. This will make it easier to know the problem on your website and work on it.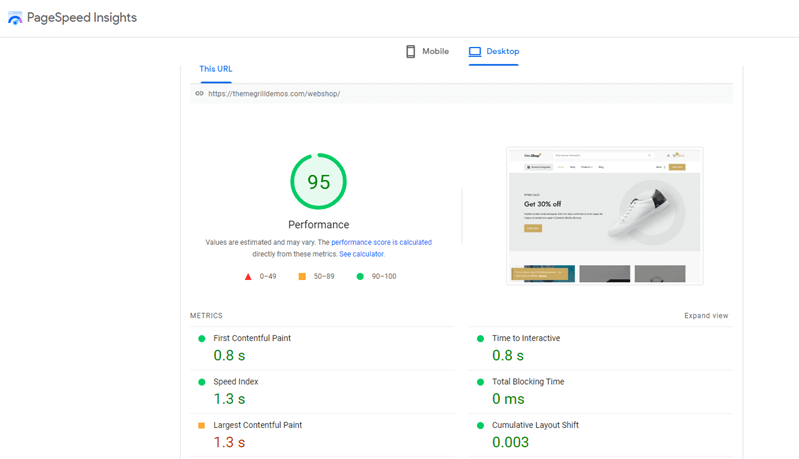 Website speed plays a significant role even in search engine ranking. Slow websites can even make customers leave their carts due to the slow checkout process.
Don't lose your customers in that way!
Web hosting can be a major factor when it comes to website speed. Hence, if your website seems slow, you can transfer your site to a better web hosting provider.
9. Secure Your Online Store
Online store security is vital. This is because transactions are done often, and people need the assurance that when they enter their details, it won't be compromised at all.
Therefore, ensure that your online store has an SSL certificate, uses good plugins, and is well optimized.
The website's security will also reduce the vulnerabilities that may affect it. Google can make your website not rank if it doesn't meet all the security requirements. Thus, it is important to secure your online store no matter what.
An insecure site example: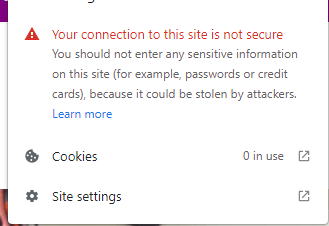 Website security is a great strategy to boost your SEO for WooCommerce.
10. Add Structured Data for Rich Snippets
One back-end thing you can do is add structured data to your website, leading to rich snippets in your Google Search results. You can learn more about how to add structured data for rich snippets.

This will help you add extra details to your search result pages like ratings, brand, manufacturer, number of reviews, price, etc.
When people see such details, they become more drawn to your site to purchase from you.
11. Optimize Your URL Structure
If your URL structure seems too long and confusing, people can easily assume your site is a scam. Hence, it would be best to use short, well-optimized, and detail-oriented permalinks.

Also, ensure you don't have any broken links on your website. The URL should also be short and descriptive.
The Yoast SEO plugin can guide you on optimization.
12. Avoid Duplicate Content
As much as products might seem the same, don't use the same content on multiple pages. Try and use unique text for the different products. This can significantly affect your WooCommerce site.
Even though some products are almost the same, try using some different words or synonyms. If you want to drive more sales, you must put enough effort into your online store. The product description plays a major role in convincing your customers to buy from you.
Also, you can add videos to show how to use the products and some valuable images.
13. Start a Side Blog
Content is key if you want to drive more people to your site. Hence, you can start a side blog with content that talks more about the products you are selling, how to use them, their rankings in the market, and more.
If you write high-ranking content, people will be driven to your site and make the necessary purchases.
Therefore, it is a worthy investment. You shouldn't think twice about it.
Make Your WooCommerce Store Stand Out
---
It is important to optimize your WooCommerce store SEO to make it rank better. In addition, ensure the website design is great, and that site navigation is easy. This will allow your customers to search through your website and get what they want easily.
Invest in your website if you want good returns.
If you use the tricks and trends and WooCommerce SEO products, you are assured your website will get better.
Last but not least, when you apply these tips, don't look for any shortcuts and put more effort into your store to turn out as a trustable brand. Otherwise, you'll hurt your business and, with that, all of your investments.