Top 10 eCommerce Platforms to Use in 2023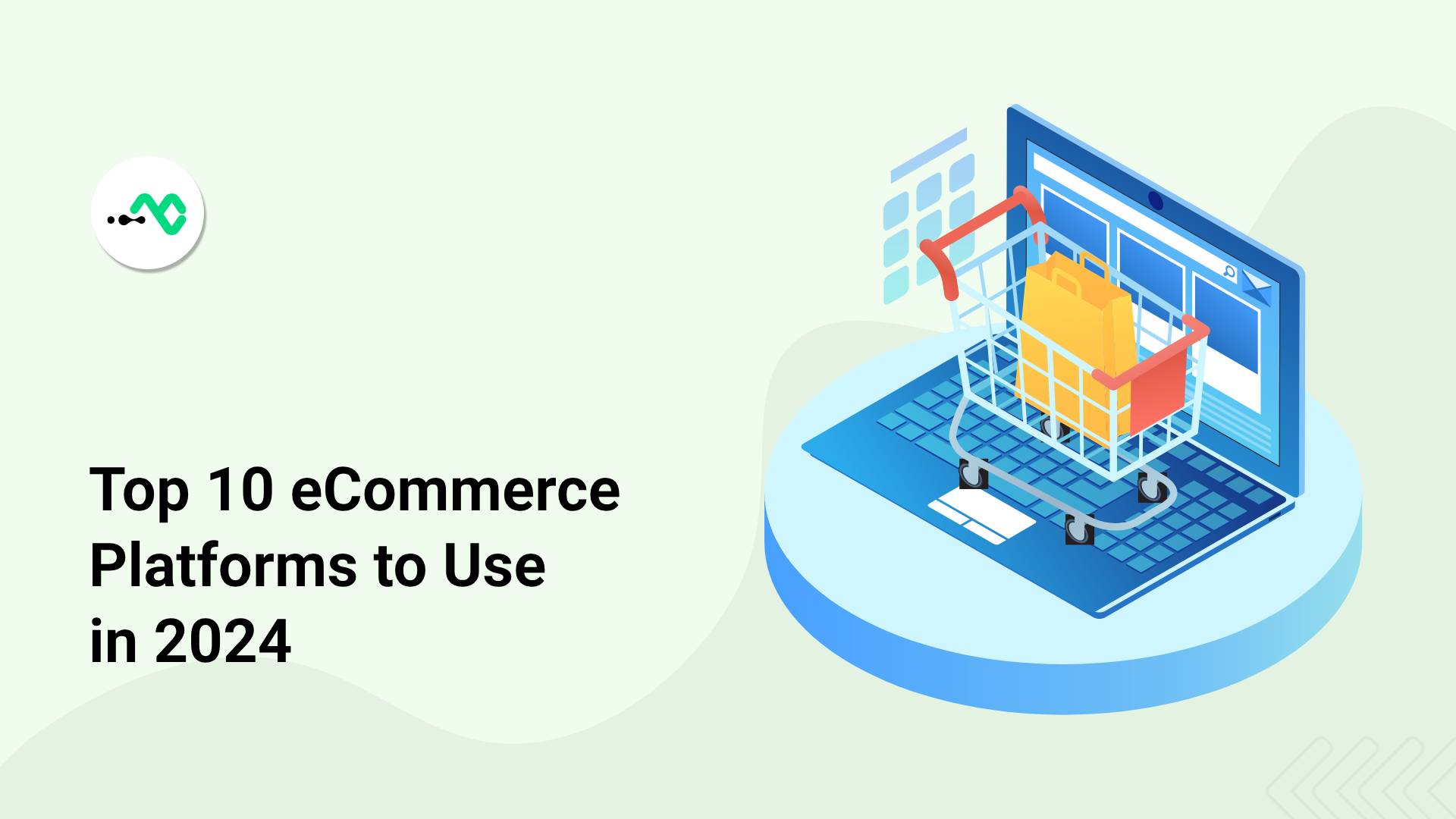 Online shopping has become an essential aspect of life for many people. Over 2 billion people bought services and products online in 2020. Making the eCommerce market worth $4.2 trillion worldwide.
It simply means there's growth and more opportunity if you take your retail business online. And to do that, you need eCommerce platforms. Why? Because eCommerce platforms comprise various eCommerce solutions that effortlessly allow you to reach a wider audience, promote your products/services, take orders, and generate a significant amount of revenue.
If you're looking for one of the best eCommerce platforms, then in this post, we'll discuss the 10 best eCommerce platforms you can efficiently utilize for building online stores.
But before that, let's look at what is an eCommerce platform and what you get with them that can help you thrive in your business.
What are eCommerce Platforms?
---
eCommerce platforms allow you to create an online presence for your offline retail business. From there, customers can explore your products/services and make orders at their convenience without the need to visit your offline shop.
You, too, can accurately check order details and process payment directly to your bank account. Eliminating the paper notes and the tensions of offering change. A fine example of an eCommerce website is Amazon.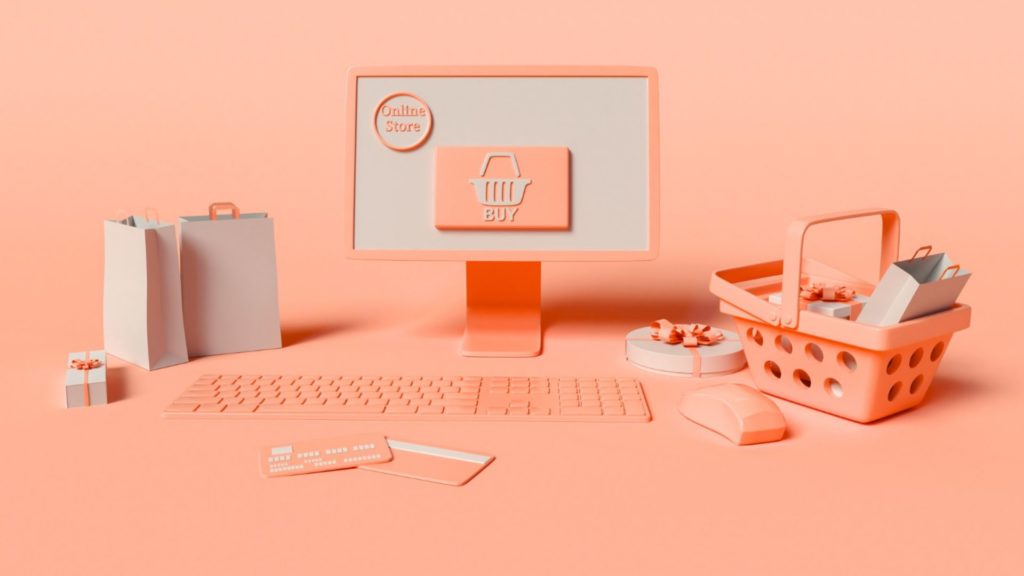 However, at Amazon, you can only create your storefront and sell products under different limitations and conditions. Therefore, you need an eCommerce platform that can provide you with the freedom to excel in your business on your terms.
For instance, you can do cost cutting on delivery charges and taxes. Define a limited refund timeline, and most important of all, it is reaching the audience with your brand name and its value.
And that's only possible when you take help from platforms that allow you to build your own eCommerce website. Some of the features you get with eCommerce platforms are,
A simplified UI that helps you manage your eCommerce store easily.
Various design options using which you can build an online store that offers customers a simplified user interface.
Secure and effective payment processing systems.
Dedicated support from platform providers to help you get the best out of eCommerce store.
Marketing tools to promote your store products in an excellent way.
And there are multiple features and benefits of using online store-building platforms. Therefore, below we'll look at the top 10 best platforms to build your online store in no time.
Top 10 eCommerce Platforms You Can Try
---
The following platforms are not in any particular order. Therefore, try the one that suits your requirement the most.
1. WooCommerce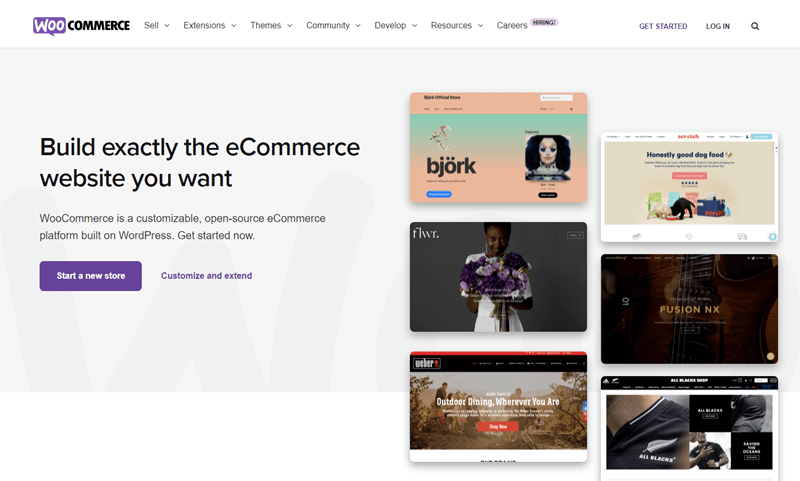 Among the top 1 million eCommerce stores, 28% are built using WooCommerce. It's a significant number that can boost your confidence to build your own online store using the WordPress-based eCommerce platform. And numbers are not only the reason why you should go with WooCommerce. Rather, the possibilities that are using this platform you can have a satisfying eCommerce website regardless of your requirements.
It's free, open-source, and flexible, giving you the freedom to shape your digital store the same way you need. Also, using this, you can sell products of any kind – Physical, Subscriptions, Digital, and more.
Plus, unlike any other eCommerce platform, with WooCommerce, there's no boundation that how big your store should need to be.
You can use WooCommerce whether you've small products inventory or a large number of products lists. And what's more interesting is that it can scale the way your business does. Further, you get numerous extensions and themes to modify your store's look as well as functionality.
With WooCommerce as your eCommerce platform, you won't get disappointed.
2. Shopify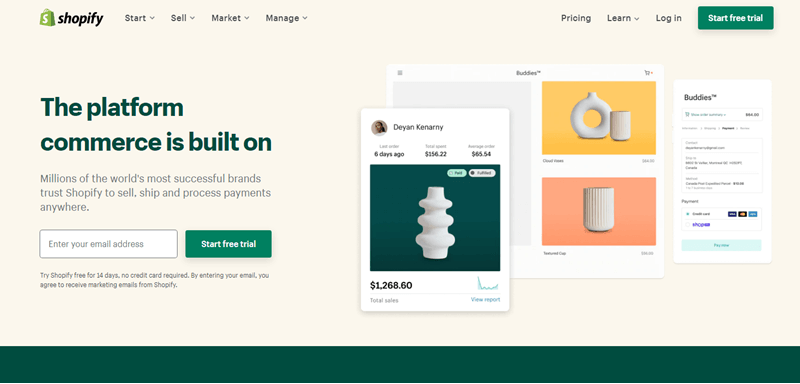 After WooCommerce, what comes as the leading platform to power the top 1 million eCommerce websites is Shopify.
It's powerful, intuitive, and scalable. Meaning while creating your online store on Shopify, you don't have to worry whether it will fulfill the requirements or not. You can create a digital shop of any kind just like you'd do with WooCommerce.
And similar to WooCommerce, it, too, includes lots of extensions and themes to help you customize your digital shop however and whenever needed. Though it's not available for free, the prices are worth the possibilities you get from Shopify.
The service is amazing, the support is amazing, and the help you get from Shopify Experts Marketplace is also amazing.
Simply put, with Shopify, you'll not be disappointed, and with that nor your customers, too.
3. BigCommerce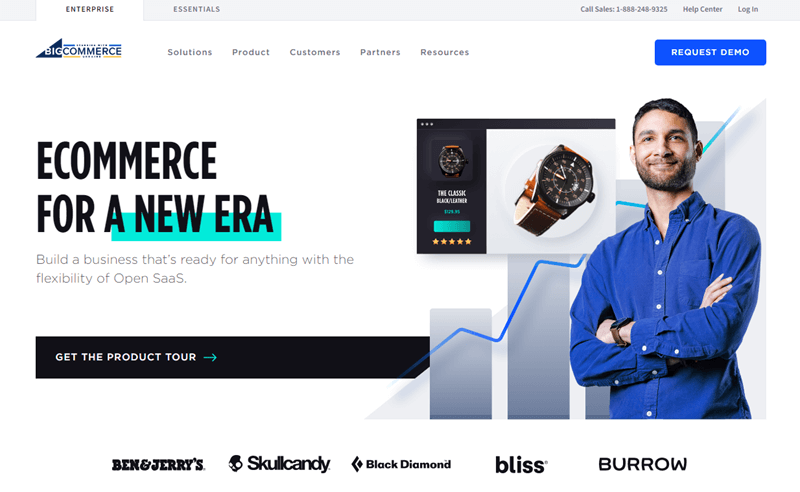 When it comes to doing big, you can always count on BigCommerce. Not because it's developed to provide a solid foundation to huge online stores, but rather to optimize the high functionalities.
Its open-SaaS capabilities allow you to make your functional eCommerce store even more powerful and better at performing. For example, BigCommerce's integrated commerce technology lets you utilize different eCommerce APIs such as server-to-server checkout.
Check your store's performance with advanced analytics. Serve your customers at blazing fast speed with Google Cloud Platform. And even build provide commerce solutions to different businesses using the B2B Ninja – one of the best B2B eCommerce platforms that BigCommerce acquired.
However, similar to Shopify, it's also not available for free, but paying what you get in return is beyond the limit.
4. Magento – Now Adobe Commerce

With first available in 2008, Magento has helped many business owners to fulfill their dream to scale globally. And it's still doing the same by powering 8% of the top 1 million online stores.
For eCommerce capabilities, you can count on Magento, and as it's now integrated with Adobe Experience Cloud, the expectations can never go down. Using Magento, you can build online stores to serve customers across different channels, whether B2B or B2C.
Moreover, if you're familiar with drag and drop builders, then Magento would sound home to you. Its drag and drop page builder makes it effortless to put content on your store and engage users in the best way possible.
Further, its diverse features like Multi-brand solution, Mobile responsiveness, Product recommendations based on user behavior, and more complete your online business in an exceptional way – where you miss nothing at all.
However, the prices are not publicly available, but you might pay approximately $1988/ month.
5. Squarespace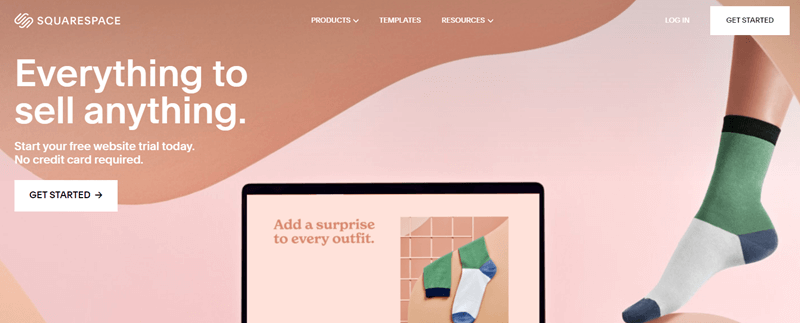 Squarespace is popular because it provides a stylish look and tools to get your store up and running quickly. Perhaps, you'd be done creating your store in just an hour. But that's not all.
With Squarespace, you get hundreds of eCommerce templates that you can easily utilize. And it's the core function of Squarespace's working. You need to choose templates to bring your store alive.
Nevertheless, it also provides developer tools to take your store and its design to an extended level. Plus, you can sell both products and services without any issues. All you need to do is add your products, final your payment processing method, and that's it; you've got your online store for business.
In addition to these, Squarespace lets you spread the news about your brand with effective SEO tools, Social Media tools, email marketing, and video maker. So, you won't feel behind when it comes to sharing more of your business with the public.
6. Wix eCommerce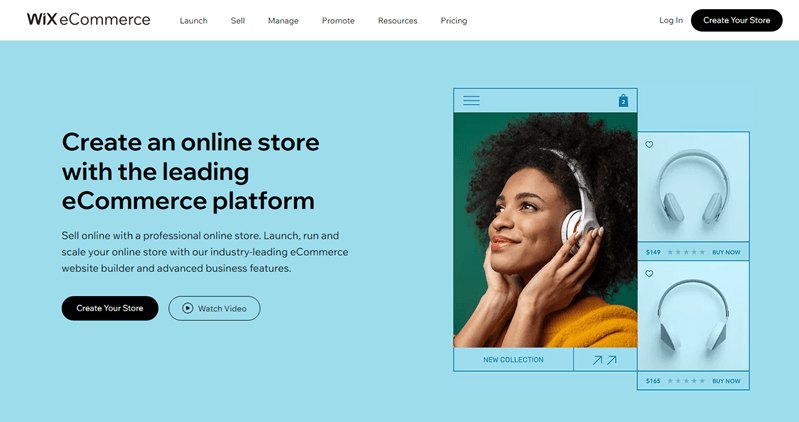 Likewise Squarespace, with Wix eCommerce, you can build your online store pretty quickly. It follows the same process of building an eCommerce store – create an account, choose a template, customize, add products, connect a payment method, and publish your store.
Nevertheless, don't forget to use your custom domain; otherwise, there's no use in building a site with an eCommerce platform. And that's the same with Wix, too.
Once you've your store built with Wix eCommerce, you can add up to 50,000 products which are not quite less. You can easily analyze the performance with advanced analytics tools.
Plus, it offers features to improve the store's SEO, design, and functionalities using developer tools. However, despite all of its amazing features, it's quite less popular than Squarespace, and the reason is – users found it a bit more complex than its counterpart.
But, you can give it a try as its top plan charges $39/month than Squarespace's $40/month Advanced Commerce plan.
7. ShopWired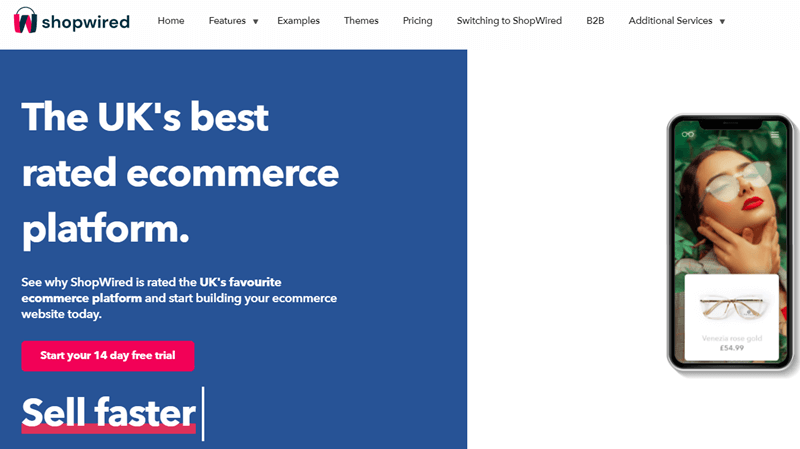 ShopWired is UK's one of the most trusted eCommerce platforms that you can use to take your offline retail business online. If you're operating from the UK, you should consider putting this one in your eCommerce store builder platforms' list.
With its starting Pro plan at £29.95/mo, you can add up to 750 products with 0% transactional fees. You even get a free SSL certificate for security purposes and unlimited ShopWired Support.
But that's not all; it also gives you access to 2 Admin Accounts, Royal Mail Click & Drop, support for multichannel integration like sell on eBay, Facebook, and more.
8. Weebly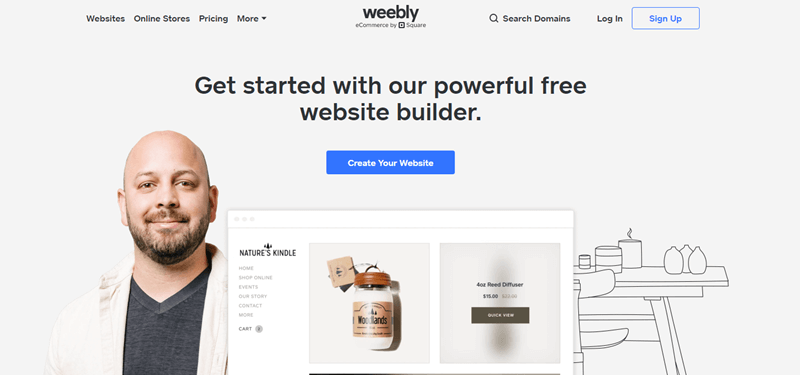 Regardless of your business industry, Weebly provides intuitive online store-building tools that confidently help you step into your online retail venture.
It was developed by Square, which is already famous among online store owners for its effortless payment processing. The same tension-free environment you can find while working with Weebly.
Likewise, Squarespace and Wix, the Weebly online store builder, also function around themes and templates.
Thus, you can have your eCommerce store built in no time.
Plus, you also get email marketing tools, SEO tools, analytic tools, Coupons and Gift Cards, Product Search and Badges, and more to grow your store beyond expectations.
Further, what's even exciting is that it's available starting from $12USD/month with free domain and Google Ads credit worth $100.
9. Duda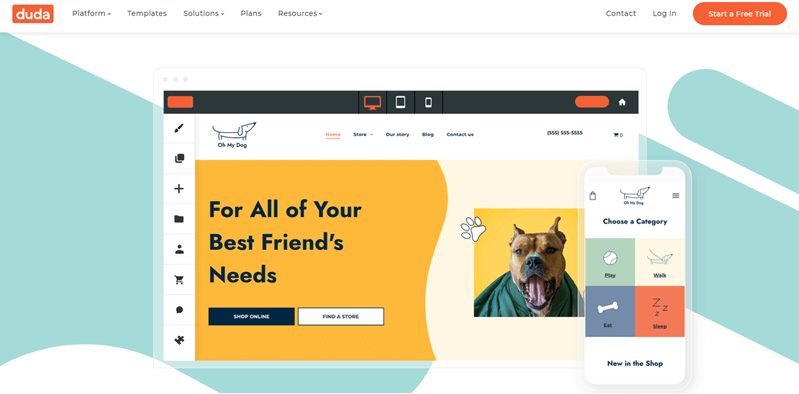 If you want to build your eCommerce store at lower expenses, you could do that through Duda. It's an intuitive eCommerce platform that brings a lot of eCommerce solutions at very reasonable prices.
You get omnichannel eCommerce services, API integrations, capabilities to build your widgets for the store, and many more functions to fully power your eCommerce business, whether as a standalone digital shop or a marketplace for other businesses.
Moreover, its UI is as simple as operating any other SaaS platform, for example, Canva.
From Duda's backend, you can easily access all of the websites you've created with it. Make White Label customizations, change team permissions, view clients, and especially build your amazing online store with an easy-to-use drag and drop builder.
Its Standard plan at $8/month gives you access to add 100 products with no transaction fee. Plus, you can get shipping quotes from leading carriers such as UPS, USPS, FedEx, etc., in real-time.
Thus, allowing you to charge your customers accurately without having to pay extra from your pocket while dispatching the shipment.
10. Sellfy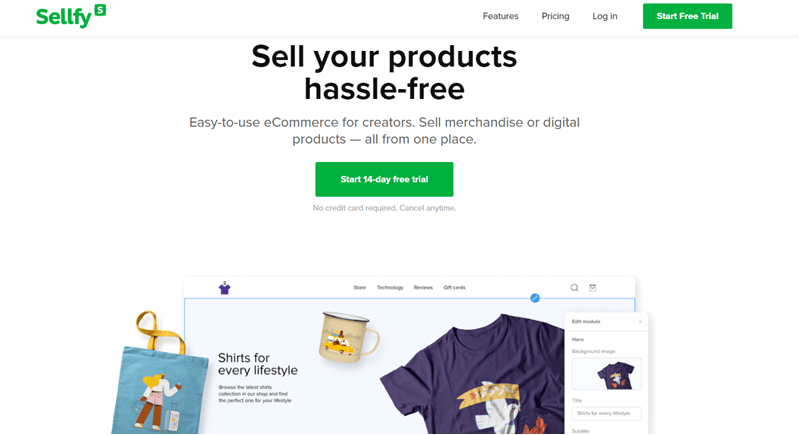 Sellfy isn't a new online shop solution but an old eCommerce hunk since 2011. And like Duda, using Sellfy, you can build a digital store at very reasonable prices that start from $19/month for unlimited products.
Using its services, you can sell products of any kind, whether digital, physical or even subscriptions. It has very simple customization options that let you tweak your online store in accordance with the brand.
Further, you get additional built-in features that allow you to market your store, generate coupon codes, list upsell products, and much more.
Choose Your Favorite eCommerce Platform
---
Running a business, whether online or offline, is a fast-paced endeavor; you have to deal with many things in a single moment. However, if you carry out certain tasks with reliable tricks and tools, you'll find some relief.
And that's what the above eCommerce platforms offer. They can lower your workload to a significant amount allowing you to spend your energy and time on other crucial aspects of the business.
Therefore, pick any of the above that you find they'll be able to assist you in the proper manner you're expecting. Although, in our opinion, we'd suggest you go with WooCommerce, Shopify, Duda, and Squarespace.
These platforms can scale, function properly, and allow you to make necessary customizations when needed.