WooCommerce Analytics: Utilize Sales Reports Easily in 2023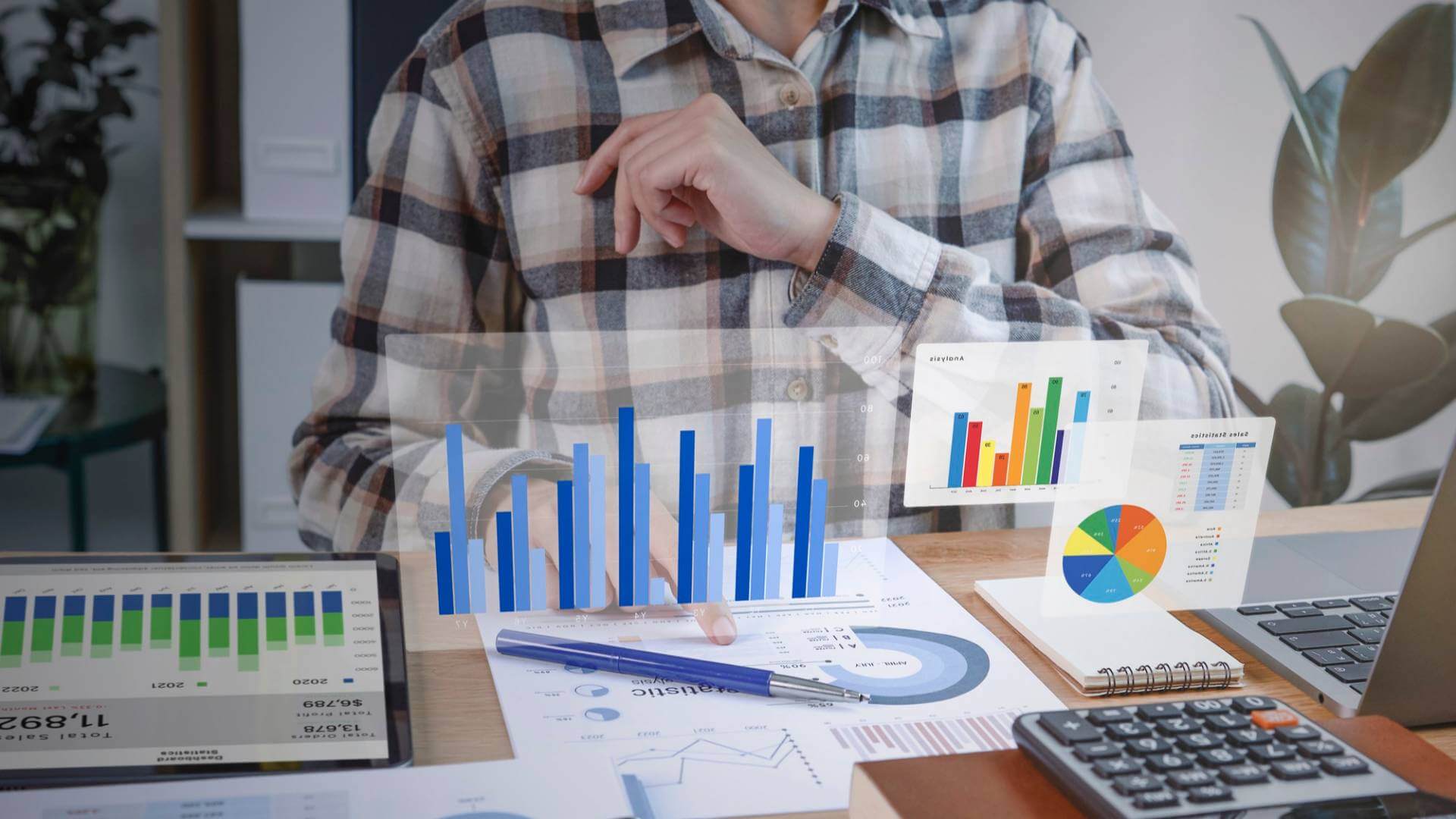 Google Analytics 4 is around the corner to take website analytics to a new level. However, to view sales reports and do better with your WooCommerce store it won't be enough. Therefore, you've got the option of WooCommerce Analytics to view reports and other crucial data of an online store.
In this blog post, we'll take a closer look at this new section of WooCommerce to view the online store statistics in a better way. Further, we'll check out some other points that allow you to learn how reports can benefit your online business.
If you're looking for WooCommerce Reports' older version, you might want to visit this blog post. Here, you'll find all the essential details you need to learn about the previous version of WooCommerce Analytics. 
That being said, let's get to our point.
What Are Sales Reports?
---
To understand how your online store is performing, you must analyze the sales reports once a week/month. But, what are sales reports in the first place anyway?
A sales report or sales information or sales analysis report is a well-organized and detailed document for a business – whether online or offline – to give you a closer account of your store's performance as well as the business's activities.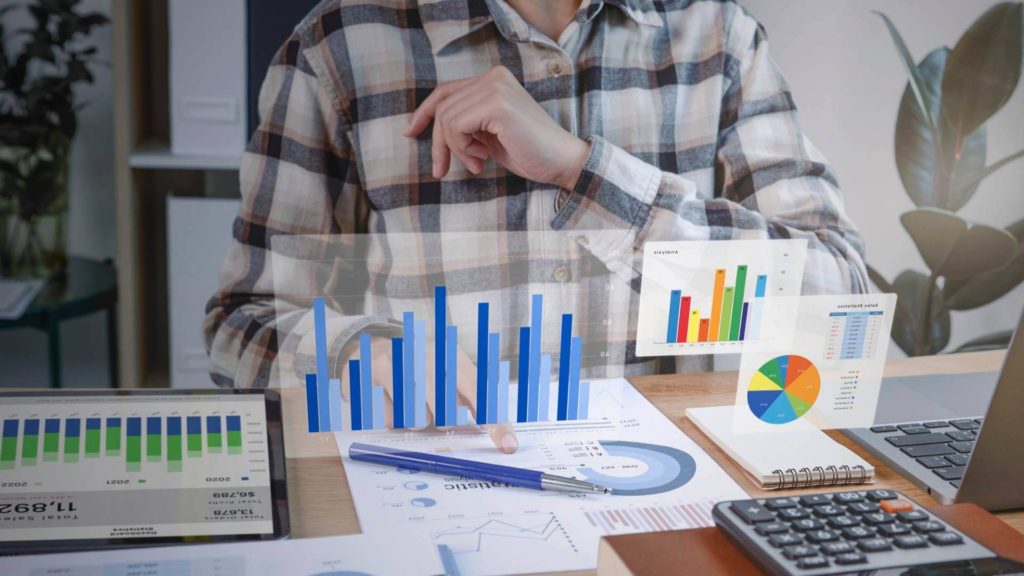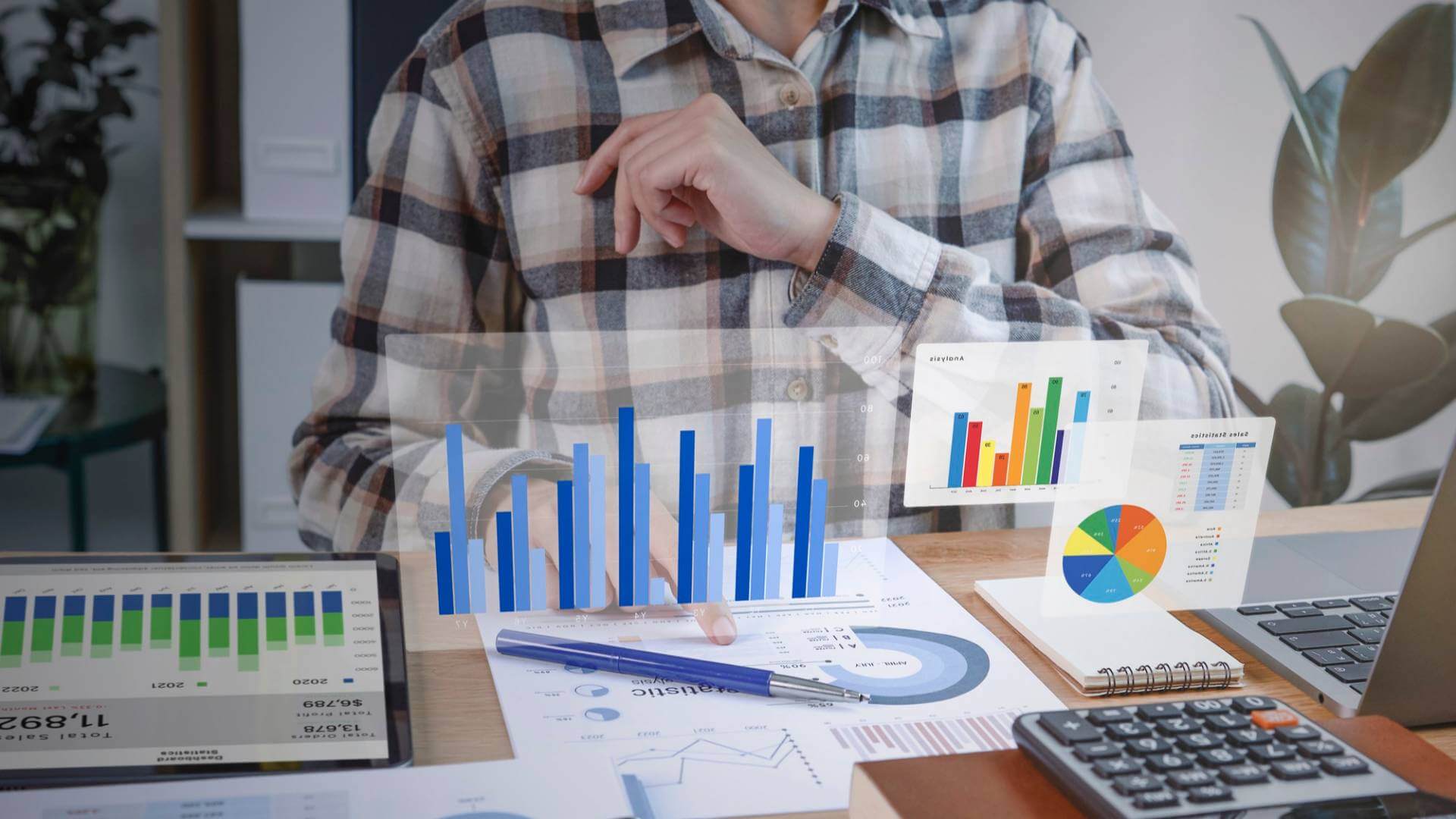 These activities could be a number of sales on a given day, week, month, or year.
They could also include potential leads, conversions, cart abandonments, total revenue, and expenditure that occurred while doing a particular promotional campaign. Sales reports pinpoint all your online store's activities and provide a clear account of what you should do differently.
Thus, enabling you to guide your business efforts in the right direction for improvement and revenue growth.
A sales report's primary goal is to provide you with information about the various trends that occurred(/occurring) in sales volume over a specific time.
Furthermore, it investigates the various segments of the sales funnel as well as the performance of the sales executives working for your online store. It also allows you to explore potential new business opportunities to help you improve the store's performance.
How Can Sales Reports Help You Improve Your Customers' Online Shopping Experience?
Aside from the above, there are several advantages to creating a sales report.
You can evaluate the most and least profitable products and services.
Using sales reports, you can identify customers who are most profitable to your business.
Identify Sales Prospects and Problems.
Identify the source of your leads.
What's prompting or preventing your prospects from making the purchase decision?
Analyze campaign's performance rate and more.
What's WooCommerce Analytics? (A New Way to Access Store's Reporting and Analytics)
---
Unlike WooCommerce Reports, Analytics provides you with a new and simplified interface to analyze crucial sales information. This new analytics reporting dashboard makes pinpointing all the data easily and utilizing them to enhance store's performance.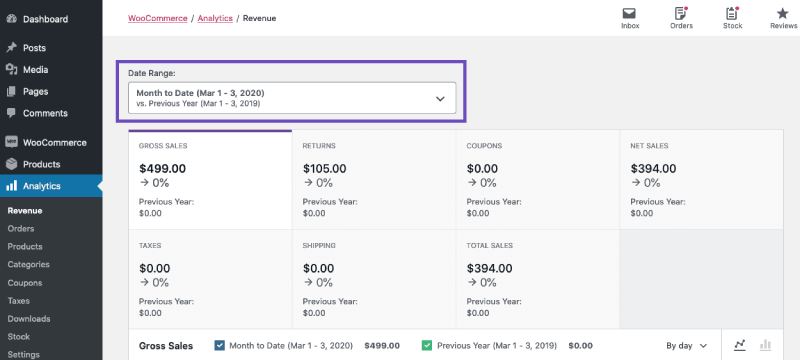 It's an in-built tool WooCommerce offers, meaning you don't need any 3rd party WooCommerce analytics plugin to view sales reports or simplify this new reporting section.
Whether you want to see sales reports, orders reports, customers reports or any other store information, you can quickly and easily interact with them utilizing this particular new functionality of WooCommerce. It includes advanced filtering and segmenting tools in addition to simplified information. All data can be downloaded to a CSV file.
Furthermore, you can customize the analytics dashboard to track all essential key metrics.
Apart from these, there are more benefits that WooCommerce Analytics provides to its users to boost performance.
Benefits of New WooCommerce Analytics
Using the new Analytics section, you can analyze the following on your WooCommerce store efficiently.
Sales Conversion Rate.
Customer Acquisition Cost.
Customer Lifetime Value.
Cart(s) Reports.
Report on Discount Orders.
And more.
Following, we're going to check out every new option this analytics suite provides to the user. Each option has its own set of functions that allow you to utilize them to the fullest.
Exploring WooCommerce Sales Analytics Divisions
---
To explore the new WooCommerce Analytics section, go to Analytics → and click Overview, on your WordPress Dashboard.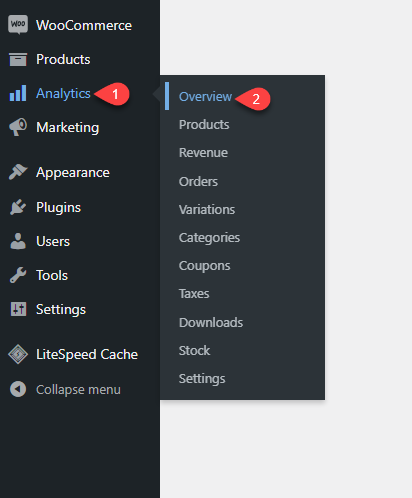 It will open the Analytics Overview window like the following screenshot with Date Range, Performance Section, Charts for Net Sales and Orders, and Leaderboards for Item Sold (Categories and Products).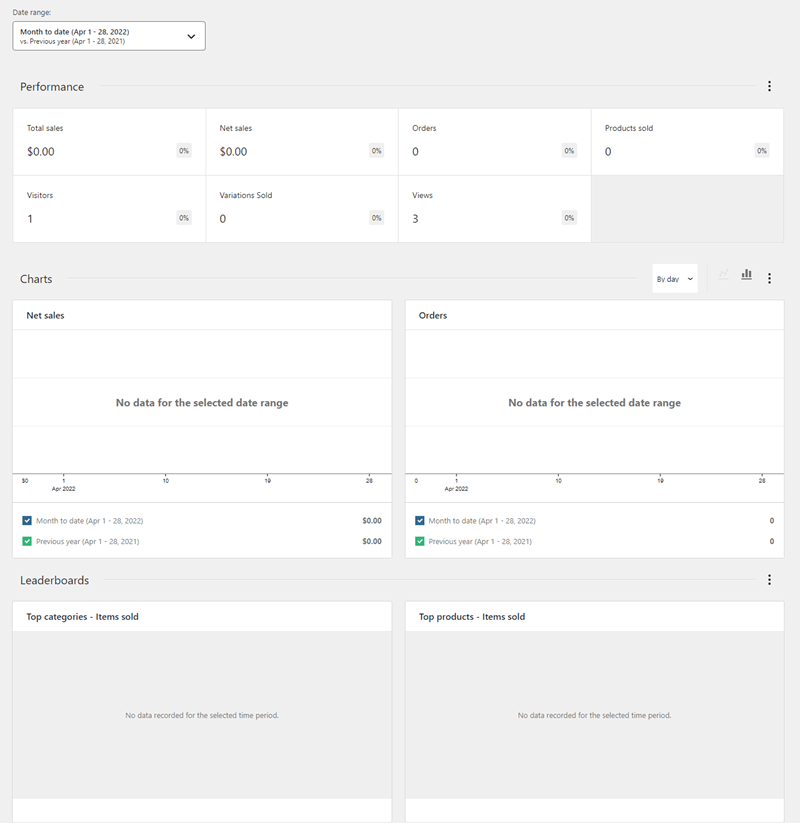 With these reports, you can quickly guess an idea how your store is working. For instance, the Performance section lets you analyze Total sales, Net sales, Orders, Product Sold and more.

When you click one of these reports, the analytics take you to a new section expanding the details. Likewise, the Date Range tool, lets you filter sales reports based on,
Custom date
Presets
Reports of today, yesterday, last week, Quarter to date and more.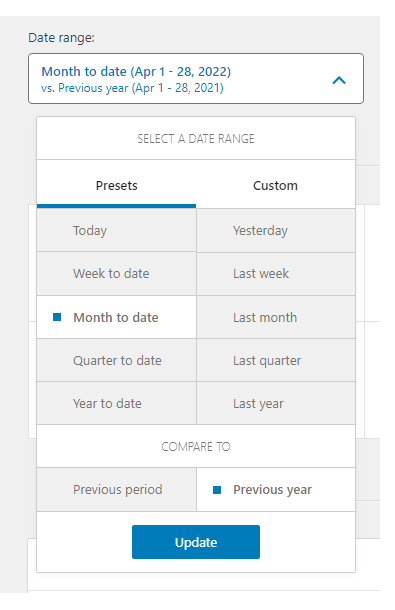 The Chart area allows to simplify reports per day and week basis with dual chart types — Line and Bar.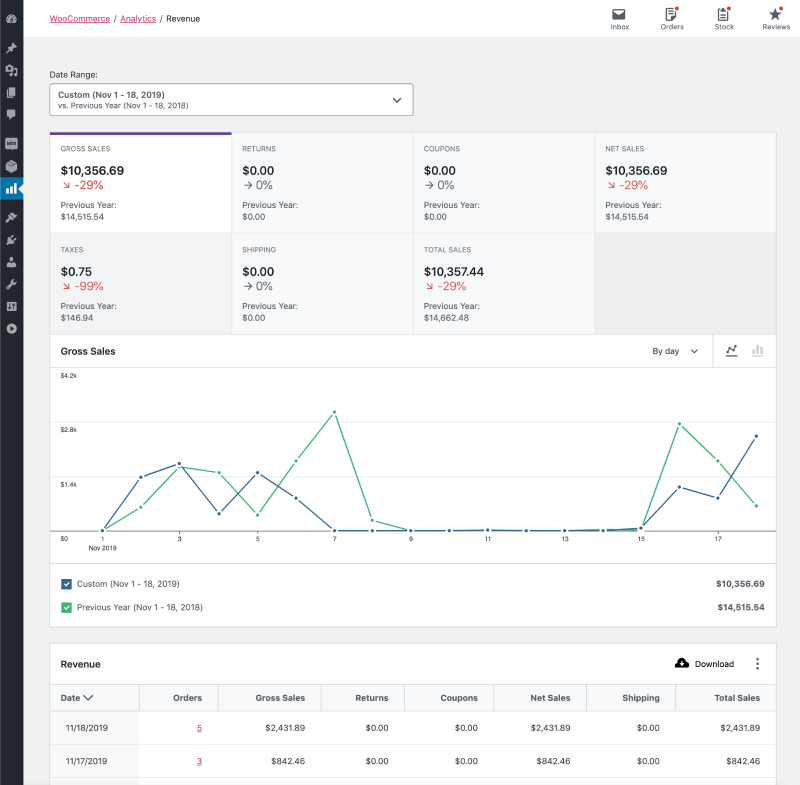 That's all available in the Overview section of the Analytics suite of WooCommerce. Apart from these information, there's one more feature that you can utilize to customize dashboard's look.
Every section has an advanced option (three horizontal dots) that allow you to hide/show particular data in the dashboard.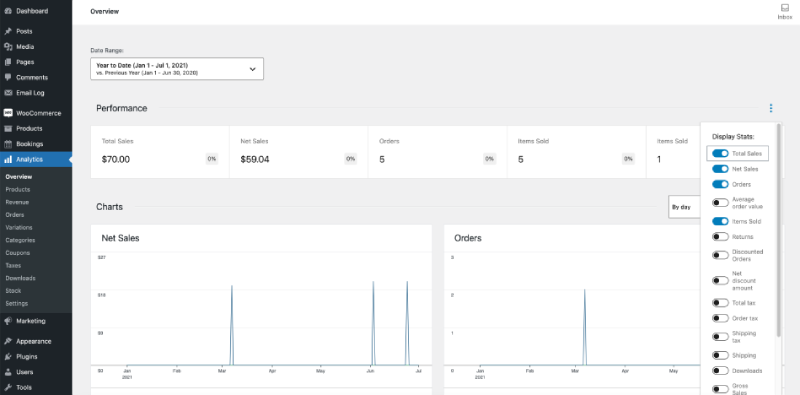 Simply, go to the option, and choose what you want to keep.
Products Analytics
After overview, you get the option to analyze products reports using Analytics → Products.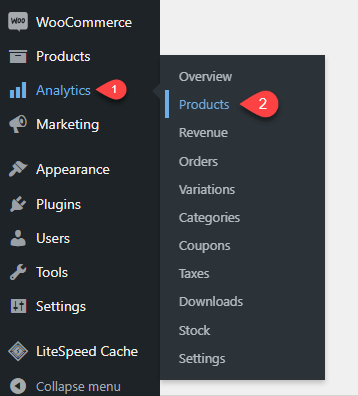 Here, you can view individual reports on Products sold, Net Sales, and Orders. Plus, you get the view to review products that included in the sales period with their complete details like Name, SKU, Price and more.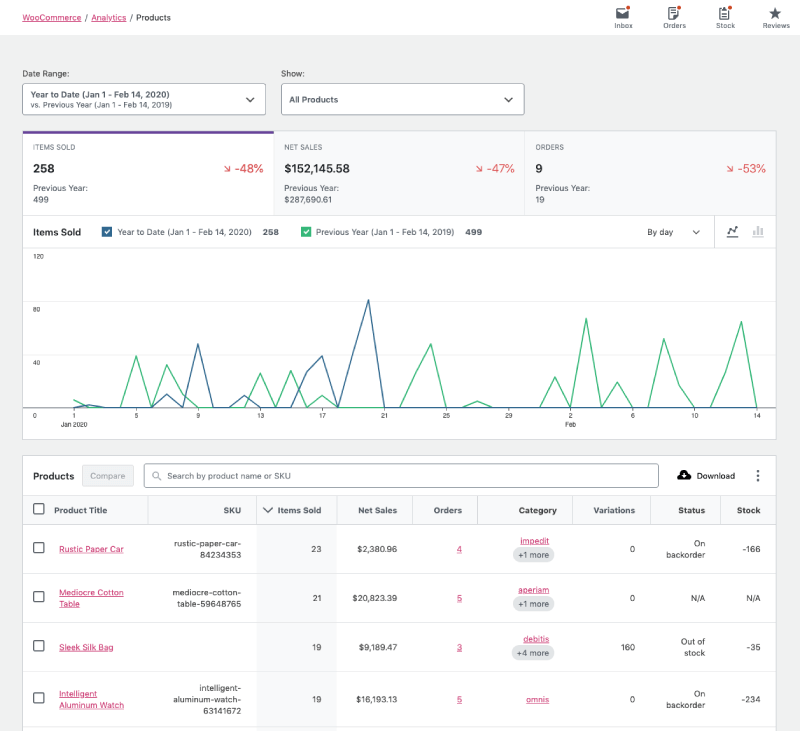 In addition, you get the option, you apply data showcase filter like All Products, Single Product or Comparison.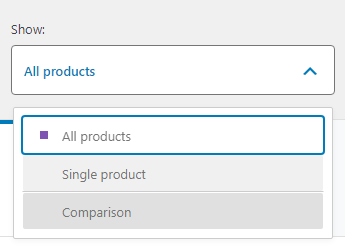 Revenue
On Revenue window, you get complete detail of your online business' sales based on different time periods. It lets you analyze Gross sales, Returns, Taxes, and everything you could view separately.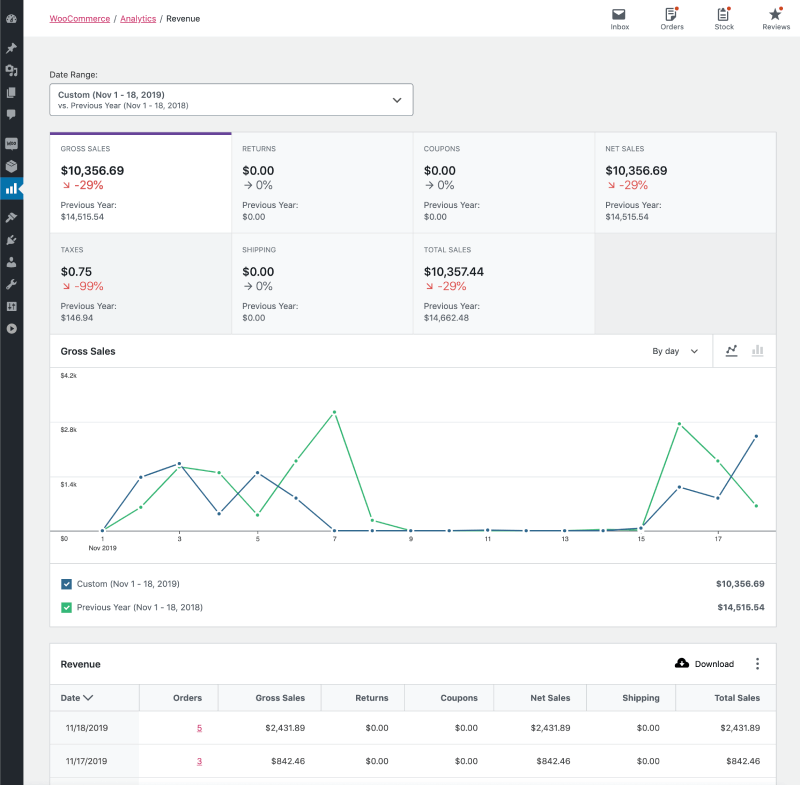 On the Revenue under the Gross sales chart, you get to view revenue of each day with details like how many orders received, Gross Sales, returns, coupons and more.
Further, it provides you with the option to download revenue report easily by clicking the Download button. On
Orders, Variations, Categories, Coupons, Taxes, and Downloads
The Orders, Variations, Categories, Coupons, Taxes and Downloads analytics sections have the same user interface allowing you to review data based on those metrices.
For example, the Orders section provides you with the data that covers total orders reports with Net sales, Average order value and Average items per order.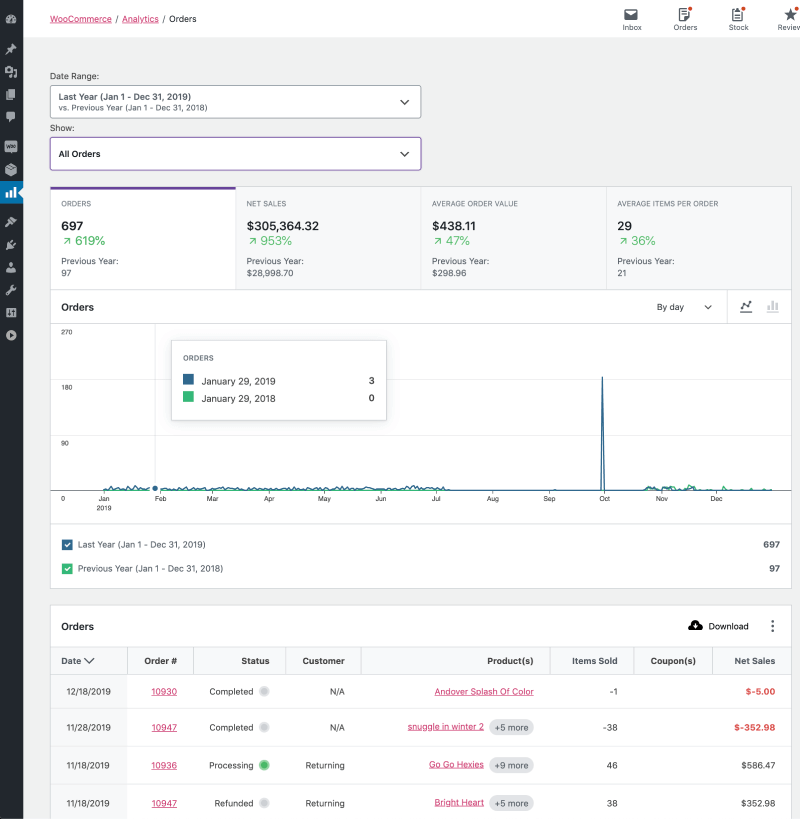 On the other hand, Variations allow you to view sales reports for products of different variations. Further, it lets narrow down the report using filters like All variations, Single variation, Comparison, and Advanced filters.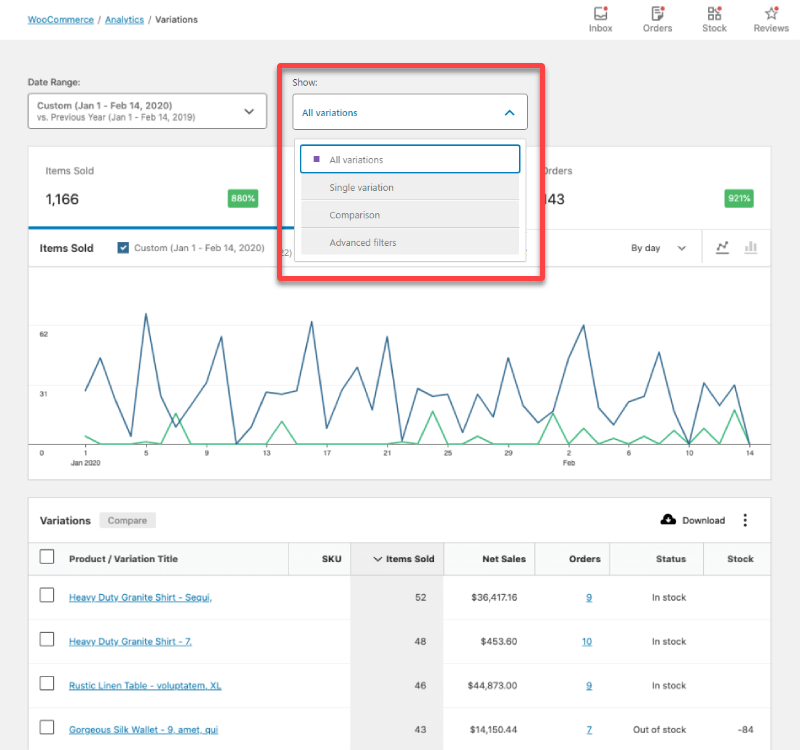 Likewise, Categories, Coupons and Taxes enable you to review sales stats based on them. In the Taxes section, you can view how much Total tax collected for the complete sales. What was the Order tax, Shipping Tax and Orders with Taxes.
Thus, allowing you to have complete overview of the sales with separate reports.
Stock Analytics
The Stock analytics window, simply allow you to view the status of your online store's stock. What products are still available for sale and what are out-of-stock. It provides you with the clear information on the stock by categories them based on Variations, SKU, Stock and Status.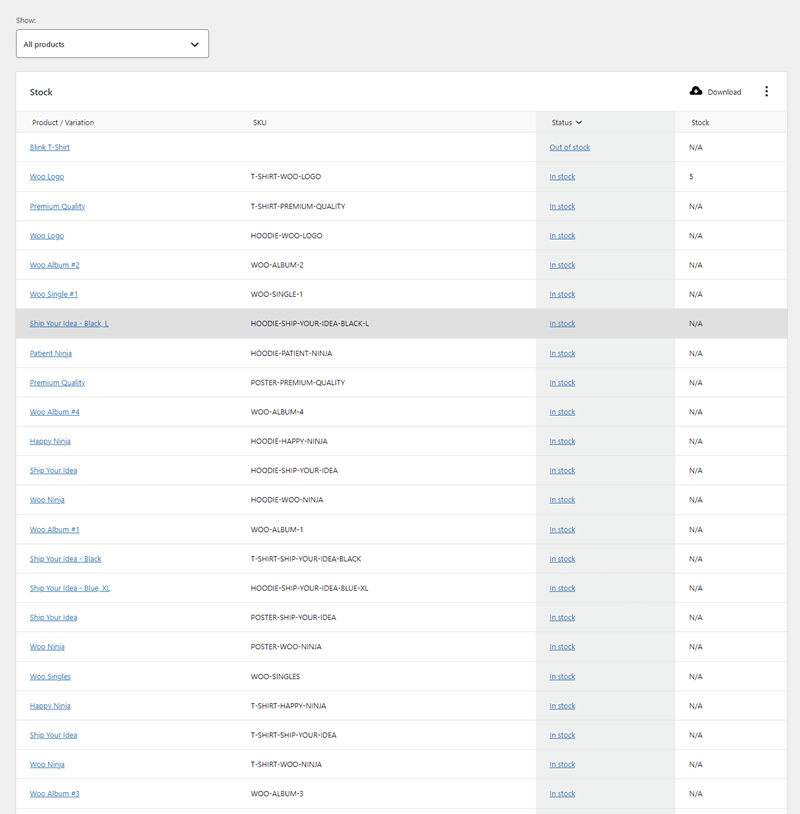 WooCommerce Analytics Settings
The final section we get in the new analytics of WooCommerce is Settings. Here, you get the options to include or exclude statuses from the reports. The available statuses options are,
Pending payment
Processing
On hold
Completed
Cancelled
Failed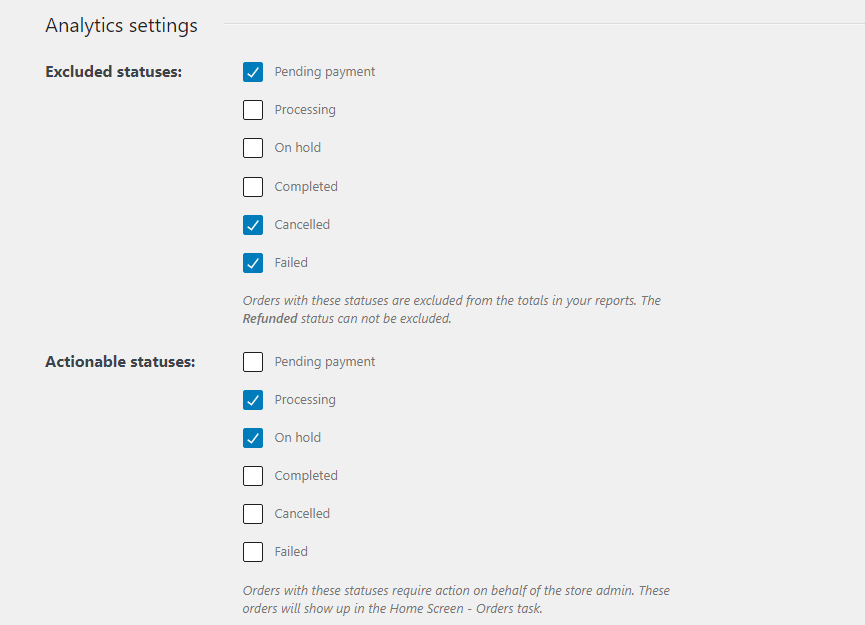 After this, you get the option to set default date range for all the separate sales reports sections.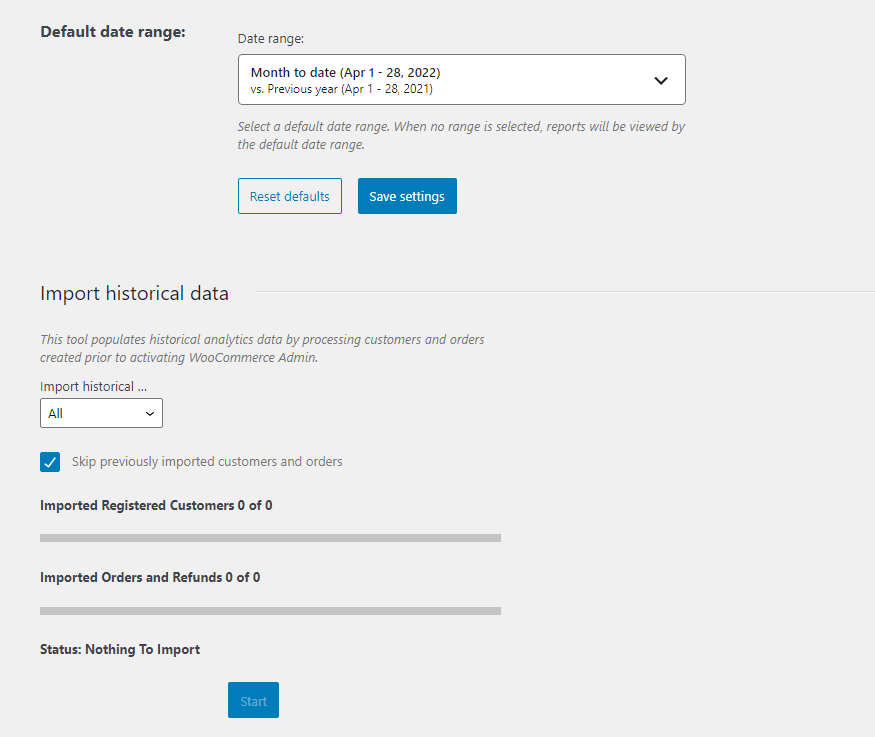 And finally, it allows you to Import historical data that makes it easy to view previous sales reports of the store.
That's it; this is all you can do with the new WooCommerce Analytics section.
Conclusion
---
When you're running a business, even small ideas can help you do big. And reports, are way bigger than that. So, if utilized well, you can see a significant positive change in the revenue.
WooCommerce Analytics, helps you exactly to the same.
It gives you critical knowledge of your business sales and how you can improve them. As discussed earlier, you should view them once week/month to apply crucial changes to the business or its strategies to make the most out of your efforts.