WooCommerce vs Squarespace – What's Right for Your Store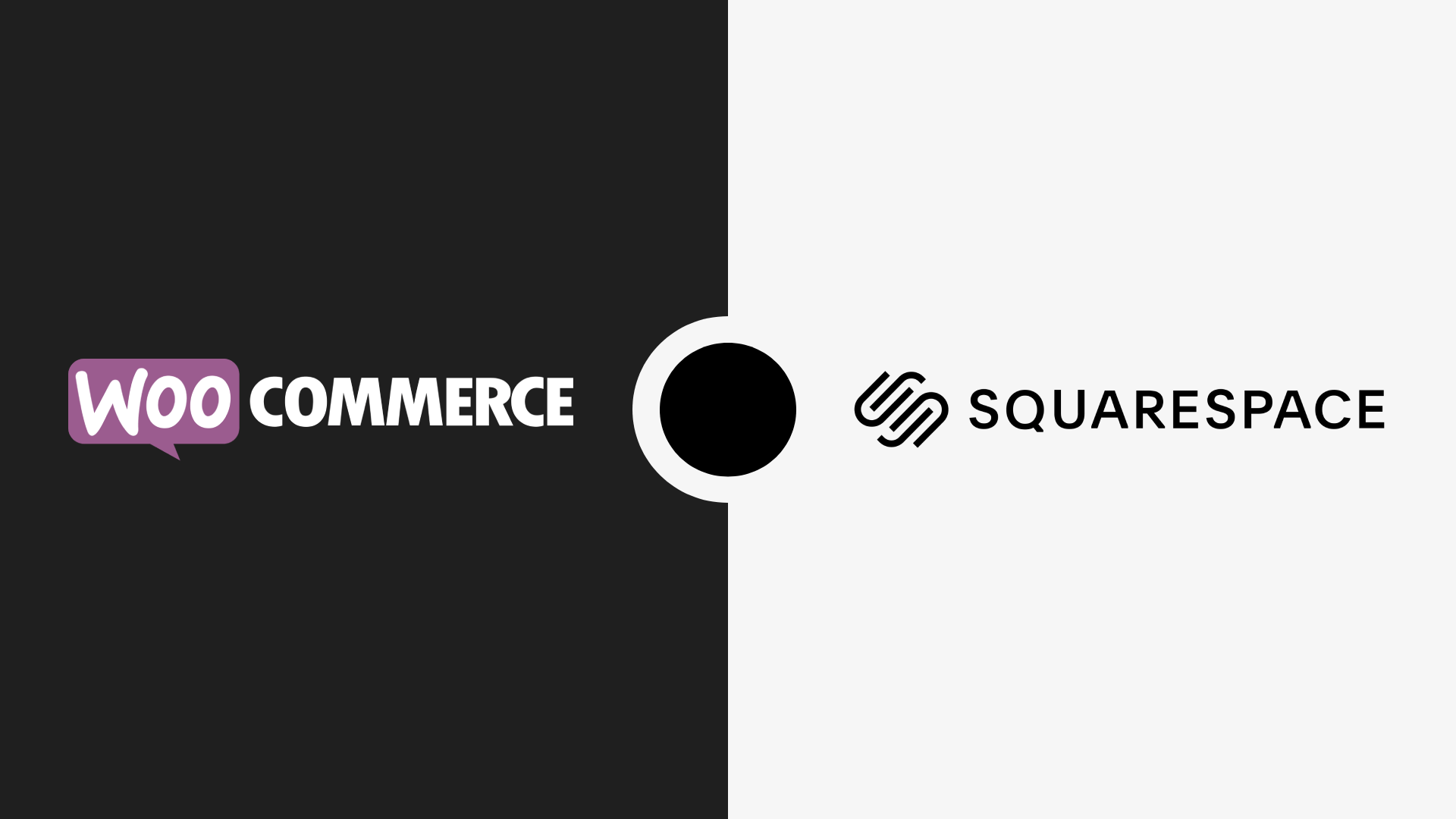 In 2021, e-commerce sales grew by 16.8 percent globally compared to the last year, which will get even higher in the coming years. This should give you an idea of how lucrative this path can be. So today, we are going to do the showdown for the e-commerce crown – that's right, WooCommerce vs Squarespace, so that you can decide which one to take with you on your journey.
These two industry giants cover almost half of the global e-commerce share together.
Even though we believe you won't go wrong with either of them, for those who want the absolute best, we are going to take an overview of both and compare them in various aspects that are crucial for an online store.
So, without further ado, let's dive into it.
WooCommerce vs Squarespace – An overview
---
Before heading into comparison, let's look at both of them individually.
WooCommerce
The first name we hear whenever we talk about building an e-commerce store is WooCommerce. It's a free, open-source plugin for the WordPress CMS, which powers over 43% of the web.
If you have a fully functional WordPress website at your disposal, all you need is to install the free plugin of WooCommerce on your WordPress website, and voila! Your website would turn into an online store that is easy to customize in any way you like.
You can add more features, related plugins, suitable themes, and many more.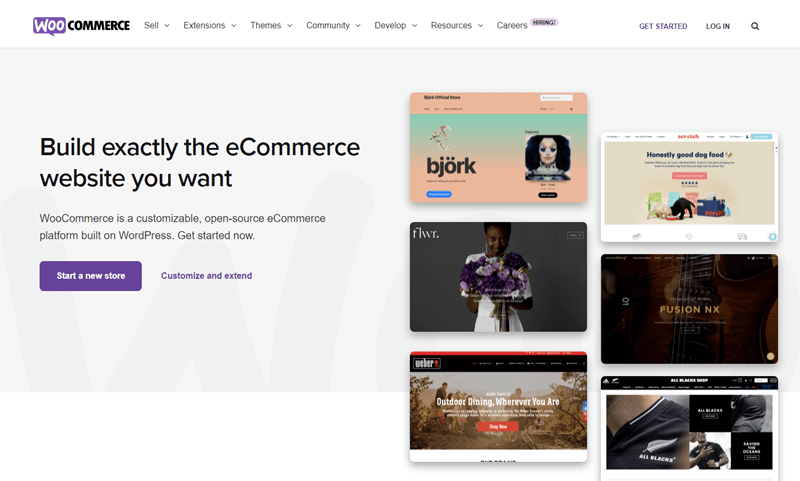 Yes, the plugin itself is free, but that doesn't imply that there's no cost. You'll still need a self-hosted website which costs differently from provider to provider (more on this below). On that website, you can install WordPress and further install the WooCommerce plugin to make it an online store.
Given the legendary dominance of WordPress on the web, WooCommerce is often the first choice of experts. There are over 5,106,506 live websites that use WooCommerce.
Squarespace
Now, let's talk about Squarespace.
It's quite different from WooCommerce but can serve the same purpose. Unlike WooCommerce, it's not a plugin but rather a complete service.
Squarespace is an easy-to-use website builder with a user-friendly and powerful interface. You don't have to install any plugins or add-ons. You just have to choose from one of the two e-commerce plans depending on your needs.
All the plans of Squarespace have everything needed to get a website up and running. To put it simply, Squarespace is an all-in-one package.
There are two plans for Squarespace eCommerce – Basic and Advanced. A basic plan is all you need for a small to medium-sized store. It includes everything from all the security features like SSL certificate, custom domains and hosting, a library of beautiful templates, robust metrics for e-commerce, and the list goes on.
In 2021, Squarespace was on top of the e-commerce market share and even defeated WooCommerce with a 23.51 percent share of the entire market.
Even though the gap was inconsiderable where WooCommerce was standing second with 23.43 percent, the fact that someone even caught up to WooCommerce was mind-boggling.
WooCommerce vs Squarespace – Comparison
---
Now let's pitch them against each other in different categories and decide which one reigns supreme.
WooCommerce vs Squarespace – Pricing
It can be tricky to figure out the whole WooCommerce pricing because different costs are adding up.
Hosting + Domain
Premium Themes (if any)
Add-ons and plugins (if any)
We're going with Bluehost for hosting for this argument's sake. But the choice is always yours. Top hosting providers like this would also give you free security add-ins like free SSL and CDNs.
It starts from $2.95/month for WordPress hosting for first customers. The renewal fees would be higher. The domain would cost you around $10, but if you go with at least a 12-month plan, you get a 1-year free domain.
Afterward, the installation of WordPress and WooCommerce is totally free.
The next expenditure depends on your choice. Do you want a paid WooCommerce theme (which you'll most likely want)? If yes, then it can be a one-time payment of anywhere between $38 to $100.
When it comes to plugins, most of them are for free, and even premium WooCommerce plugins and extensions are inexpensive.
To add all these up, you can get away with a WooCommerce site costing only around $15 (Domain + one-month hosting) if you go really barebones. Or you can pay for the cost of more extensive hosting + paid theme and add-ons etc., and reach around $150 or higher for your first year.
For Squarespace, the pricing is relatively simple. You get 4 payment plans, two of which are dedicated e-commerce plans. The basic e-commerce plan costs $27/month on annual cycles and $36 for monthly payments. On the other hand, the advance plan costs $49 for annual payments and $65 for monthly.
As mentioned before, a basic plan has everything you need to start. You can go with either Squarespace's monthly fees plan or annual. For instance, if you go with the basic plan annual cycle, you'll be charged $360.
But that's it, no jargon of different payments for different features.
Let's decide the winner in this aspect now. Even though WooCommerce pricing is tricky, it's still cheaper than Squarespace. But the Squarespace pricing is easily understandable.
Winner: WooCommerce.
Complexity
Although people who are used to WordPress and are experts would favor WooCommerce due to its sheer power of features.
But a total newbie would be intimidated by the whole process of getting everything up and running. Finding hosting, registering domain names, and setting up WordPress isn't going to be an easy task for beginners.
But once learned, it's rare to say that you won't enjoy WooCommerce because of the control it gives you on your site.
Squarespace is extremely easy for a newbie. It's going to be their dream website builder. All you need is to select the plan of your preference, choose a domain name, pick a template and begin setting up your new online shop.
That's it, guys. Wasn't it simple?
The victor of this category would be, hands down, Squarespace. Because when it comes to convenience in building an e-commerce store, ain't nobody going to beat Squarespace.
Winner: Squarespace.
WooCommerce vs Squarespace – Design
WooCommerce designs are based on the themes applied to the site. The themes can be either free or paid. There are countless themes in the WordPress library and 3rd-party developers.
It is nearly impossible to beat WordPress's sheer number of themes. But it's also quite easy to stumble onto a bad one. That's why we recommend always finding and investing in a quality WooCommerce theme.
Moreover, you can easily customize the theme and pages with page builders like Elementor.
On the other hand, unlike WooCommerce, Squarespace doesn't have much quantity but rather quality. Even though the number of templates available in Squarespace is limited, they are pieces of art and quality.
Once you sign up for Squarespace, you'll be asked to pick a template.
You can choose whichever one you like, but there won't be a lot of choices like WooCommerce. Once selected, you can use the drag-and-drop website builder to customize it the way you like.
This category is a bit controversial for both sides. Squarespace has less quantity, but all of them are top-notch. WooCommerce has loads of themes, but not all of them are impressive.
Winner: Tie
Room for Upgradation
By this, we mean if you can later add more features to your website. In this regard, WordPress and WooCommerce can't possibly be beaten. There are tons of plugins and extensions either in the WordPress library, WooCommerce premium plugins, or by credible 3rd-party developers.
You can use these plugins to add more features to your store. There is no end in sight to what sort of plugins you can find—anything from nitty-gritty customizations up to developer level.
Squarespace doesn't have many plugins, and that's because most of the features are baked in already. But you can still find some extensions regarding marketing, management, delivery, etc.
The clear winner here would be WooCommerce. There's almost no competition.
Winner: WooCommerce
Product Management
Here's a critical factor in which you mustn't decide on the wrong side because this is the actual thing that will earn dollars for you. Both WooCommerce and Squarespace have done a fantastic job delivering the best-in-class product management.
WooCommerce allows for more customizability of products and diversity in their variants.
Nevertheless, both have impressive product page designs, flexibility, support for both physical and digital products, support for adding SKUs, etc. For primary users, both are going to be beautiful options.
So, we think this Squarespace vs WooCommerce round would be even.
Only people who want to create lots of variants of their products and completely customize them are going to favor WooCommerce more.
Winner: Sort of a tie
WooCommerce vs Squarespace – Support
Due to WooCommerce being a plugin rather than a standalone service, its customer support is handled by WordPress.
You can sort out your problems with the community forums, the bunch of available resources on various matters, or you can get help from third-party service providers for seriously complicated issues.
For issues regarding the additional tools you might be using, their respective teams and dedicated support are available to resolve your problem.
Let's talk about Squarespace now. Due to all services and features being integrated into one rather than different plugins, you won't get cluttered. Instead, you can efficiently resolve your issue with 24/7 customer support with all Squarespace plans.
Moreover, you can ask questions in forums, use already available data (although it's not as extensive as WordPress), or go bonkers and hire a professional Squarespace expert to eradicate the problem.
Hiring an expert will cost you some bucks, but worth it.
Winner: Tie (Again)
Conclusion
---
So, the moment of truth of this WooCommerce vs Squarespace argument. According to our comparison, WooCommerce takes more wins over Squarespace. But don't get us wrong, this is just a comparison.
In the end, it's going to be you who decides which aspects you can compromise on and where not. If you enjoy peace of mind and convenience, the Squarespace packaged approach is better.
But if you can work yourself around a little bit to have more flexibility and features, then WooCommerce is the way to go.