145 Elegant Divi WooCommerce Layouts for Your Store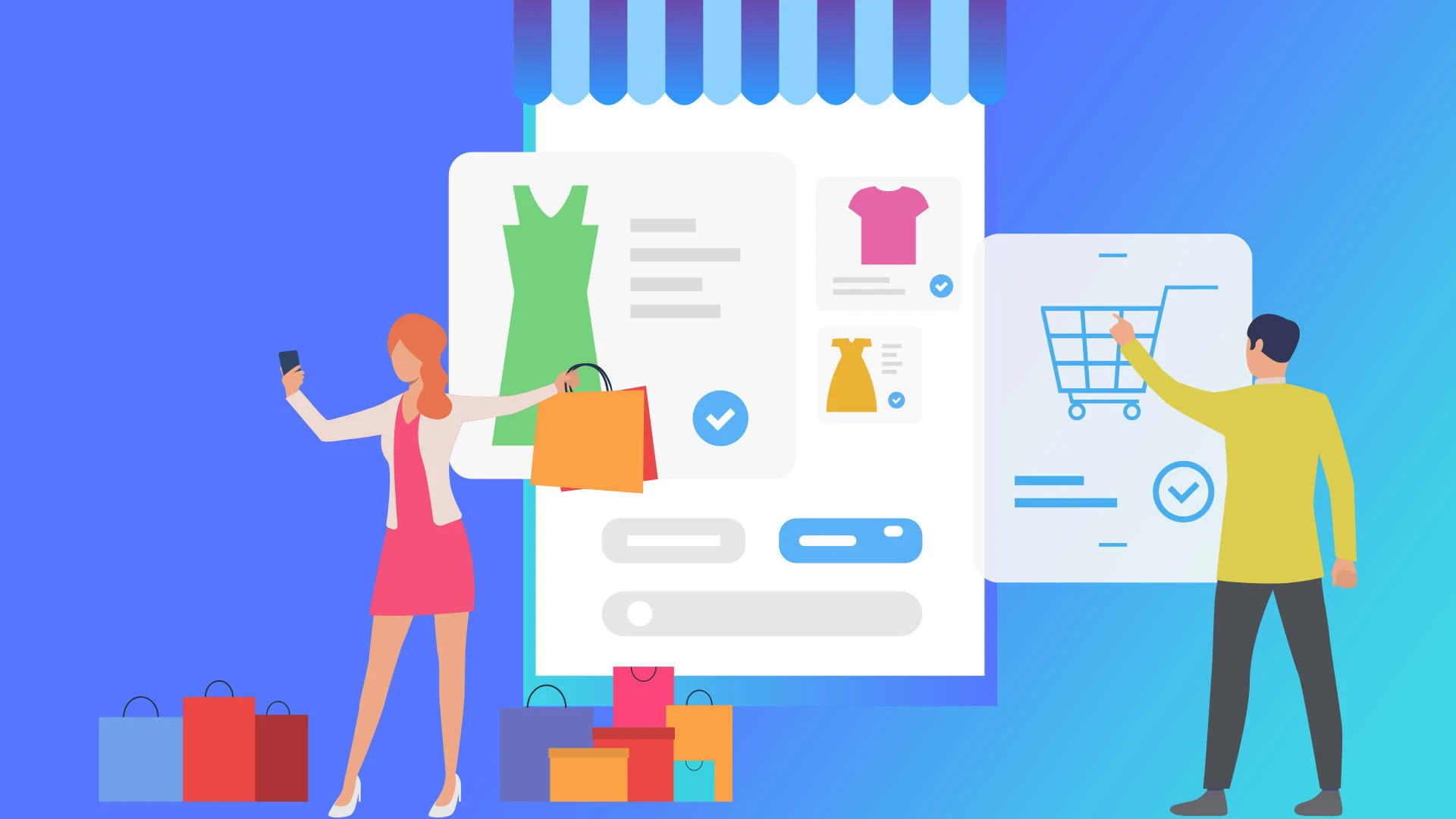 Do you have a WooCommerce store, and does Divi power it? If yes, you can make the most out of it using the new Divi WooCommerce Layouts pack. It's a comprehensive pack that provides you with promising features just like a Divi WooCommerce Builder. 
Perhaps, better than that. 
If you want to improve your Divi and WooCommerce store, this pack is what you need. And in this post, we're going to see every aspect of it and how they can help you enhance your digital store.
Are you ready? Then we shall get started!!
What Are Divi WooCommerce Layouts?
---
Just like other layouts of Divi, WooCommerce Layouts allow you to improve your Divi store based on WooCommerce. Using these layouts, you can improve the functionality of the store. You can enhance the beauty as well as the performance of your Divi WooCommerce store.
Unlike the Divi WooCommerce Builder, you don't have to apply different configurations when using these layouts. They're pre-made and ready to use. All you have to do is import them, replace the demo content, and that's it – your WooCommerce layout for Divi is active.
However, you can apply customizations to make them fit your design idea and support the scheme you've applied to the site.
How Are Divi Layouts Helpful in Building a WooCommerce Shop?
Unlike plugins, you have to go through multiple complex steps or processes to avail yourself of the benefits. Using layouts is simple and allows you to build something out of the box with just an import process. The prominent benefits of using layouts are,
Top-notch compatibility with WooCommerce and Divi.
Highly customizability.
Easy-to-use.
Apply the design to other stores using the Export and Import options.
High responsiveness.
Bug-free.
In addition to these, you can experience other benefits of using layouts. For example, you've got the ready-made design to apply to the store. You can change the style of every product page without spending much time.
And there is more than you can find with Divi Layouts for WooCommerce pack by Divi Extended. That's that. Let's have a quick look.
WooCommerce Layouts for Divi by Divi Extended
Divi Layouts for WooCommerce is a premium pack with over 140 layouts for a Divi and WooCommerce based eCommerce store. Using this pack and the layouts available, you can customize your digital store in numerous ways.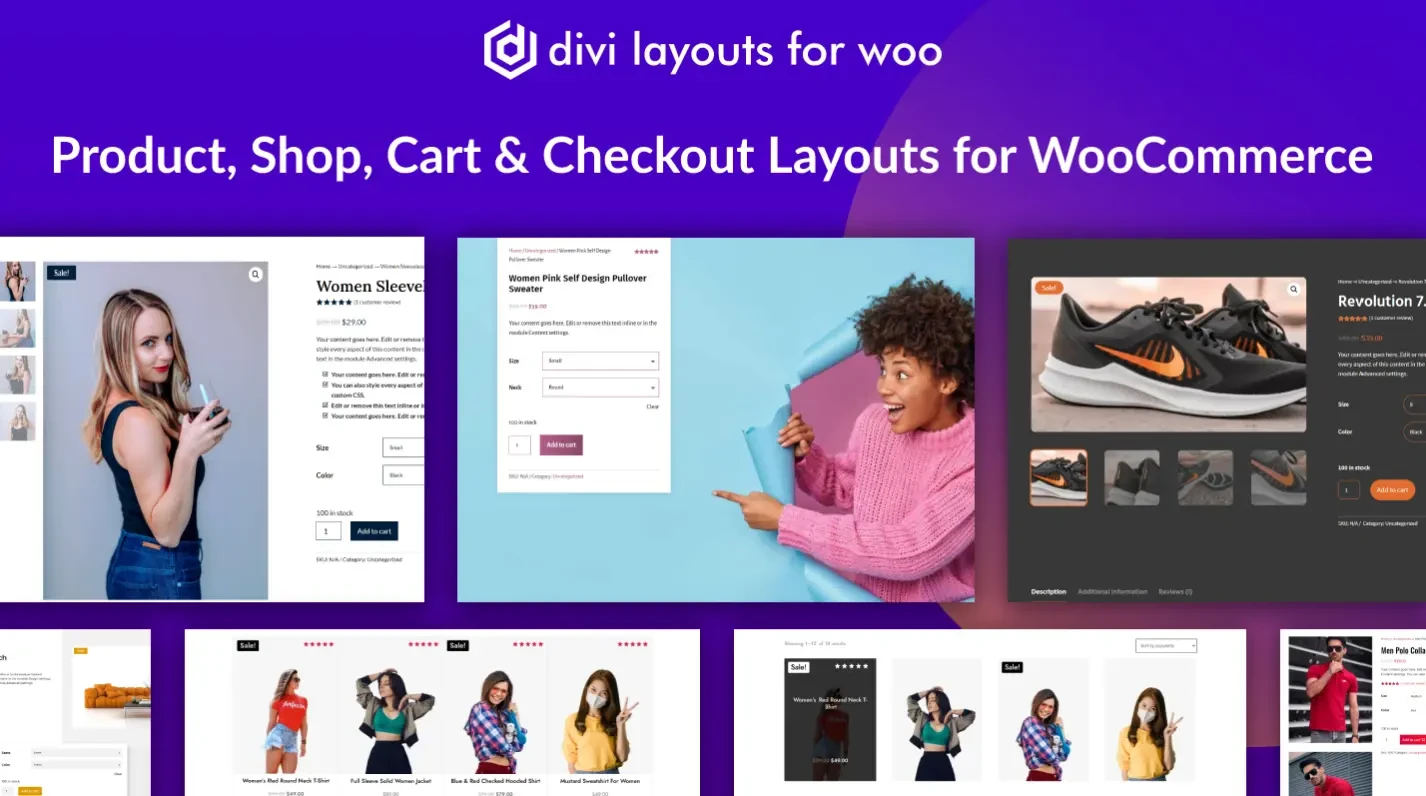 If you want to try a new design for product pages, you've got the product page templates. If you want to improve the look of your shop, you've got the shop page layout.
This pack has several possibilities that you can utilize efficiently. There are no installations, no configuration, and no complex processes. All you have to do is import, apply your changes, and that's it.
Diving Into Divi Layouts for WooCommerce Pack (145 Layouts for Divi WooCommerce Store)
---
Following, we'll discuss every benefit the pack provides, whether layouts or customer support oriented. By the end of this post, you'll make up your mind to go with these layouts and improve your Divi WooCommerce store.
55 Divi Product Page Templates
For an eCommerce store, product pages are those that bring all the sales. Without them, it's nearly impossible to get the online business going. When you install WooCommerce on Divi and create products, it, by default, gives the product a following look,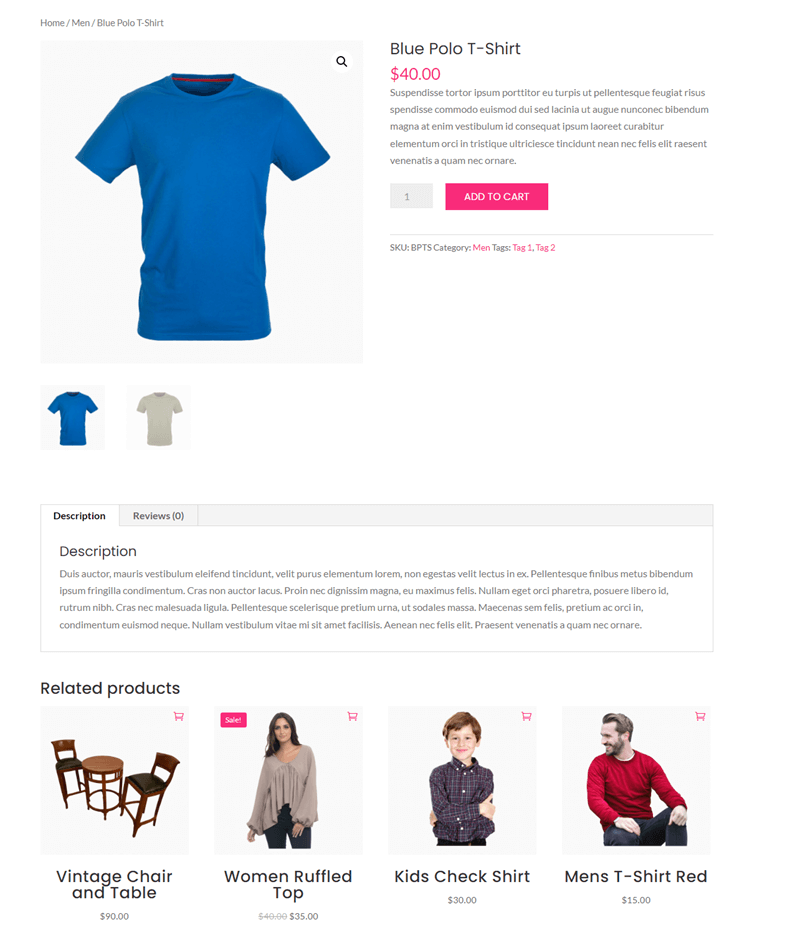 As for a start, this is something that can help you show your online presence. However, you need something more engaging and persuasive to compete in the market. There you can go right with the product page templates available with this pack.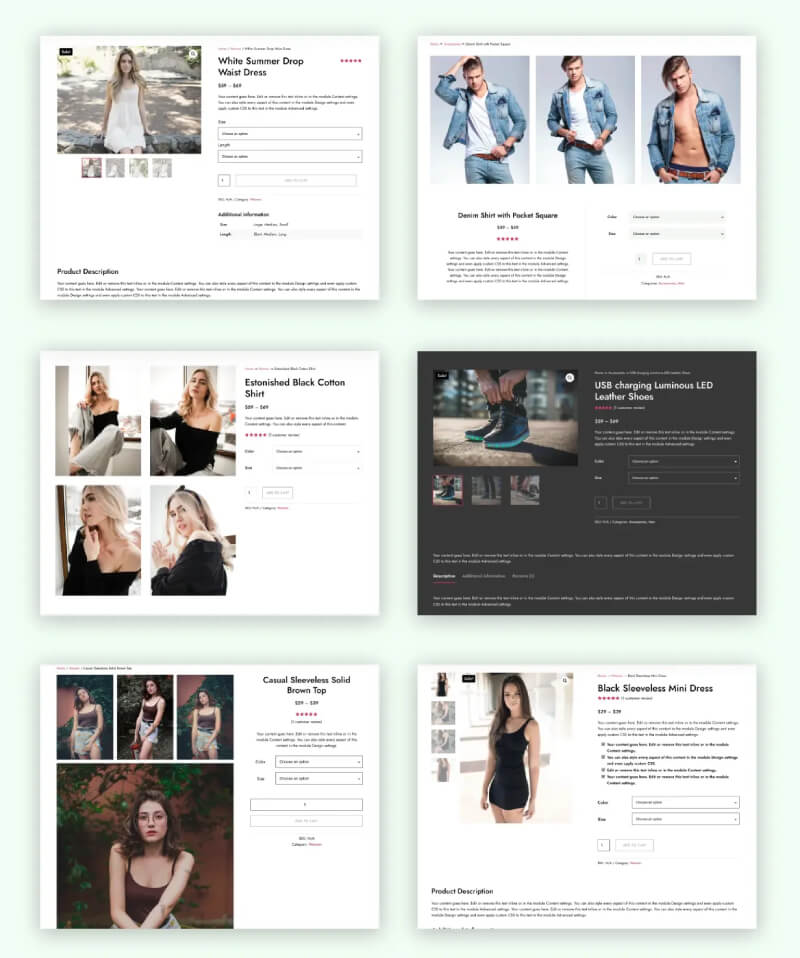 There are 55 Divi product page templates that you can easily apply to your Divi and WooCommerce store. These templates offer different aspects and features that make your store stand out.
For example, with these templates, your product will have,
Zoom on Hover effect.
Quantity selector.
Star ratings.
Sale badge.
Related products section.
Review section.
Breadcrumbs.
Product' Image Gallery.
Image gallery with slider.
In addition, these templates are spacious, allowing you to present the product and its information clearly and with high engagement. Further, if you've designed your digital store dark, then this pack has a layout that works according to it, as you can see below.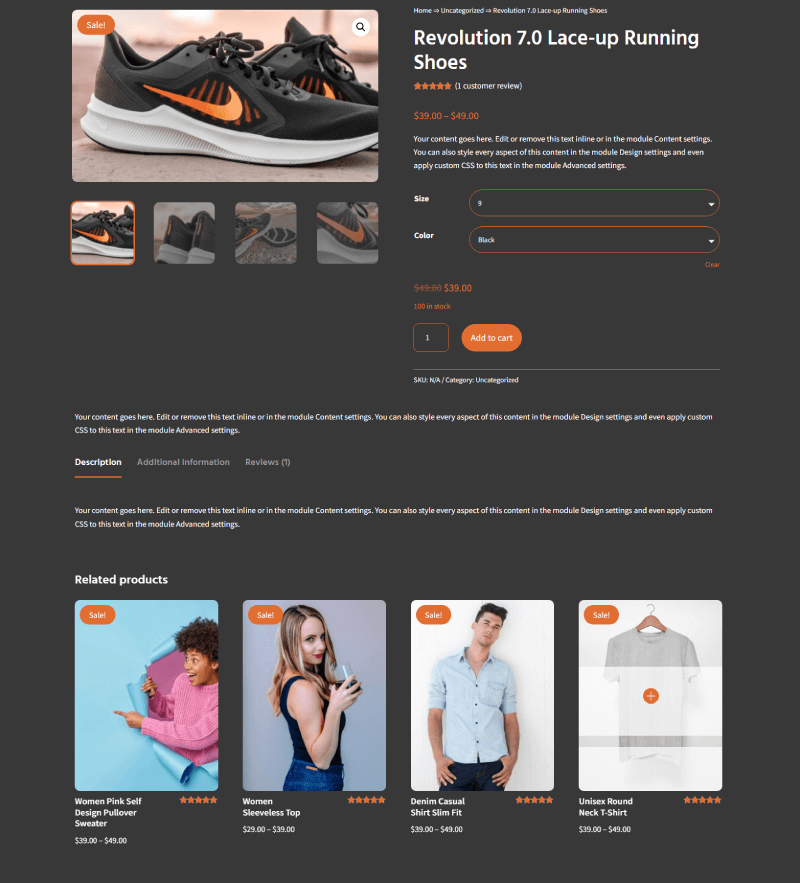 30 Divi Shop Layouts
Before products do their wonder, a shop page is what makes the customer stay on the site. Without a shop page, you'd have nothing to show your customers to catch their attention at the first moment. Therefore, it's essential to have an optimized, responsive as well as distraction-free shop page on an eCommerce store.
If you're looking for one to help you turn your store unique, then Divi WooCommerce layouts got the solution. Not one or two, but you get over 20 Divi shop page layouts with this pack.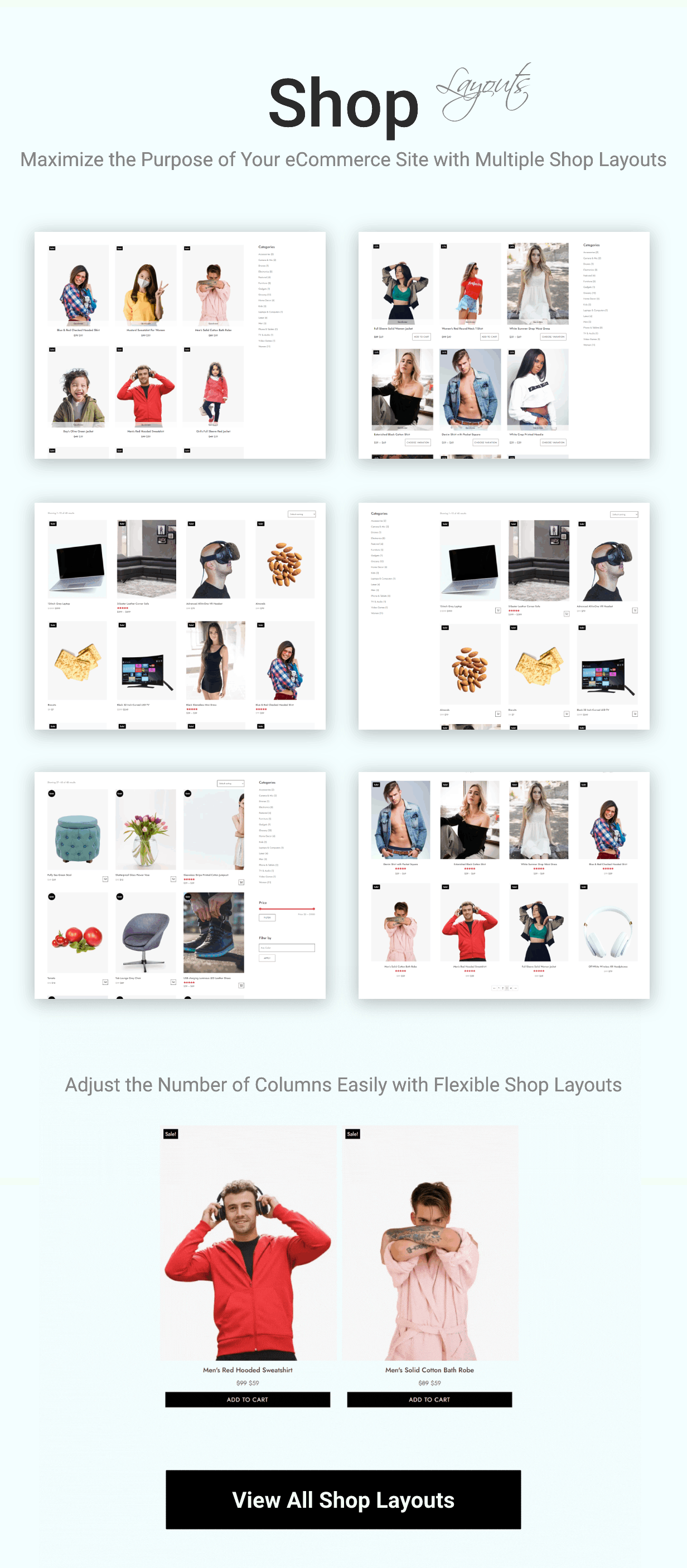 Using these different shop page layouts, you'd be able to bring distinction to your store. You can have unique category pages, variation products archives, sale products shops, etc.
These layouts indeed are unique but offer multiple similar features that set them different from layouts in the market. For instance, with these layouts, your shop page could have,
Sort by filter.
On-hover zoom.
Sale badge.
Star ratings.
Pagination.
Sidebar with Popular products & categories
Product info on an overlay.
Sticky sidebar.
Off-canvas sidebar.
Banner section and much more.
Recently, the layouts pack launched some new templates for the shop that make your store look incredible, like the following,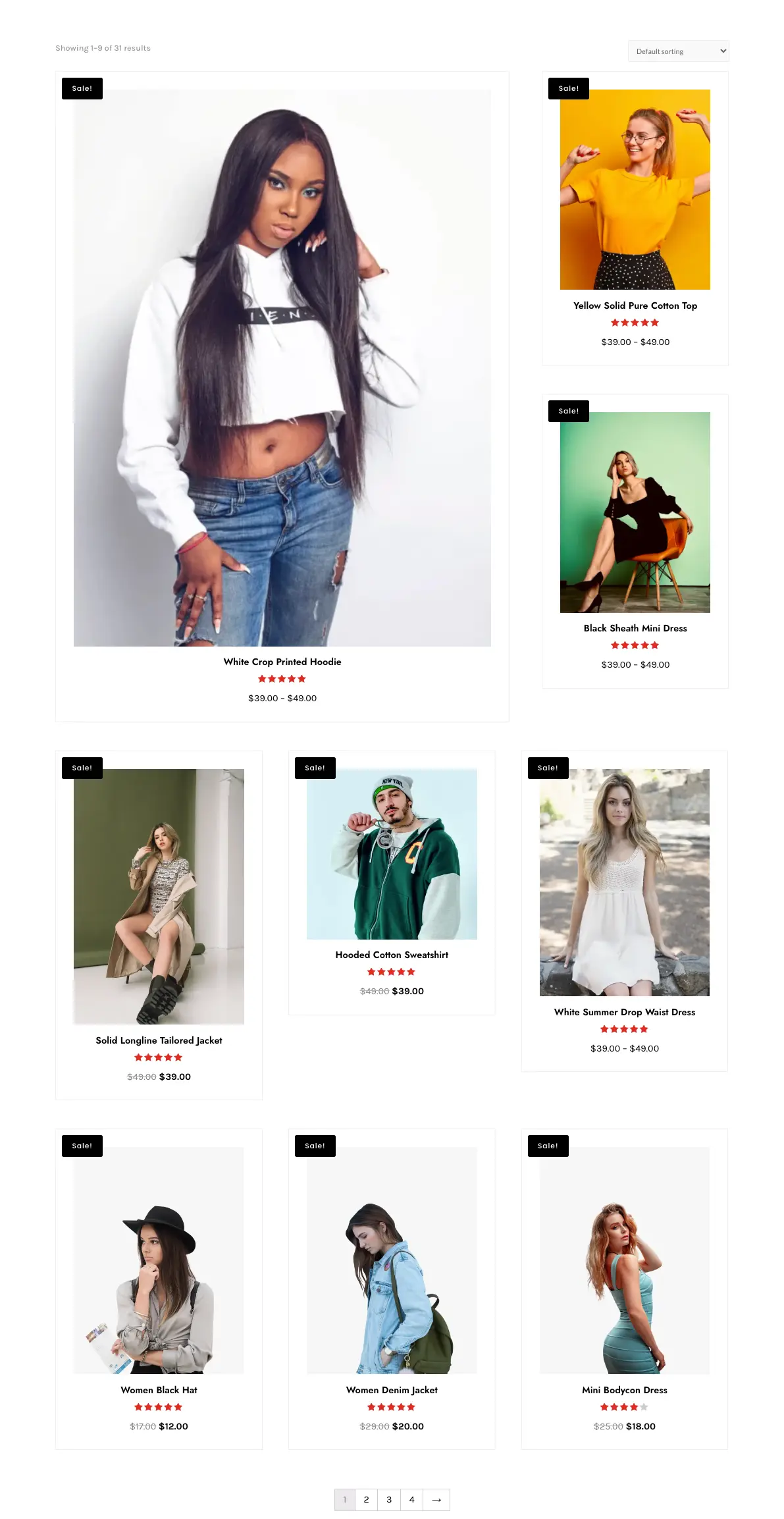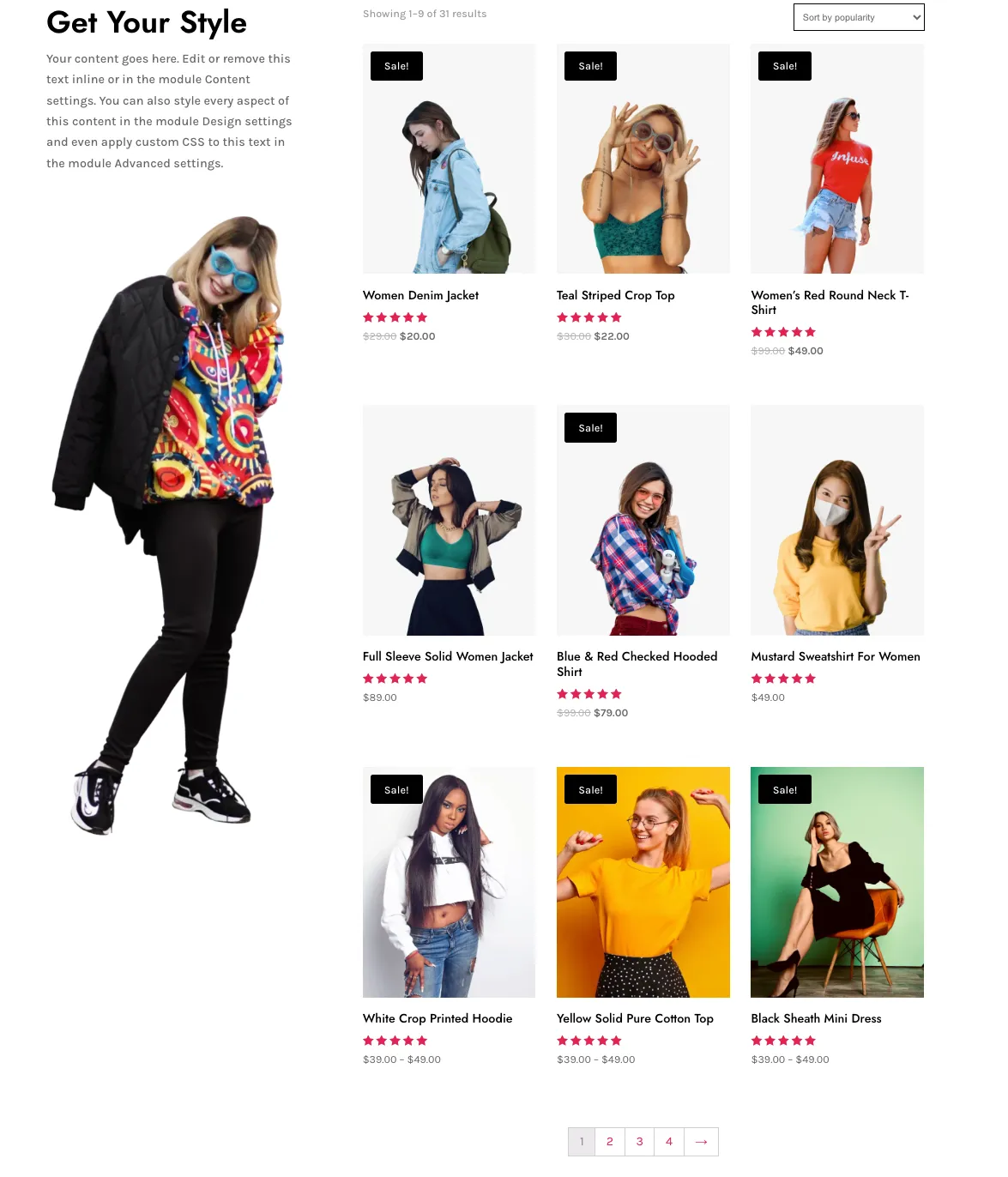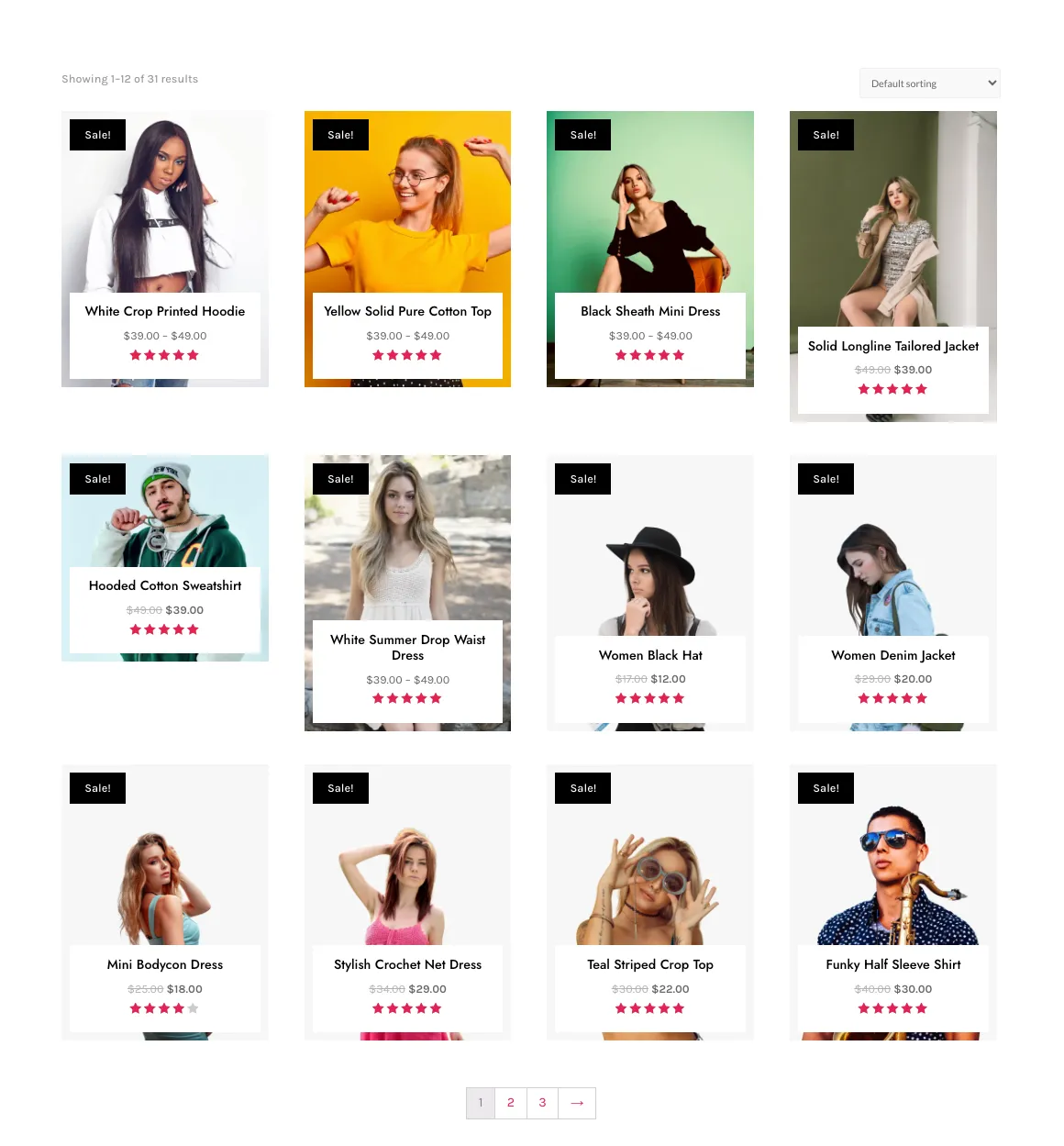 15 Cart Page Templates
A cart page on an eCommerce store allows customers to review their items before purchasing. It gives them a clear idea of the total amount, products, and quantity. Therefore, it's vital to have a cart page on a digital shop. Plus, it needs to be simple and provides the info without any distraction.
Further, it should let customers change the quantity. Or even remove a product (s) altogether. If you've provided them with a coupon, they should be able to redeem it easily.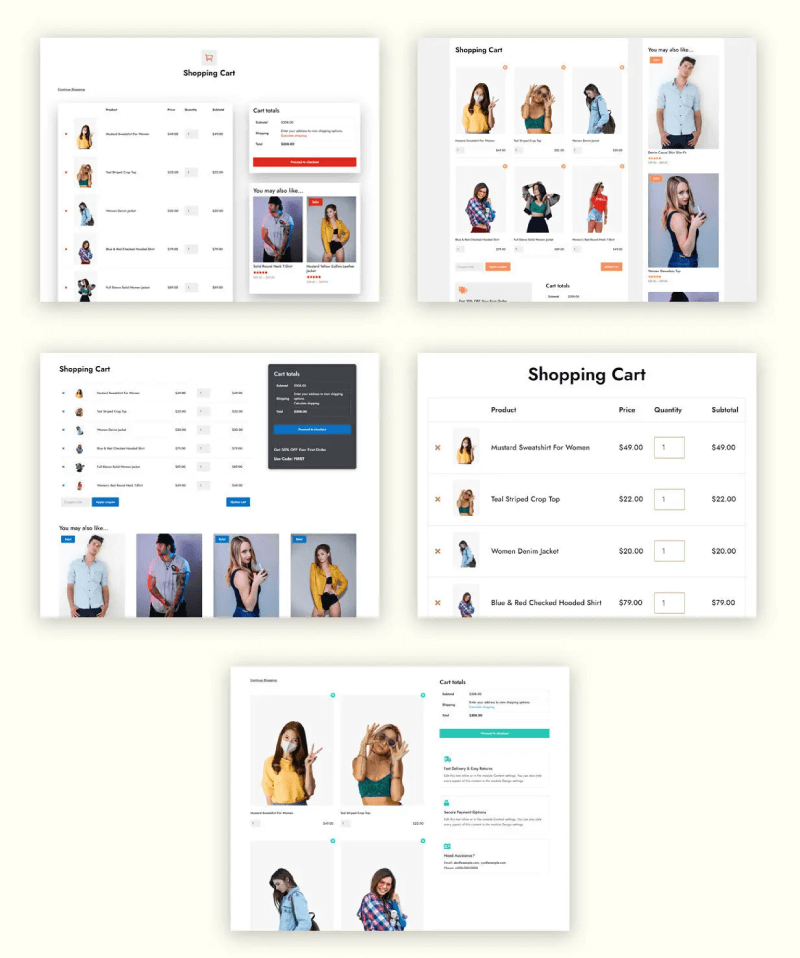 Divi Layouts for WooCommerce pack has cart page layouts that offer benefits more than an ordinary one. If you want an idea, look at the following screenshot of one of the cart page layouts.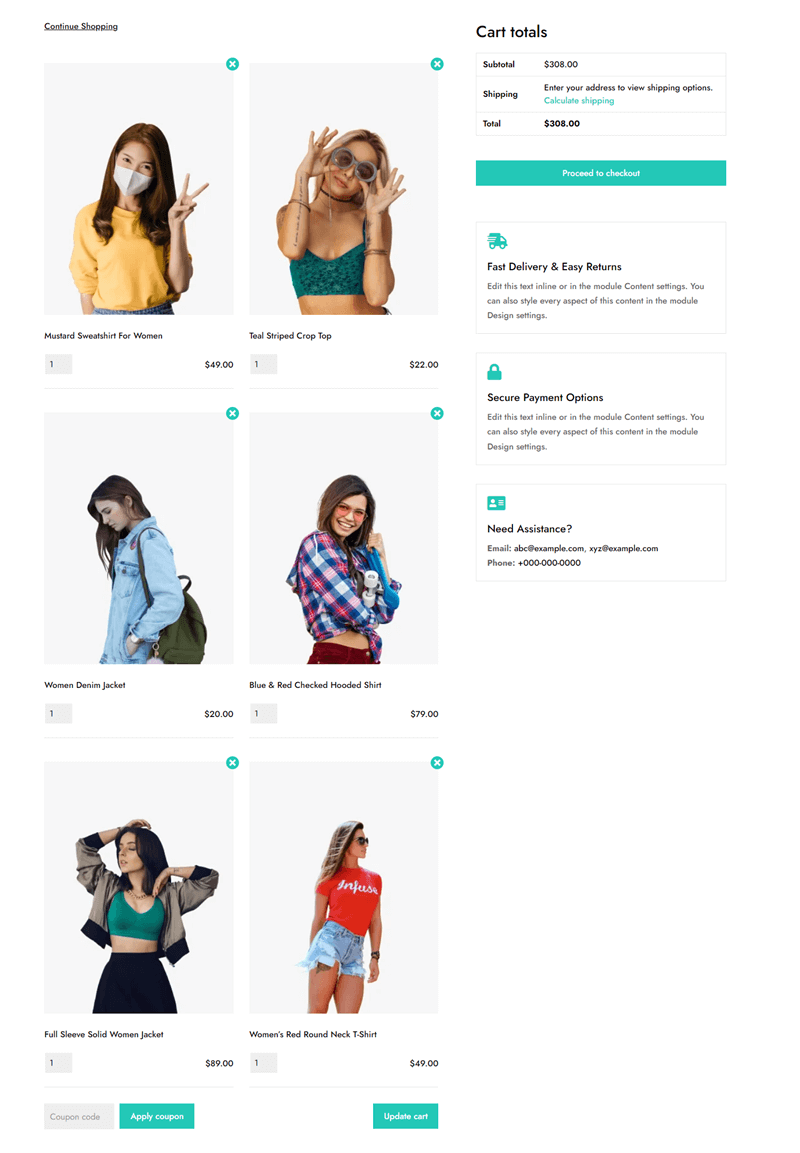 The cart page layouts consist of,
Customized Continue Shopping link.
Product Thumbnails – both simple and customized.
Related products.
Optimized typography.
Single column cart.
Sticky Cart Totals.
Customized Coupon Info.
Additional columns for Free Delivery, Payment & Assistance Info.
15 Checkout Page Templates
Like the Cart page, a Checkout page should also have a clear and simple look. Plus, allow customers to utilize the fields efficiently. If it's not straightforward, then there are chances that your store would face more abandoned cart rates.
So, to avoid this situation and help customers complete the purchase decision, this pack includes 5 highly-optimized checkout templates.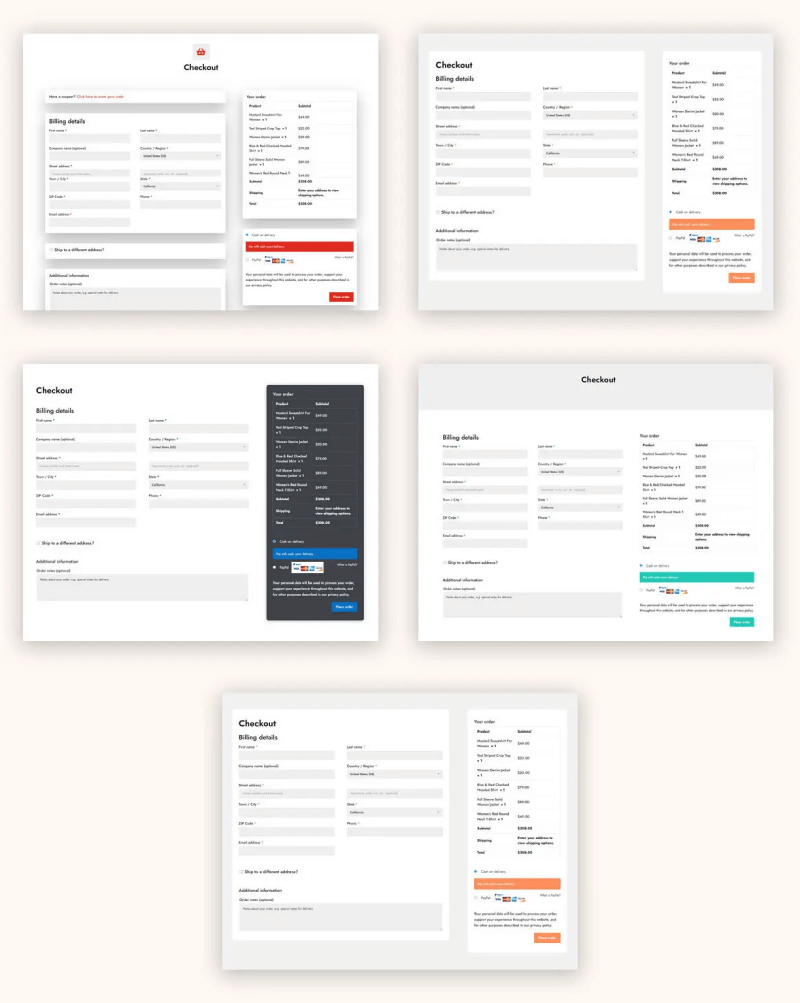 With these, your customers will easily fill out the details and complete the order.
30 Sections Layouts
If you want to bring products of your online store to light. Or, announce a particular event – like a sale- then how would you do it?
You'd probably add banners, bars, and popups. If you're to create them from scratch, it will take significant time.
Thus, to reduce the time and improve your store's performance, this WooCommerce Layouts pack comes with pre-built sections.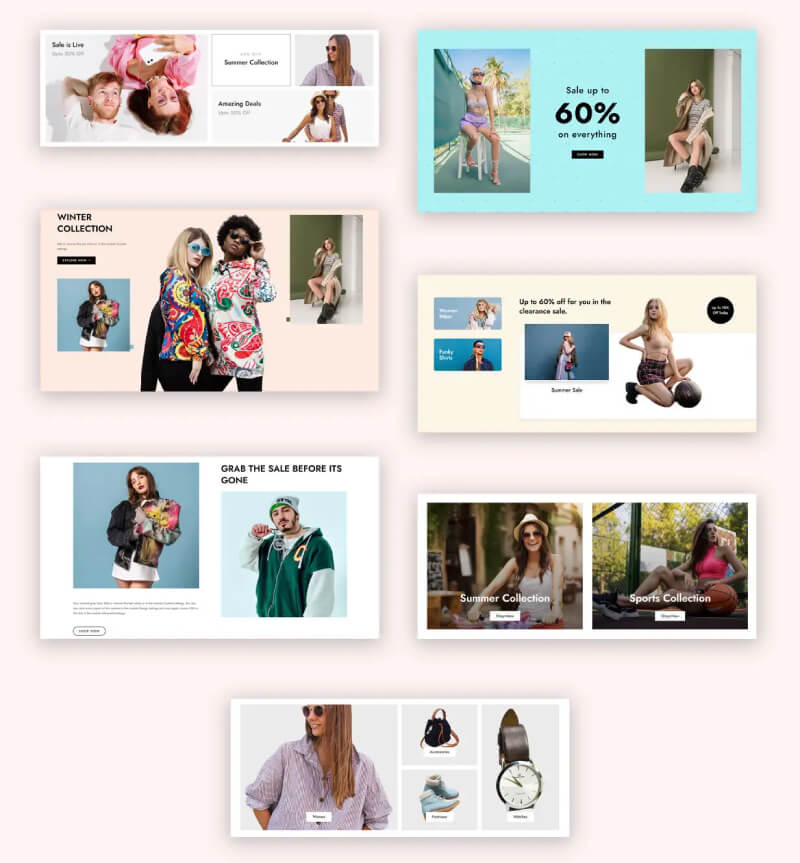 Using these sections, you can highlight new products, sales, categories, collections, and more. There are over 10 sections that help you put extra light on the store's different areas and capture customers' attention.
By following this link, you can take a closer look at each section more clearly.
Pricing
Divi Layouts for WooCommerce is available at both Divi Extended Store and Elegant Themes Marketplace.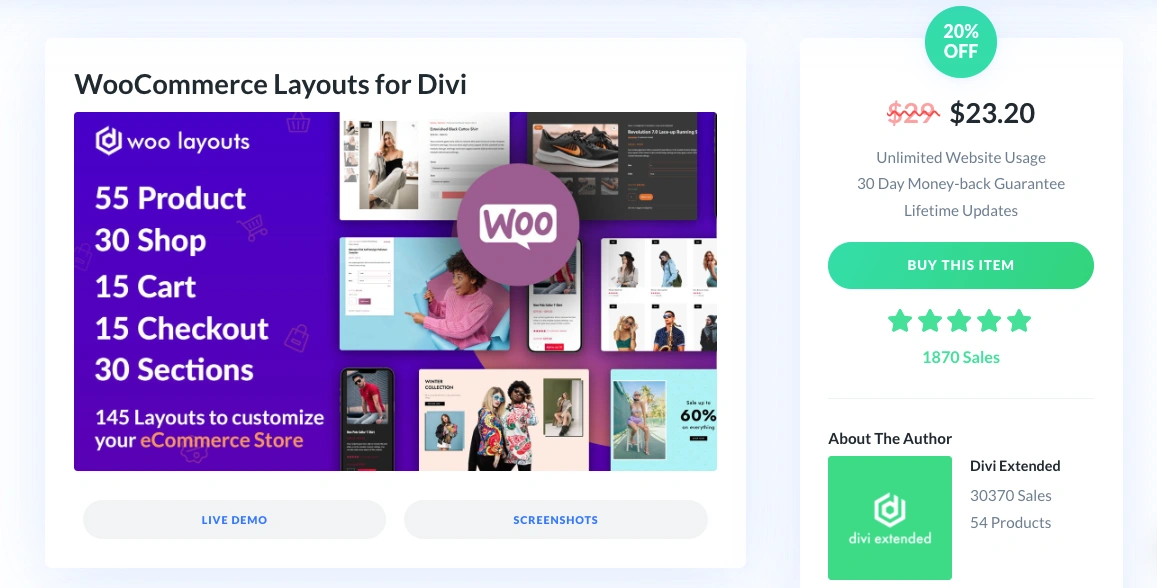 At the marketplace, you can get it at $29 for Unlimited Website Usage. Plus, the pack will receive Lifetime Updates. Moreover, you're entitled to a 30-day Money Back Guarantee. If you find any issues, you can ask for a refund within 30 days of the purchase.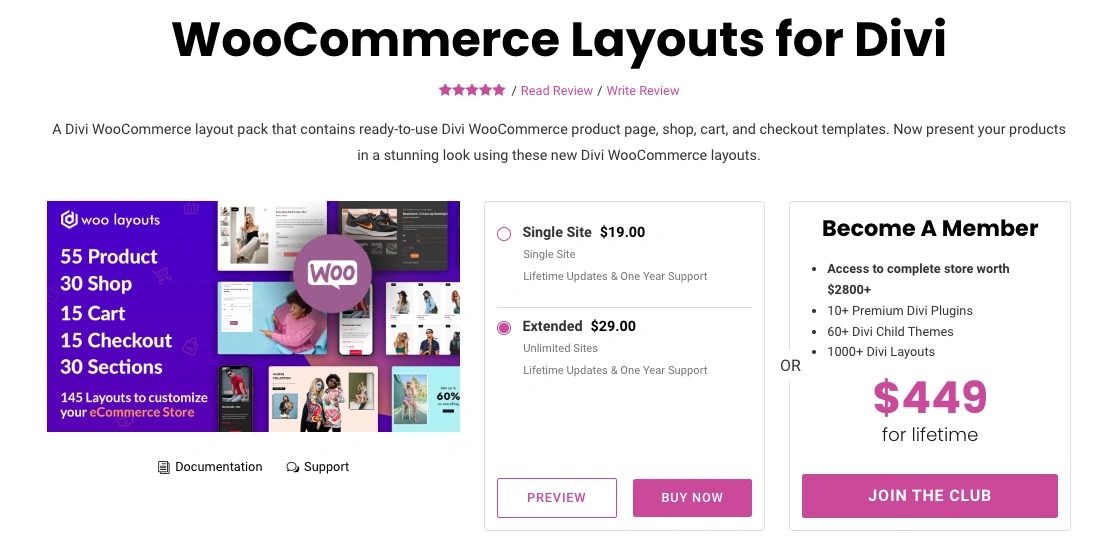 On Divi Extended Store, you can get it starting from $19 for a single site. Here, you'd make a One-time purchase for lifetime updates and 1-year support.
Regular Updates
This pack has been updated several times. And will continue to do so. With each update, you get new layouts. Further, the design of the previous ones gets optimized if there are any incompatibilities with the latest version of Divi and WooCommerce.
Each new layout will feature the latest design trends. Hence, allowing your store to remain modern despite the year change.
Support
Whether you get this pack from Marketplace or Divi Extended Store, you'll get top-notch support. You can reach the developer regarding any issue you might face while using the layouts.
The support team will reach out to you in minimum time and resolve the issue without tempering your platform.
Conclusion
---
This Divi WooCommerce Layouts pack is the one you can rely on to enhance your Divi store. It covers almost every design element that makes an eCommerce store stand out. Further, you don't have to follow any complex steps or processes to utilize this pack's benefits.
For $19, you're getting much that's possible in today's time, not even with an expensive WooCommerce builder plugin.