9 Best WooCommerce Order Delivery Date Plugins in 2023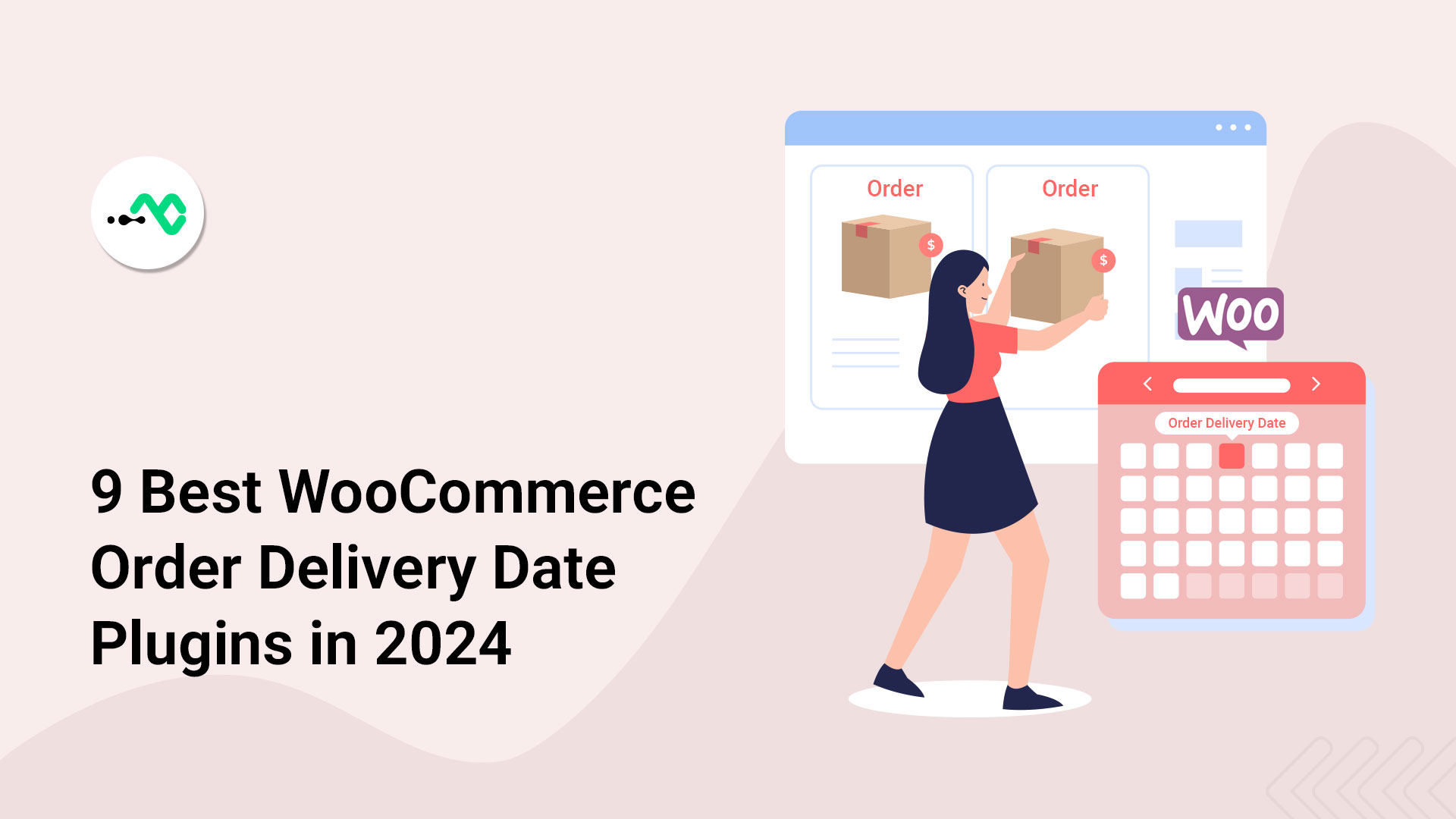 The COVID-19 pandemic has impacted how people shop–they are now more interested in shopping online, and e-commerce businesses are booming all over the world. And to meet the competition, online stores offer various ways of shipping.
Due to these different shipping methods, customers tend to know when their order will be delivered to their doorsteps. And many online businesses struggle with providing the best order delivery date and tracking.
So if you're a WooCommerce user and facing that problem, then this article is for you. In this article, we are going to list the 11 best WooCommerce Order Delivery Date Plugins in 2023.
Why Use WooCommerce Shipping Plugins?
---
Shipping can directly affect the customer experience and decisions. You should have shipping plugins to easily manage your orders and keep track of them if you are selling physical products to a large area..
Efficient Shipping and quick delivery are one of the best ways an online business can retain and earn loyal customers. The study says that 24% of customers will abandon their cart if the delivery is too slow.
Thus, if you're planning to cover a wide area of customers, having a good WooCommerce shipping plugin is compulsory. Your shipping plugin should have various features such as tracking, rate, tax calculation etc., one of the important features you should note in your WooCommerce shipping plugins is the Order Delivery date.
As it plays a significant role in a customer purchase decision. Research shows that 62% of customers expect the product to deliver within less than 3 days of order. So if you want to win the competition, you need more than increasing your delivery speed alone. Hence, installing the WoCommerce Order Delivery Date plugin can help you simplify your delivery, and the following plugins are ones you can start with:
Best WooCommerce Order Delivery Date Plugins
---
There are 50+ WooCommerce shipping plugins, but here in this article, we focus only on 11 WooCommerce plugins which are best and have Order Delivery Date features.
Let's see them one by one:
1. Order Delivery Date for WooCommerce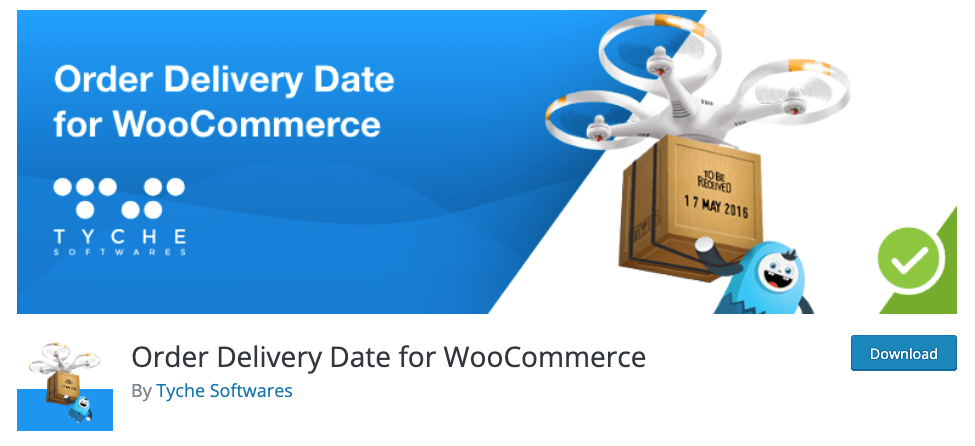 It is a free WooCommerce Delivery Date and Time plugin that offers the customers to select the delivery date and time during their check out. This plugin is developed by Tyche Softwares and has 10,000+ active installations.
It is available in 45 different languages and supports PHP Version 5.6 or higher. Order Delivery Date for WooCommerce has an amazing support forum to help you out. It has both free and premium versions which cost from $99 to $249 per year.
Here are some notable features of this plugin –
Customers have the power to choose the date and time of the delivery.
Automatically shows the next delivery date option.
Disable the date when the delivery is not possible.
You can limit the number of orders per slot/time.
There is an option to set minimum delivery which can be in both days and hours.
2. Delivery & Pickup Date Time for WooCommerce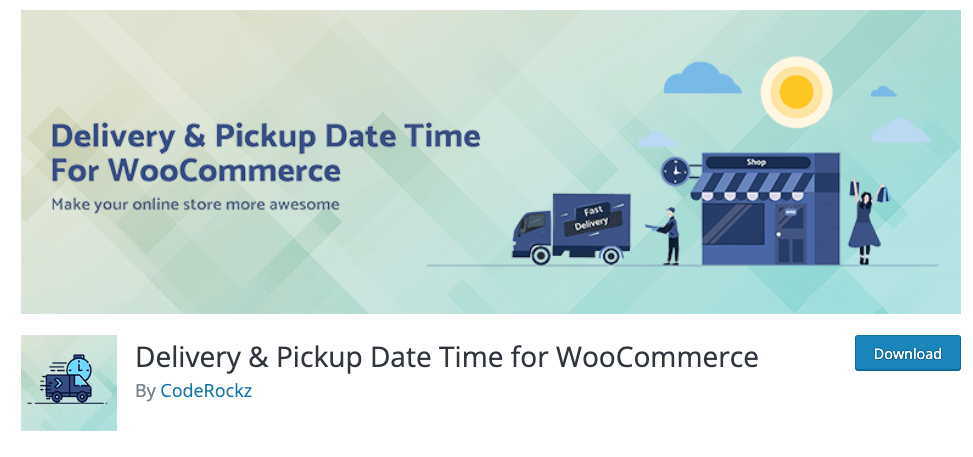 It is also a freemium (free & paid) plugin developed by the popular WordPress developer team CodeRockz. As the name goes this plugin offers delivery & pick-up time options to the customer during their order checkout. Additionally, the customers can give instructions on their order delivery via this plugin.
CodeRockz provides a dedicated support team to solve the problem of their users. You can easily fix your errors by contacting their support page.
It has 7000+ active installations and supports WordPress Version 4.0 or higher. It is translated into Dutch and French. The premium version starts from $50 per year for 1 website.
Here are some salient features of this plugin –
Customers can choose home delivery or self pick up or both.
You can set a minimum delivery time.
You can customize the order completed page and delivery email.
Automated shipping is available based on the order type.
Pro Version has more features Time-zone based delivery information etc.
3. WooCommerce Delivery Slots – Iconic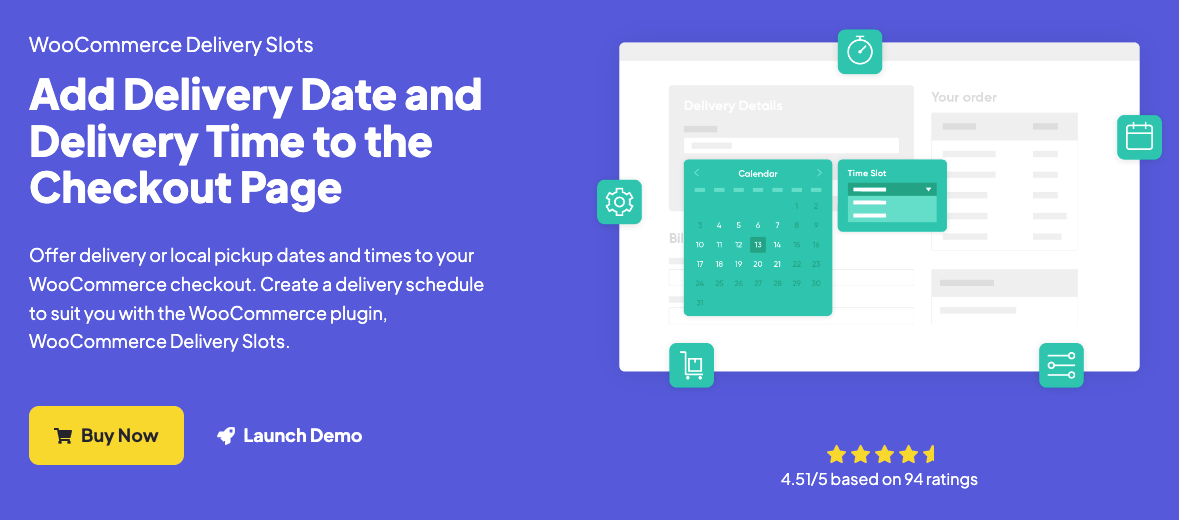 Delivery Slots is an excellent choice for adding to your WooCommerce plugin library. It was the last 2021's best order delivery date plugging. It was created by the Iconic and has an active installation of around 16,000.
Delivery Slots is a premium third-party WooCommerce plugin that costs $129 for single sites and has the options of up to 30 sites at a higher price range. Iconic offers a 30-day money-back guarantee. You can also test the plugin using this demo checkout.
Some of the important features of WooCommerce Delivery Slots are –
Fast, simple, and easy-to-use plugin.
It gives reserve and shop feature options to the customers.
Customers can select either delivery or pickup date and time.
Compatible with WPML translation tools.
Developer friendly and great customer support.
4. Orderable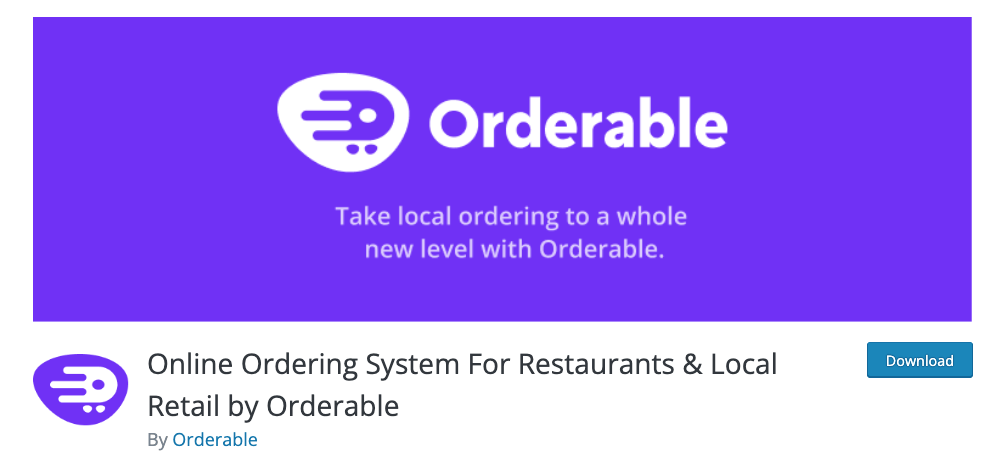 Orderable is a relatively new WooCommerce plugin that focuses on order and delivery. In our list, this plugin has a very user-friendly User-interface. It is a plugin targeting restaurants and local food stalls and helps them to sell online without any additional cost.
If you're a restaurant owner or selling any edibles then Orderable is the best option for you. It has various features like typing, order instructions, etc. Currently, it has more than 3000+ active installations.
It has both free and premium versions. However, the paid version is expensive and costs around $400 per site.
Here are some notable features of Orderable –
Fast and fully responsive and has great product designs.
Beginner-friendly
Has various revenue-boosting features like tips, order coupons, etc.
You can disable days when you can't deliver the products.
You check the functions using the demo.
5. Delivery Sheduler for WooCommerce

Delivery Slot is another wonderful premium plugin developed by the Fantastic Plugins. The unique thing about this plugin is that you can add different delivery charges for the delivery period, that's a higher delivery charge for fast delivery. Thus you can easily earn additional income.
This premium plugin costs $79 and comes with 1-year extension updates and support. There is a 30 – day money-back guarantee. It is compatible with WordPress 4.6 or higher and WooCommerce 3.5 or higher.
Here are some important features of Delivery slots:
The estimated delivery period will appear below each product profile in the cart
Customers get to choose the date and time of delivery
Increase customer convenience by notifying through emails.
Users can add multiple products to the cart and carry them directly to the checkout page.
Dedicated customer support is directly handled by the Fantastic Plugins.
6. ELEX WooCommerce Choose Your Delivery Date Plugin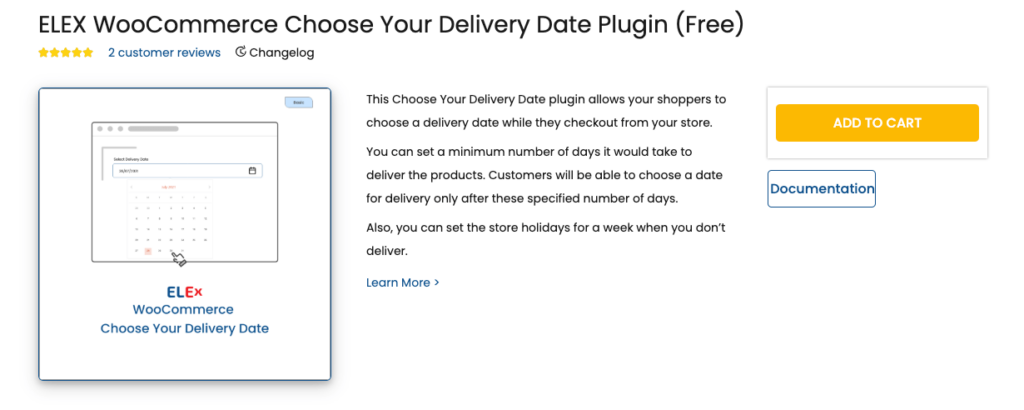 ELEX Delivery date plugin is a free one with all the basic features you would expect from an Order delivery plugin. Another advantage is it is completely free for a lifetime. If you're a small e-commerce site looking for a simple order delivery plugin then Elex would get it done.
Here are some notable features of ELEX –
It allows the costumes to choose their delivery date and time.
It marks the days and times when the delivery is not possible.
Customers can choose their required minimum number of days for their product delivery
There is a special feature that allows you to create a unique short note for your customers
7. YITH WooCommerce Delivery Date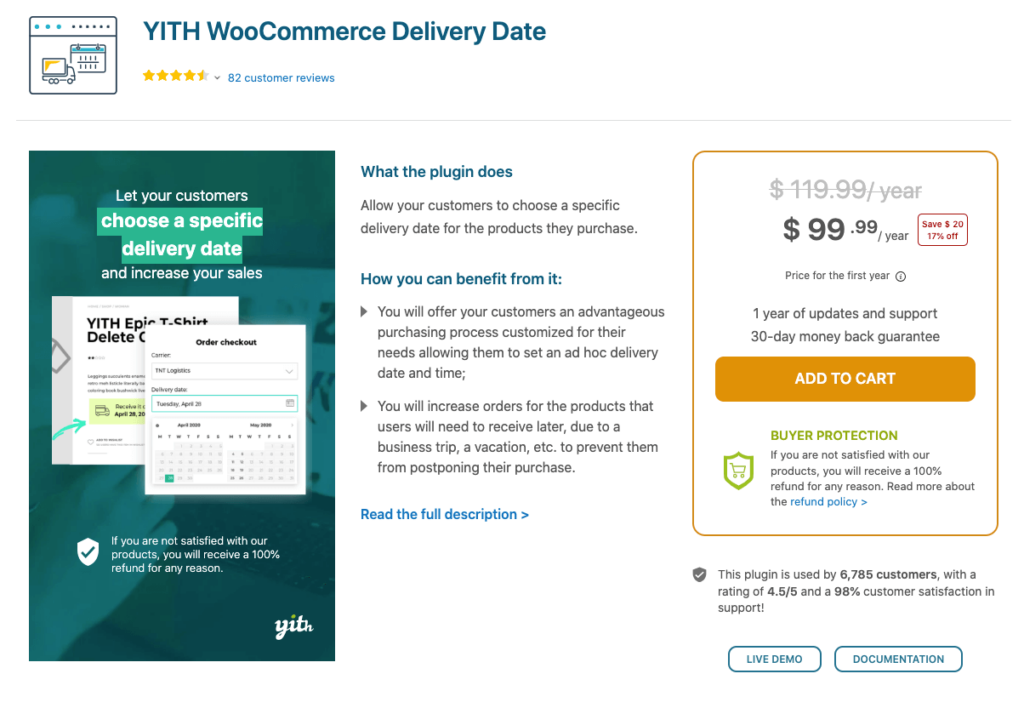 If you're serious about WooCommerce then you should have heard about YITH. They are independent third-party developers with many awesome WooCommerce plugins. And here YITH built a premium WooCommerce plugin for order delivery dates. The reason it's down on the list is the high cost, starting from $99.99 to $599.94 per year.
Here are some other important features of this plugin –
You can insert the date or week order and how the shipping should be processed.
It allows you to create different delivery tables for different product categories.
Specify time slots and deliveries for each specific day.
Track all the shipping in one place.
8. Estimated Delivery Date Plugin for WooCommerce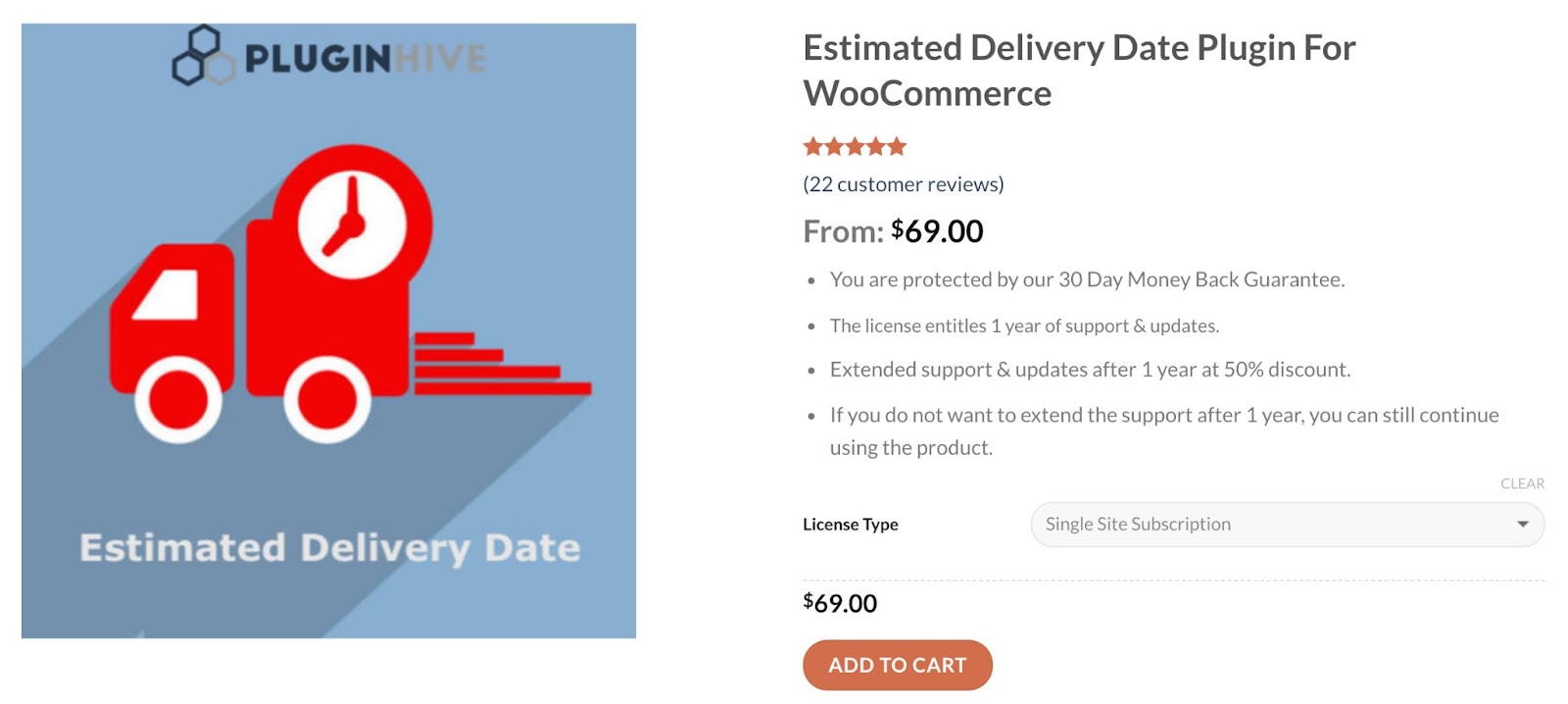 As the name suggests, this plugin is best when you need to create an expected delivery date field in your Order complete email. This plugin automatically calculates the arrival date of the product and presents them on the Shop, Cart, and Checkout pages. It is a premium plugin from PluginHive which costs $69 for a single site license.
Here are some notable features –
Easy integration and migration with other themes and plugins.
Option to choose a time zone.
Assigns estimation based on shipping class, shipping zones, and method.
9. WooODT Lite
Here is a free WooCommerce Order delivery and pickup plugin by ByConsole. The console is also a popular WordPress Theme developer. It also has a paid version which costs $85 per year. It has more than 2000+ Active Installations and supports PHP version 5.2 or higher.
Let's see the important features of WooODT Lite –
Has both delivery and pick options.
Multiple customization features like Widgets, shortcode, etc.
Multiple pick-up points and full control of pick-up hours.
Easy cancellation or termination and return of orders or products.
Conclusion
---
After considering various factors, we think the Order Delivery plugin by Tyche Softwares is the best free WooCommerce shipping plugin for the Order Delivery date. And Delivery slots plugin by Iconic is the best premium plugin for large businesses.
However, you may choose other plugins which meet your requirements. The next thing you need for a successful e-commerce site is customized transactional emails to show order completion and payment success. Here are some wonderful Email customization plugins for WooCommerce.